7603 Views
When you think of Amsterdam you might not think immediately of its food scene. Its cute, thin houses, the quaint boat-filled canals, and the coffee shops are probably the first things to come to mind. But food shouldn't be far behind because there are some delicious things to eat in Amsterdam. So to help you navigate the city's culinary offering, here's a list of (mostly Dutch) foods you shouldn't miss.
The 7 Best Foods in Amsterdam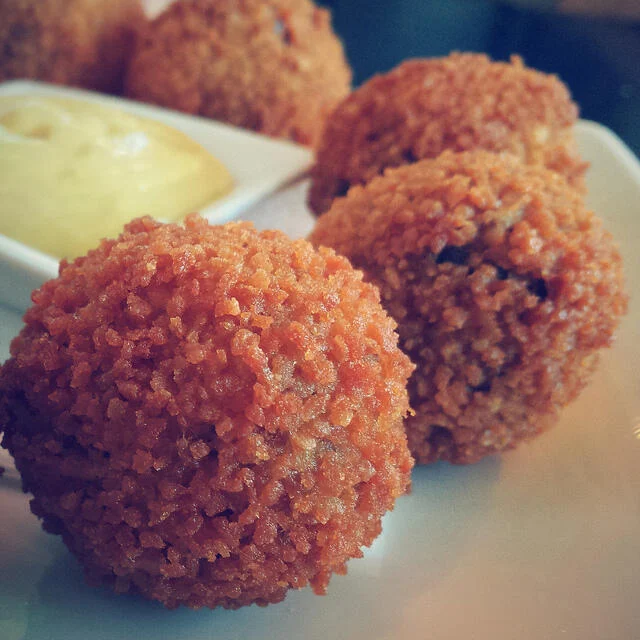 Bitterballen
Bitterballen are fried balls of meat most often eaten with a beer (preferably a Heineken—Amsterdam's locally brew). These tasty treats are the invention of resourceful housewives who made use of their leftover meat by frying it and serving the savoury results before dinner. It's common to order bitterballen with other treats such as komijnekaas, or cumin cheese. A fun activity while in Amsterdam is to discover which restaurant or bar serves your favourite bitterballen because each place has its own recipe.
Gouda Cheese
The Netherlands's most famous cheese is not made in Amsterdam but in a town called Gouda to the south. There are plenty places in the capital to sample Holland's cheese. Head to an outdoor market for some of the best and freshest. There are several types of gouda that range along the scale of age. Look for jong kaas, which means young cheese, if you prefer a lightly flavoured and creamy cheese. While oud kaas, which means old or aged, has a strong, complex taste. There's also gouda sprinkled with cumin, called komijnekaas, that's worth a try for its special flavor. For more about Dutch cheese, read our blog post about cheese-making traditions!
Indonesian
Anyone spending any amount of time in Amsterdam should eat at least one meal at an Indonesian restaurant. Indonesia was once a colony of The Netherlands (from 1800 to 1945), which brought the taste for the food to Europe. The most common way to enjoy Indonesian food is a rijsttafel (or rice table). Soon after ordering, your table is covered in dishes of meat, vegetables and sauces, some kept heated by candles. These are eaten with steamed rice. Just make sure you show up with an empty stomach! Check out our blog post for our pick of the top 5 Indonesian restaurants in Amsterdam…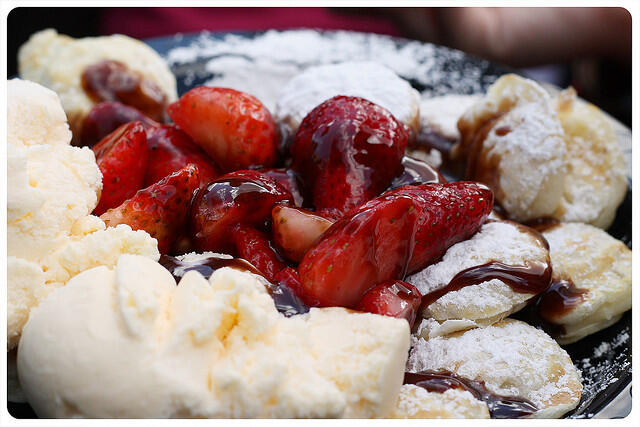 Pannekoeken/Poffertjes
Dutch pancakes, called pannekoeken, are thinner and bigger than their American counterparts. They can be eaten salty or sweet, at any time of the day. Sometimes they are topped with fruit or powdered sugar or cooked with mushrooms for a savory breakfast. A near relation to pannekoeken are poffertjes. These are small, puffed and sweet. These are most often eaten outside because the dough is cooked in a large and scalding iron form that wouldn't fit in a restaurant. Topped with butter and powdered sugar, poffertjes are a great treat when the weather is cold.
Patat (french fries)
If you love french fries then you've got to try them when in Amsterdam. The secret to Dutch fries, locally called patat or frites, is that they are double fried, which ensures an all-around crispness that's addicting. Find a good friteshuis (or fry house) and order some that will be served in a paper cone and topped with big dollop of sweet Dutch mayonnaise.
Raw Herring
If raw fish is your thing then stake out the haringhandels (or herring shops) or vishandels (or fish shops) dotted around the city. Actually, herring in Amsterdam isn't exactly raw but soaked in a salty brine. The history of raw herring in Amsterdam began when trade came into Amsterdam's ports and canals. The fish proved popular and have stuck as a local delicacy ever since. There are a couple ways to eat herring: either on a sandwich served with onions, a haring broodje, or sliced onto a paper plate with onions and pickles, usually eaten with a toothpick topped with a Dutch flag. Yum! Check out our blog post for more about herring and how to eat it…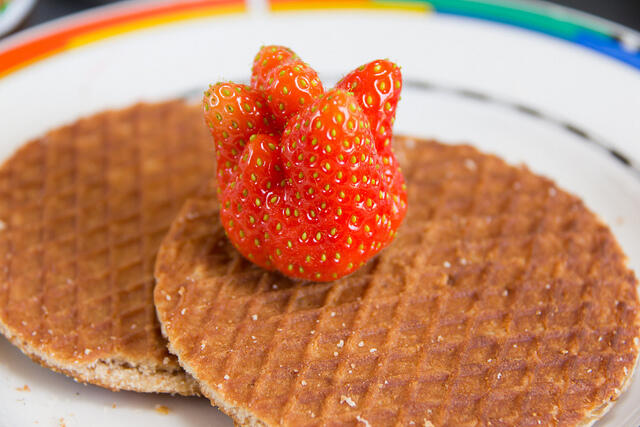 Stroopwaffel
If you come across a place serving fresh stroopwaffels, don't let the opportunity pass you by! (If you don't buy a packet of them in the grocery store.) There's nothing like a hot stroopwaffel, a sandwich of two "waffles" filled with a thick syrup, or stroop. Gooey and delicious, they're proof that Amsterdam sure knows its sweets!
Eet smakelijk!
* * *
To try herring, gouda cheese, poffertjes, bitterballen and much more for yourself, don't forget to sign up for our Jordaan Food Tour!