3365 Views
Can you believe it's already time for the holidays? For many of us, we start seeing holiday decorations pop up starting in late November or early December. But for the Dutch, the holiday season started on November 15 with the arrival of Sinterklaas! The Dutch truly go all out for Sinterklaas, a holiday in the Netherlands where Saint Nicholas (actually, this is one of the sources from which the universally known Santa Claus hails) sails from Spain to give all the children presents and poems. But not to worry! The party doesn't stop there. Like most major cities during the holiday season, the streets of Amsterdam will light up in celebration.
The Dutch usually celebrate Christmas the way you'd think – big family dinners, celebrating both the holiday and being together. These big dinners often involve gourmetten, a Christmas tradition here in the Netherlands consisting of one big grill plate on top with several mini-pans underneath, so that each person gets their own special plate (kids love this).
However, other than Christmas day itself, November, December and January bring plenty to explore in Amsterdam. And don't forget that our food tours have been spruced up with a little festive magic too! From the best places to see Christmas decorations, to festivals and markets, ice skating, and a grand finale of firework displays on New Year's Eve, let us show you the best ways to celebrate the holiday season – Amsterdam-style!
Christmas Markets and Decorations
For an absolutely stunning display of Christmas lights and decorations (including a massive tree!), head down to Dam Square and De Bijenkorf starting on November 19. It will be crowded – but it's worth it. While you're marveling at the lit-up square, you can also explore the main Christmas Market here in Amsterdam, which extends all the way from Dam Square to Central Station. Amidst all of the sugary treats you'll find at this market, we recommend trying a few of the Dutch seasonal favorites – oliebollen, which translates literally to "oil balls" (very similar to donuts which are dusted with powdered sugar), and appelflappen, which translates to "apple turnovers". We guarantee you won't regret trying these indulgent treats.
You can also find Christmas Markets (or, in Dutch, Kerstmarkten) in the Museumplein, Leidseplein, and Rembrandtplein.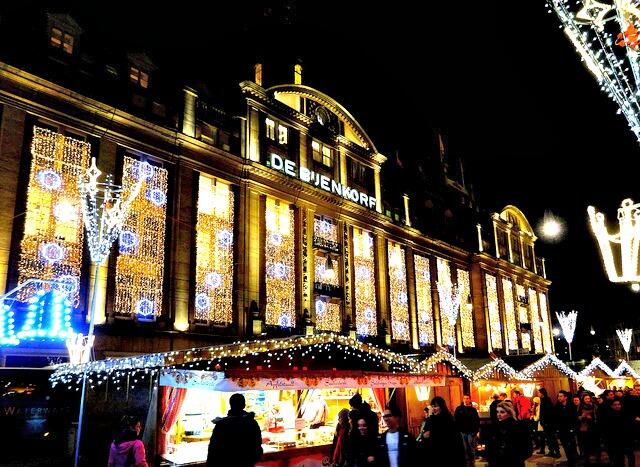 Ice Skating
To experience one of the most beloved Dutch pastimes, head to Leidseplein, Museumplein, or the Westergasfabriek. These 3 temporary ice rinks are easily accessible, since they're all centrally located in the city. This is a quintessential Dutch holiday-time activity that is great for the entire family.
Museumplein (right in front of the Rijksmuseum)
 iceamsterdam.nl
Open: November 21, 2015 – February 28, 2016; Sun – Thu 10 am – 9 pm, Fri – Sat 10 am – 10 pm
Leidseplein
kermisplaza.nl
Open: November 13, 2015 – January 10, 2016; Mon – Fri 10 am – 11 pm, Sat – Sun 10 am – 12 midnight; December 31: 10 am – 7.30 pm 
Westergasfabriek (right next to the Pacific Parc)
Pacificpark.nl
Open: December 19, 2015 – January 4, 2016; Mon – Sun 10 am – 10 pm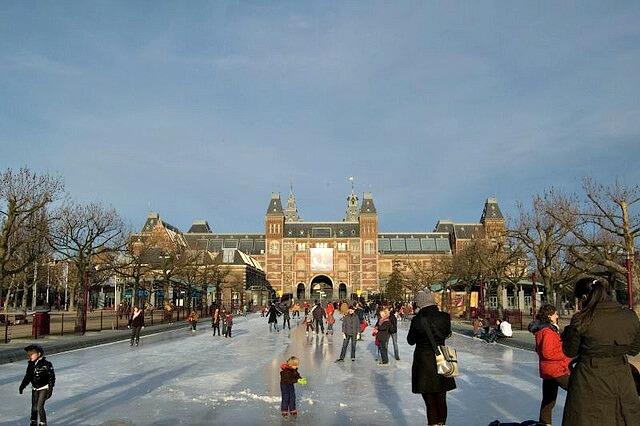 Amsterdam Light Festival
Want to see even more lights and decorations? You're in luck. From November 28 through January 17, the city will be decorated with a magical display of light. This year's theme is Friendship, and you can explore the many exhibits through a walking tour called Illuminade, or via a canal tour called Watercolors.
amsterdamlightfestival.com
Open: November 28, 2015 – January 17, 2016
Walking route "Illuminade": December 10, 2015 – January 3, 2016
Boat route "Water Colors": November 28, 2015 – January 17, 2016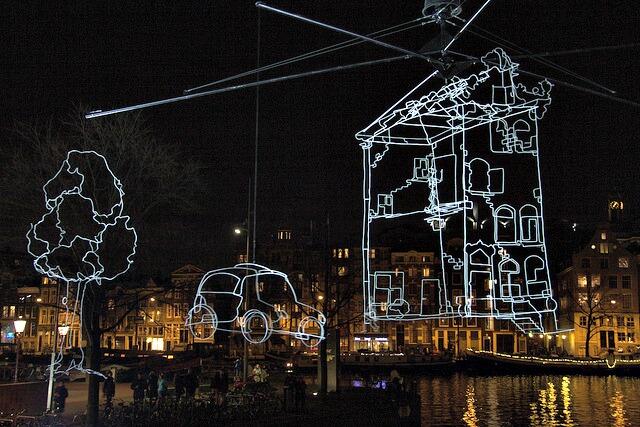 Neighbourfood Market (Christmas Edition)
You can find the Neighbourfood Market in its usual location at the Westergasfabriek on November 16 from 11 am to 6 pm. However, we recommend heading to this lovely market on December 19 and 20 for the Christmas Edition! Get into the holiday shopping spirit here, where you can find clothing, trinkets, artwork, and of course, food!
Cultuurpark Westergasfabriek
Haarlemmerweg 8-10
neighbourfoodmarket.nl
Open: Saturday, December 19, 2015 at 12 noon – 8 pm; Sunday, December 20, 2015 at 11 am – 6 pm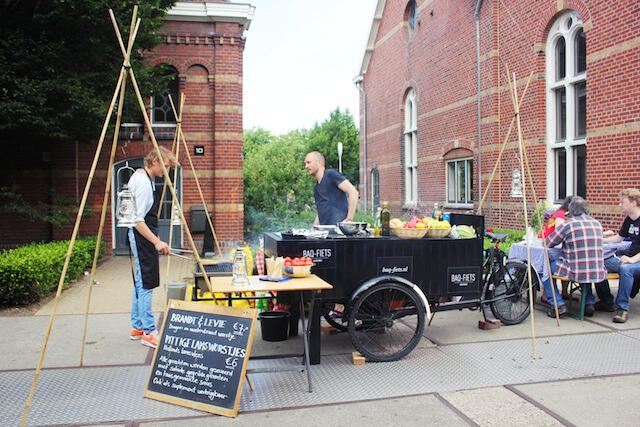 World Christmas Circus
Every holiday season, the Koninklijk Theater Carré hosts the highly acclaimed World Christmas Circus. The acts are truly incredible and are sure to impress. A great place to bring the whole family, or a date!
Koninklijk Theater Carré
Amstel 115-125
+31 (0)900 25 25255
carre.nl
Open: December 17, 2015 – January 3, 2016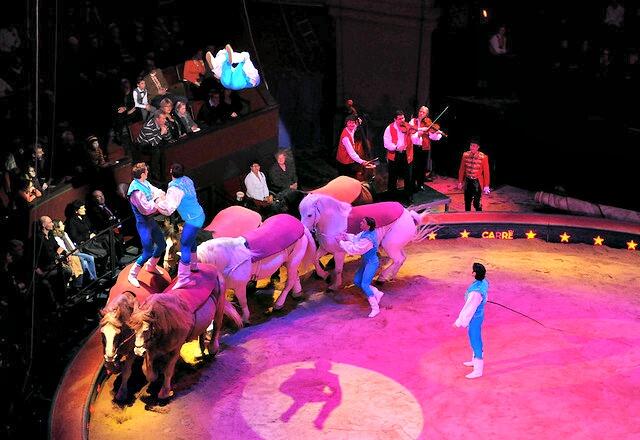 New Year's Eve
OK, so Christmas is over and now you're looking for the next set of plans – what to do for New Year's Eve in Amsterdam. It's Dutch tradition to celebrate the New Year with fireworks at midnight, so this is a must. Beforehand, it's common to celebrate with a nice dinner with friends before heading out around 9.30 pm to the outdoor parties on Nieuwmarkt, Leidseplein, or Rembrandtplein. You'll see fireworks going off pretty much everywhere around the city, but the best show is right on the Amstel River, where you can enjoy the magical view from the Magere Brug (Skinny Bridge). Make sure you bundle up!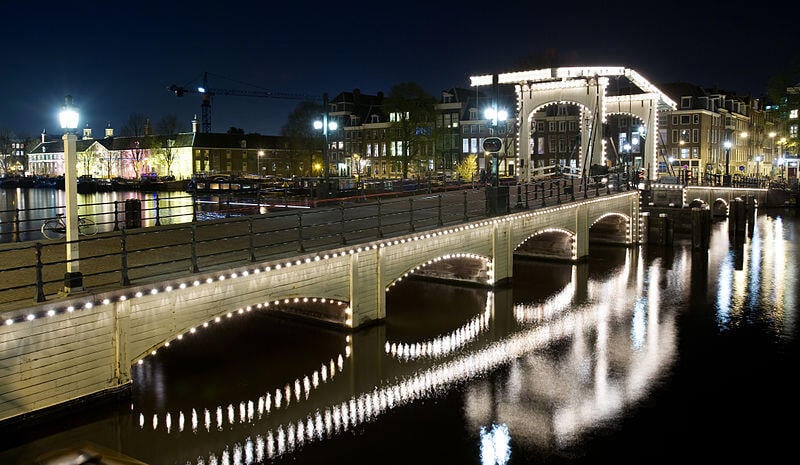 Or, for those of you who will be in a party mood on New Year's Eve, there's no shortage of bars and clubs for you to choose from. Many of these locations do host special parties on New Year's Eve, so you'll need to plan ahead and buy a ticket for these. Be warned: it will be packed! Here's a list of bars and clubs in Amsterdam that are hosting parties, with info on how you can buy your tickets online.
Not up for a big party? If you don't feel like going too crazy on New Year's Eve, it's a good idea to opt for a nice dinner and drinks. A lot of the restaurants are closed for the day, but there are still plenty of options to choose from. Again, you'll have to make reservations in advance, and some restaurants may have a pre-set menu with tickets that must be pre-purchased, so make sure to keep checking their websites to stay updated!
Our Recommendations for Dinner on New Year's Eve in Amsterdam
All of the restaurants below promise to be open on New Year's Eve – give them a call or drop them an email to reserve your spot for seeing in 2016 in style!
Hugo's Bar and Kitchen
Hugo's Bar and Kitchen is a Parisian Bistro-inspired joint located in the West of Amsterdam. It has a very cozy atmosphere, where you can find some pretty incredible dishes and cocktails.
Hugo de Grootplein 10
+31 (0)20 751 6633 or [email protected]
barhugo.nl
Tales & Spirits
We recommend Tales & Spirits for the serious drinkers out there who appreciate fine cocktails. Here, you can find over 30 different cocktails, some simple and refreshing, and some complex and strong. You'll also find a food selection of mostly small plates to share.
Lijnbaanssteeg 5-7
+31 (0)6 55 35 64 67 or [email protected]
talesandspirits.com
Pllek
Pllek is a bit more relaxed than the previous recommendations, with a wide variety of snacks, drinks, beer, and wine available. You also have the option of a 3-course meal. One of the best things about this place is the view, with an amazing overlook onto the IJ River!
 Neveritaweg 59
+31 (0)20 2900 020 or [email protected]
 pllek.nl
5&33
5&33 is definitely the place to go if you're looking for a very fancy night out on New Year's Eve. This Mediterranean-inspired restaurant takes on a shared-dining concept, so it's good to go with a group. You'll have plenty of dishes to choose from, and many bottles of Champagne, too!
Martelaarsgracht 5
+31 (0)20 820 5333 or [email protected]
5and33.nl
Booking Accommodation
We do have to warn you that Amsterdam is packed during this time of year. So, make sure you book accommodations well in advance. Check out Eating Amsterdam's Foodie and Travel Guide for some of our favorite hotels.
The holiday season is a wonderful time to experience Amsterdam, and we hope you enjoy it!