6875 Views
There are so many amazing traditional Christmas Italian food desserts. And if you are into baking, well, you just have to keep reading! In another Christmas in Italy post you read about the four sweet P's – Pandoro (star-shaped sweet bread dusted with icing sugar), Panettone (big muffin looking sweet bread with candied fruit and sometimes even chocolate or jam), Panforte (dense fruit cake with cloves and spices) and Panpepato (like a dense gingerbread cake and also know locally in Rome as pangiallo – yellow bread)!
Here are 4 Italian Christmas recipes we found and thought we'd share. Happy baking! Let us know in the comments if you tried to make any of these delicious sweet recipes!
Pandoro
Courtesy of Food.com
Ingredients
1 tablespoon pastry flour
1 (1/4 ounce) envelope dry yeast
3/4 cup pastry flour
1 tablespoon lukewarm water
2 eggs
1 tablespoon sugar
3 egg yolks
1 tablespoon butter, melted
1 1/3 cups pastry flour
2 tablespoons sugar
2 tablespoons butter, melted
1 teaspoon vanilla
1/4 teaspoon salt
2 tablespoons pastry flour
3/4 cup cold butter, cut into small pieces
granulated sugar (to sprinkle on greased pan)
confectioners' sugar (to sprinkle over cooled cake)
Directions:
Place 1 Tablespoon flour, yeast, and 1 Tablespoon lukewarm water in a bowl, and mix together well.
Cover and let stand in a warm place for 20 minutes.
In another bowl, place 3/4 cup flour, 1 Tablespoon sugar, 1 egg, 1 egg yolk, and 1 Tablespoon melted butter.
Mix together a little, and add the yeast mixture.
Work together well 5 minutes, cover the bowl and let rise in a warm place for 1 hour, or until doubled in bulk.
Place 1 1/3 cups flour on pastry board, 2 Tablespoons sugar, 2 Tablespoons melted butter, 1 egg, 2 egg yolks, vanilla, and salt and mix together a little.
Add yeast dough and work well with hands (knead) for 10 minutes.
Add 2 Tablespoons flour and work well until the dough does not stick to hands or board.
Make a ball of the dough and let it rise in a warm place for 3 hours.
Roll dough into a sheet 2 inches thick and dot with 3/4 cup cold butter which has been cut into little pieces.
Fold dough over 3 times (like a business letter) and roll out as before.
Let yourself, and the dough rest for 20 minutes.
Fold dough over 3 times again, and roll flat and let stand 20 minutes.
Repeat the procedure (folding, rolling, and resting) one more time.
Grease a 2-quart cake form (pan) and sprinkle with a little granulated sugar.
Shape in dough in form and let rise until dough reaches the top edge of form (about 1 hour).
Bake in a 400°F oven for 15 minutes, lower heat to 350°F and bake 30 minutes longer, or until a toothpick inserted in center comes out clean.
Turn cake over on a rack and cool.
Sprinkle with confectioner's sugar.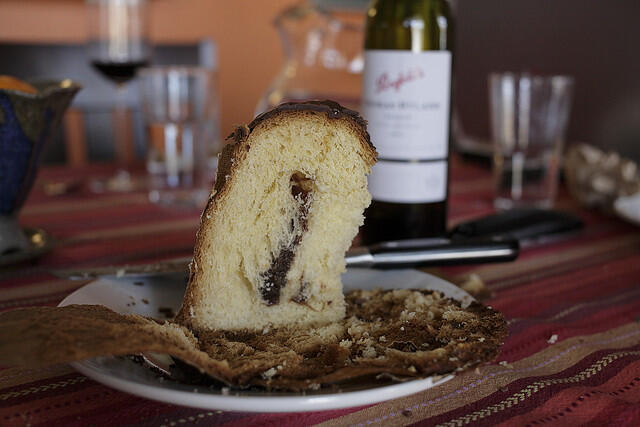 Panettone
Ingredients
1/2 cup (1 stick) unsalted butter, softened
2 eggs
3 egg yolks
3 1/2 cups of all-purpose flour
1 cup of milk
1 cup of sugar
2 oranges, zested
1/2 cup of currants, soaked in warm water for 1 hour and drained
2 teaspoons of cream of tartar
1 1/2 teaspoons of baking soda
Directions
Preheat the oven to 425 degrees F.
Butter and flour an 8-inch round deep cake pan or panettone mold. In a mixer, cream the butter with the eggs and egg yolks until pale yellow, 3 to 4 minutes.
Replace the beater with the dough hook attachment, and with the mixer running, add half of the flour.
Add half the milk and mix for 1 minute.
Add the remaining flour followed by the remaining milk and all of the sugar and mix well. Continue mixing and kneading with the dough hook until the dough becomes dry enough to handle.
Turn the dough out onto a floured surface and sprinkle with the currants, orange zest, cream of tartar, and baking soda. Knead by hand for 5 to 10 minutes.
Place the dough in the prepared pan and bake for 35 to 45 minutes, or until a wooden skewer inserted in the center comes out clean. The top will be quite cracked. Remove from the oven, invert onto a rack and cool.
Slice into wedges to serve.
Panforte

Courtesy of Joy of Baking
Ingredients
3 ounces (90 grams) semi-sweet chocolate, chopped
1 cup (125 grams) toasted and coarsely chopped hazelnuts
1 teaspoon ground cinnamon
2/3 cup (160 ml) honey
1 cup (120 grams) toasted and coarsely chopped blanched almonds
2/3 cup (130 grams) granulated white sugar
1 cup candied citrus (170 grams) (citron, lemon and/or orange peel)
1/4 teaspoon allspice
1/2 cup (65 grams) all-purpose flour
1 tablespoon unsweetened cocoa powder
Directions
Butter and line with parchment paper an 8-inch (20 cm) tart pan. Alternatively, and for a more authentic look, line the pan with edible rice paper (available at Asian markets).
First, melt the chocolate in a stainless steel bowl placed over a saucepan of simmering water. Set aside. Then in a large bowl combine the nuts, candied fruit, spices, flour, and cocoa powder.
In a saucepan, stir together the sugar and honey. Place the saucepan over medium heat and bring to a boil, stirring until sugar has dissolved. Then clamp a candy thermometer to the side of the saucepan. Continue to boil the mixture over medium heat, without stirring, until the temperature reaches the softball stage, 240 degrees F (116 degrees C).
Remove from heat and stir the sugar/honey syrup and the melted chocolate into the chopped nut and fruit mixture. The mixture will stiffen quickly so once combined, transfer to the prepared pan.
With damp hands, or the back of a spoon or offset spatula, evenly spread the Panforte, smoothing the top.
Bake in a 300 degree F (150 degrees C) oven for about 30 – 35 minutes or until the surface has fine blisters. Remove from the oven and place it on a wire rack. While the Panforte is still warm, remove the sides of the pan and heavily dust the top of the cake with confectioners' (powdered/icing) sugar.
 It's not over yet, but you're almost there
Gently rub the sugar into the cake.  (Note: if you have lined the pan with rice paper you may find it has torn. If that is the case simply add more rice paper, using a little egg white as glue.)
Once the cake has completely cooled, wrap tightly in plastic wrap and store in a cool, dry place. Well wrapped this cake will keep several months.
Serve this cake in thin slices as it is quite rich. Makes 1 – 8 inch (20 cm) cake.
Panpepato
Ingredients
300 g raisins
200 g almonds
100 g flour
200 g walnuts
100 g pine nuts
200 g hazelnuts
200 g honey
150 g cocoa
50 g grated chocolate
Directions
Chop all the ingredients and heat the honey in a small pan over very low heat.
Put all the ingredients in a bowl and mix using a wooden spoon until you have a fairly thick mix. Use your hands to split the mix into small rounds, pushing the mix together until compact.
Place on a lined baking sheet. Cook in the oven for half an hour.
I hope you will find these Christmas Italian recipes fun and easy to prepare. But primarily, I hope they'll be delicious!