2226 Views
Come visit some of our favorite places in Rome!
Concetta & Pietro Fruttivendolo (Fruit & Vegetable Stand), Rome, Italy
"The best part of working at the market is that every season brings new and unique produce. I spent most of my life at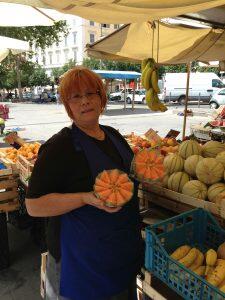 the market, my mother even went into labor here!"
– Concetta
Concetta was practically born at Trastevere's San Cosimato Market and has been here ever since. Now running her family's fruit and vegetable stall with her husband Pietro, she is known for the quality of her goods and can help you to select the ripest, tastiest seasonal produce. In the summer they sell the best melons and figs at the market, in the winter make sure you grab some artichokes.
To find Concetta & Pietro Fruttivendolo:
Address: Trastevere Market, Piazza di San Cosimato