14595 Views
Nothing says Florence quite like sitting down at a restaurant table to enjoy a huge bistecca alla fiorentina. The origin behind the name can be attributed more to legend than to actual Florentine steak history. It is said that the Medicis supplied Florence with steaks on San Lorenzo's feast day of August 10, and that the town's people would then roast the steaks over the open fires held around the city. On one of these Renaissance feast days, English merchants were visiting and cried out "Beef steak!" and the name bistecca stuck.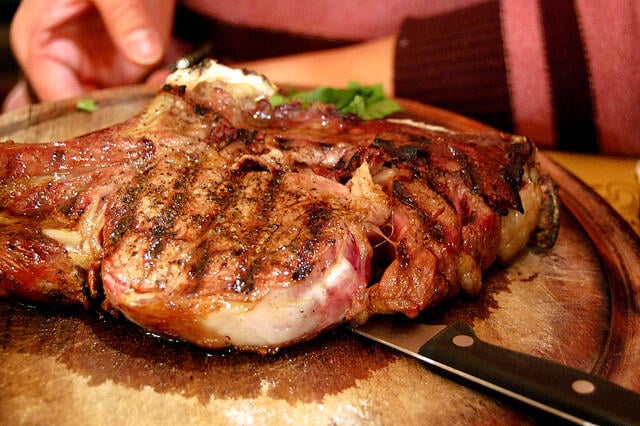 Whether you believe the story or not, it is true that the bistecca alla fiorentina is not just any T-bone steak, and just one taste might have you shouting "Beef steak!" in the street. What makes a fiorentina different is that it is cut from a Chianina cow raised in Tuscany. Like other dishes in Italy, the bistecca alla fiorentina has its rules: the meat must be cut thickly (5-6 cm) and then grilled over a fire until the outside is perfectly done while the inside remains bloody. At restaurants a bistecca alla fiorentina is usually priced by weight, and averages in at about 1-1.5 kg. So unless you haven't eaten all day, these steaks are best shared! Here are our top picks for where to eat bistecca alla fiorentina in Florence.
Sostanza
This small trattoria keeps a fire burning in the kitchen to cook their bistecche. The steaks here are not as huge as many of the others on the list and can almost be consumed by a single person. Like many of the restaurants on this list, Sostanza has a great list of seasonal sides. Be sure to make a reservation.
Via del Porcellana, 25/r
+39 055 212 691
Open: Mon – Fri 12.30 – 2 pm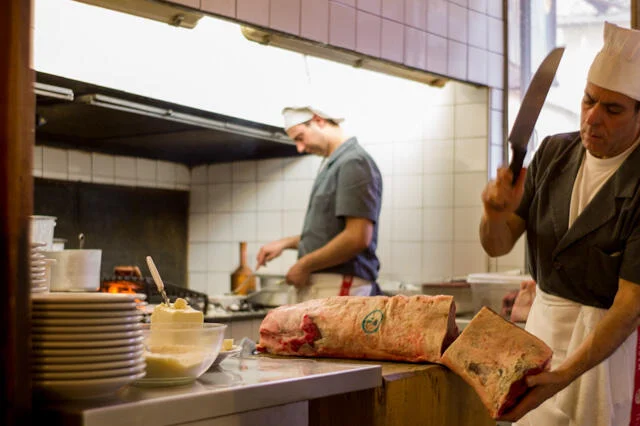 Buca Lapi
Located in what used to be a stop for coachmen where they would wash down a tripe sandwich with a glass of wine, Buca Lapi is one of the restaurants in the center of Florence best known for its delicious steaks. It is a large restaurant that manages to still treat its customers well, through service and food. Because of its popularity, make sure you make a reservation if you want to try the Chianina meat here.
Via del Trebbio, 1/r
+39 055 213 768
bucalapi.com
Open: Mon – Sat 7 – 10.30 pm
****************************************
Can't decide where to go? Join us for our Florence Sunset Food Tour where you'll not just enjoy Bistecca Alla Fiorentina, but also a whole host of other regional specialities! All with the help of an expert, local guide.
****************************************
Trattoria la Casalinga
Head across the river to the Oltrarno to try a bistecca alla fiorentina at this home-style restaurant. Its menu features most Tuscan specialties, so it's no wonder that they cook up a large and mouth-watering bistecca. And be sure to save room for dessert, like the millefoglie. Expect a wait, but it'll be worth it.
Via dei Michelozzi, 9r
+39 055 218624
trattorialacasalinga.it
Open: Mon – Sat 12 noon – 2.30 pm, 7 – 10 pm
Trattoria Mario
One of the most revered restaurants in Florence, it's no surprise that Trattoria Mario serves up a mean bistecca. Located in the center, it is popular with tourists and locals alike. It is open only for lunch, so be prepared to cozy up to enjoy one of the best steaks in the city.
Via Rosina, 2r
+39 055 218550
trattoria-mario.com
Open: Mon – Sat 12 noon – 3.30 pm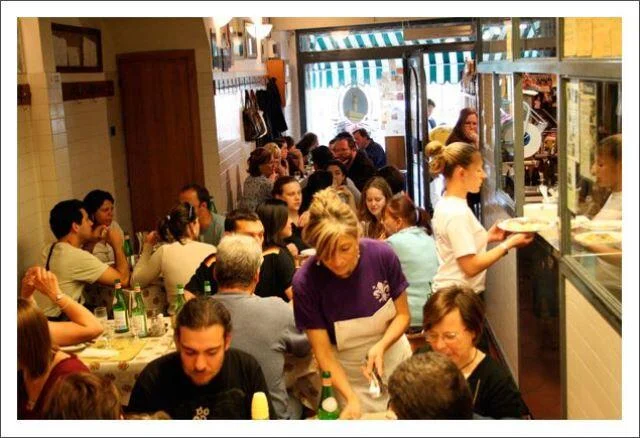 Antico Ristoro di Cambi
Somewhat off the main tourist drag, the Antico Ristoro di Cambi is a family-run restaurant that serves traditional Tuscan fare, which of course includes bistecche. The ambience is simple, and in the summer there is a patio on the Piazza Tiratoio. Other good food on the menu includes Tuscan specialties like ribollita (a thick soup with cannellini beans and kale) and lampredotto (or cow's stomach).
Via San Onofrio, 1r
+39 055 217134
anticoristorodicambi.it
Open: Mon – Sat 12 noon – 2.30 pm, 6 – 10.30 pm