6550 Views
Street food is by no means a new fad in London. Produce markets have been operating in various parts of the city for hundreds of years. What has changed (apart from the hygiene – the medieval marketplace was a scary place) is the manner in which that produce is sold.
Originating in the United States, food trucks have gained popularity in London in the past few years. The idea behind a food truck is simple: instead of setting up a new stall at every market, convert a truck into a permanent, but mobile, market stall. Meals on wheels suddenly takes on a whole new meaning!
And instead of being seen as an inferior lunch option, the food at these trucks is becoming sought after, with the most renowned trucks seeing a lengthy queue of hungry customers come noon-time. To further meet the demand, many of these food trucks have websites, allowing their most loyal customers to find them as they move around the city.
From coffee to pizzas to Korean barbecue to burgers – there seems to be a food truck for every type of cuisine. Without further ado, here are five of London's very best food trucks.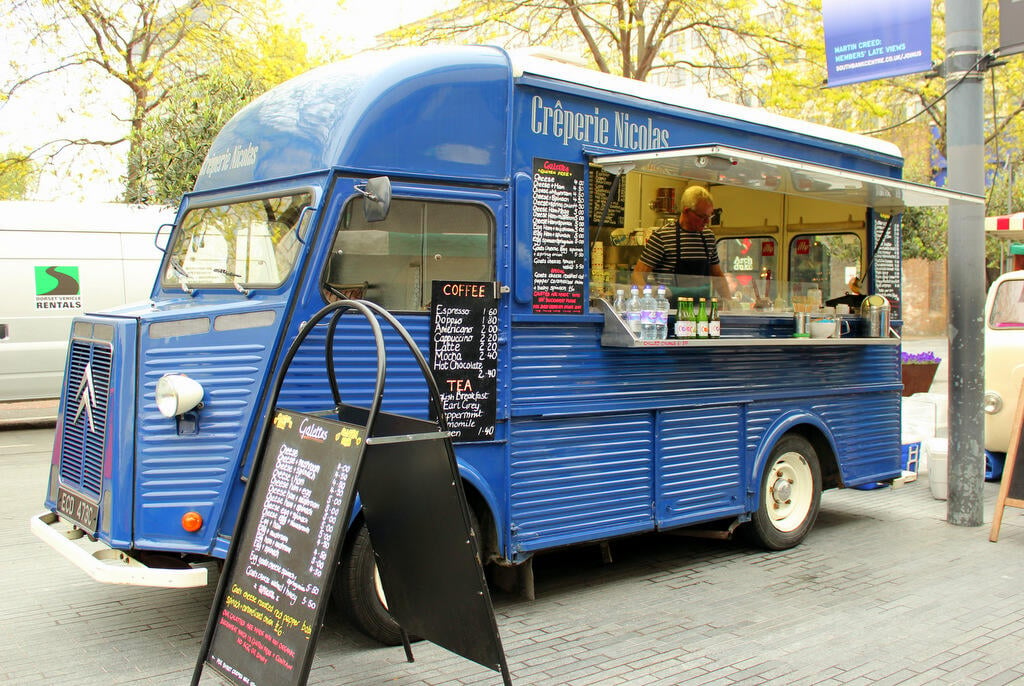 Creperie Nicolas
Delicious and authentic crepes are sold at Creperie Nicolas
Currently in residence at the South Bank Centre's Real Food Festival on weekends, this blue Citroen H is a favourite with marketgoers.
What makes Creperie Nicolas different to all other crepe sellers is that they serve authentic versions of this French street food, in addition to Breton-style buckwheat galettes.
Founded by Gillian and Keith Wyles, this couple quit their long-term jobs and headed off to Brittany to master the art of crepe-making; they've been sharing the results with Londoners ever since.
The crepes are prepared on two large stovetops, and customers can choose from sweet or savoury options. For the sweet, popular choices are the Nutella and banana, as well as the salted caramel. For the savoury, there is usually a crepe of the day, but the classic ham, cheese and mushroom crepe is heavenly.
Anna Mae's
Nothing says comfort food like a good old mac and cheese, right? Well, it gets even better if you happen to purchase this dish from Anna Mae's food truck.
As proprietors Anna Mae and Tony point out, this isn't just any macaroni and cheese – this is pimped-up mac and cheese, served Southern style. Sold from a 1950s-style trailer, adjoined to their 1986 GMC Vandura, Anna Mae's macaroni and cheese is prepared in massive pans. Various versions are on offer, such as Don Macaroni, which is mac and cheese served with pesto, crispy bacon and fresh basil.
Macaroni and cheese isn't the only speciality of Anna Mae's; there's a rotating offering of Southern staples like pulled pork and southern fried chicken.
Anna Mae's is part of KERB market, but can also be found at other events and festivals; follow the truck's whereabouts on the official website.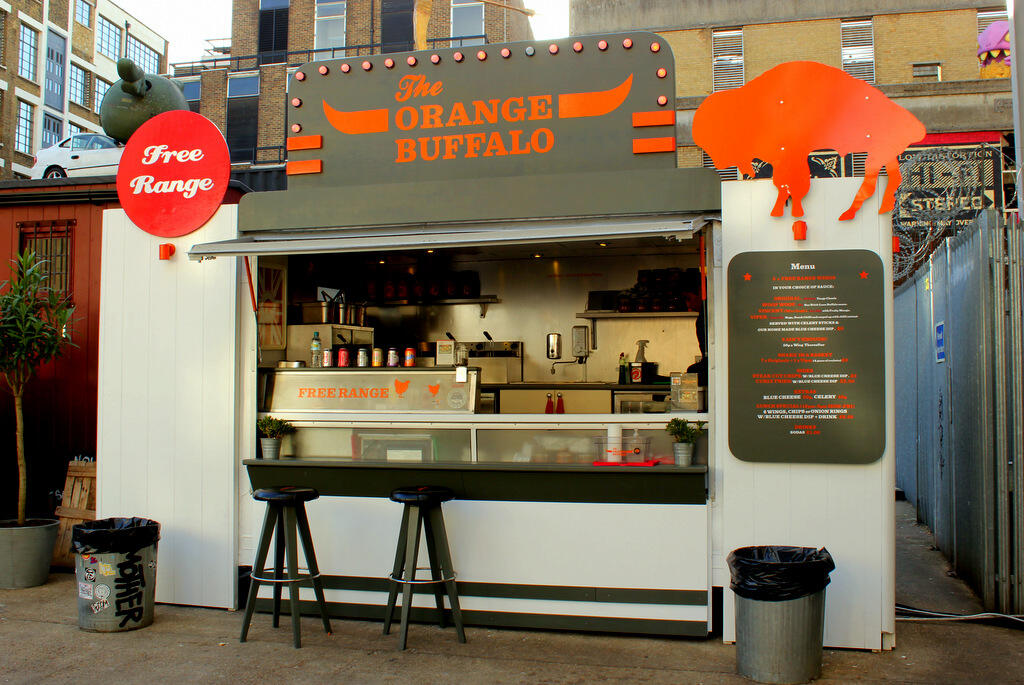 The Orange Buffalo
Currently occupying a position at Ely's Yard near the Old Truman Brewery in East London, The Orange Buffalo has been steadily growing a fanbase for its amazing New York-style buffalo wings.
Founded in 2012, this modified food truck sells its crispy chicken wings served in one of two sauces – Original or Woof Woof. You can also get sides of chunky chips and dipping sauces. After making your purchase, you can enjoy your meal at one of the picnic tables set up in front of this rather smart-looking food truck.
The Orange Buffalo also takes part in various events, and you can follow its movements on the Facebook page.
Luardos
Luardos is hard to miss. With two vans in psychedelic shades of pink and blue (named Mary and Jesus H Van respectively), Luardos is easily one of the most recognisable food trucks in London.
Mexican street food is this food truck's offering, with generous portions of tacos and burritos being sold here. All of these options are delicious, which is probably why Luardos has become a regular at the UK's biggest music festivals, such as Glastonbury and Bestival. The truck is also a familiar sight at three of London's food markets: KERB, Brockley Market and Whitecross Street.
See where Luardos is heading to next on their events page.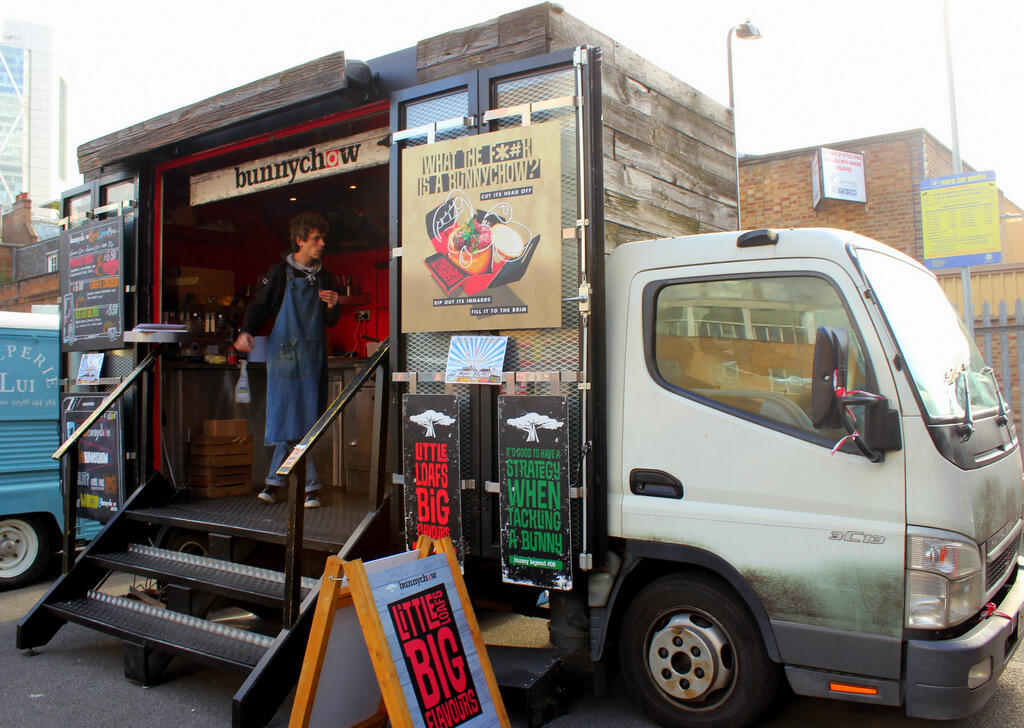 Bunnychow
If you're looking for something unique, Bunnychow should be the first food truck you head to.
Owned by Atholl Milton, this food truck specialises in a South African dish called bunny chow. Incidentally, rabbits aren't usually a part of this dish.
Bunny chow consists of a hollowed-out loaf of bread, which is served with a hot, tasty filling. At this particular food truck, the fillings include ginger chicken, meatballs and – another South African speciality – bobotie. Bunny chow originates from Durban, South Africa, where plantation workers in the 40s needed something sturdier than roti to transport their lunch. Someone got the idea of putting the food inside hollowed bread – and, hey presto!, bunny-chow-as-we-know-it was borne.
The Bunnychow food truck can currently be visited at Shoreditch's Urban Food Fest, which is running every Saturday until the 21st of June (5pm-midnight). Alternatively, Bunnychow can be found in its permanent position at Boxpark.
* * *
These are just five of London's excellent food trucks, but there are many more. Founded by people passionate about the dishes they make, a food truck lunch is definitely worth every pound spent.
If London's food markets can continue to grow in popularity as they have for hundreds of years, I predict that the city's food trucks – although who knows what form these vehicles may take some day – will do much the same.
Do you like the sound of the culinary scene of London? Why not hop on our East London Tour which will introduce you to the street art, culture, history, and the awesome food of East London.