5310 Views
Rome is, of course, famous for its great Italian food, but did you know that there's a specific Roman-Jewish cuisine as well? This is all thanks to the Jewish Ghetto, an area that was closed off from the rest of Rome for a few hundred years, allowing it to develop its own specific food culture. Although these are black pages in the history of the Eternal City, the poverty in the ghetto also inspired some of the dishes you can still try in the area today. Let us take you on a culinary history tour through one of Rome's most lively areas with our recommendations for the best kosher food.
Jewish Ghetto: A little background
Before we dive into the delicious Roman-Jewish cuisine and the best kosher restaurants in Rome, a little bit of historical context is in place. The story of the Jewish ghetto in Rome goes back all the way to 1555, when Pope Paul the fourth forced all Jewish citizens to move from Trastevere on the left shore of the Tiber, where most of them lived before that time, to the other side of the river.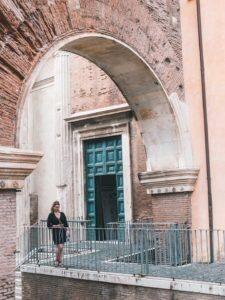 All of a sudden, they had to abide an extensive set of rules: they had to stay within the gates of the ghetto between sunset and sundown, could only trade scrap metal and rags, and had to reform to Catholicism – which explains the relatively large amount of catholic churches in the neighborhood that you can visit today.
This explained why its food culture developed typical dishes that you won't find in other parts of Rome, such as the carciofi alla giudia (fried artichokes) and concia di zucchine (fried and marinated zucchini). The recipe comes from poor street vendors who covered the few products they could find in a simple batter and fried them in oil for a simple, relatively cheap but tasty snack.
The Jewish ghetto remained a closed-off, gated community until 1870, when Italy became a Kingdom and the law that Jews had to live in a separate ghetto came to an end. The walls and most buildings were torn down to make a place for the new Synagogue of Rome and apartments.
The best kosher restaurants in Rome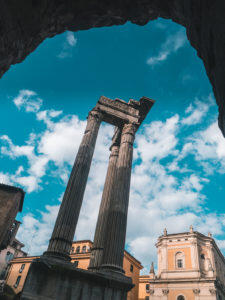 The main street in the Jewish Ghetto is pedestrian road Via del Portico d'Ottavia, named after the ancient ruin at one end. Here, you'll find most of the ghetto's kosher restaurants.
Note that you won't find a restaurant that uses both milk (or cheese) and meat in the same kitchen, as this is not considered kosher: there's a verse in the Torah that forbids people to "cook a young goat in his mother's milk". Some restaurants solve this by offering two different menus (and having two separate kitchens); others choose to cook only with either milk products or meat.
Ba'ghetto
Ba'Ghetto in Via Livorno 10 is the self-declared oldest Jewish restaurant in the ghetto and offers a selection of traditional, Roman and Middle Eastern dishes, such as fried artichokes and zucchini, falafel, shakshuka (a Middle Eastern dish with egg and tomato sauce) and couscous.
It was opened in the eighties by Amram and Ester Dabush, later helped by their four sons Avi, Ilan, Eran and Amit, who followed in their parents' footsteps by opening two new locations: Ba'ghetto Milky and Su'ghetto. Seeing as the original Ba'ghetto doesn't use milk products in their kitchen, Ba'ghetto Milky was opened to offer exactly that: pizzas and dishes made with milk products, fish and cheese. Su'ghetto, the latest addition, has a slightly more modern atmosphere and offers kosher dishes (without milk).
Nonna Betta
Nonna Betta in Via del Portico d'Ottavia is another classic Roman-Jewish restaurant, offering typical dishes. Owner Umberto is the grandson of 'nonna Betta', who inspired the name of the restaurant. According to him, "it takes a real Roman Jew to cook according to such an ancient tradition because it takes love and deep knowledge of the origins." His business partner Gamil, a Christian Egyptian who has been in Rome for 30 years, contributed to the menu by adding some Middle Eastern dishes such as falafel and hummus.
Nonna Betta offers two menus: one with milk products and one with meat. They also do some ghetto-style variations of classic Roman dishes, such as cacio e pepe with artichokes, and two kosher variations of spaghetti alla carbonara: one with zucchini and one with beef. Seeing as the original recipe is done with guanciale (pork cheek), carbonara is not kosher by definition, so Nonna Betta replaced it with dry beef jerky.
Giggetto
In this classically decorated restaurant, time seems to have stood still since its opening in 1923 – in a positive way. Luigi Ceccarelli named the place after his own nickname and quickly made a name for himself with his delicious wine from Frascati and one of the best carciofi alla giudia (fried artichokes) in Rome.
Indeed, the artichokes here are my favourite: they're the perfect combination of crispy on the outside and soft on the inside. Their cacio e pepe is also pretty amazing. The restaurant is now owned by the grandson of the founder, who succeeded his dad. When the weather is nice, you can sit on the terrace along Via del Portico, but Giggetto also has a cute terrace on the back of the building.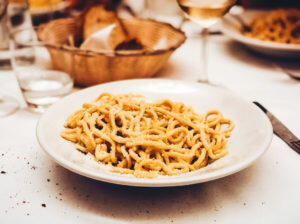 Forno Boccione
Ready for some sweets after your lunch or dinner? There are some excellent pastry shops in the Jewish ghetto as well. The tiny Boccione in Via Portico d'Ottavia 1 is easy to miss – it can maybe fit five or six people at a time – but it's definitely worth a visit. It's the go-to place for locals and visitors alike to buy a slice of pizza ebraica to eat on the go or a yummy ricotta and sour cherry cake to enjoy at home.
The latter, called ricotta e visciole, has a pretty special back story: during the time that the Jewish ghetto in Rome was still closed off from the rest of the city, there was a papal decree which forbade Jews from selling or trading dairy products. So, bakers started to disguise the ricotta by baking it into a crust and mixing it with cherries so the white colour would be less visible. This is also why the cake is completely closed on top. Another example of how history is intertwined with the culinary culture in Rome's Jewish ghetto.
Became curious about the history and culinary traditions of the Jewish ghetto? Learn more about it and try its amazing dishes at one of our food tours!