2346 Views
Following the success of Eating Italy's original Rome food tours through Testaccio and Trastevere, we're proud to announce that we're now entering a new city in Italy: Florence! Let us introduce you to our latest offering: The Other Side of Florence Food Tour! The first tour will take place on April 18, but bookings are open already – so what are you waiting for? Book now and be one of the first to explore this fascinating neighborhood with us!
About Florence's Oltrarno Neighborhood
Just like Testaccio and Trastevere in Rome, Oltrarno is one of the less-visited neighborhoods in Florence. Translating as "over the Arno River", Oltrarno is the equivalent of Paris's Left Bank – a proudly working class neighborhood with a strong sense of community that's now brimming with craftsmen, antiques shops, students and artists. Vibrant and Bohemian, it's a neighborhood just waiting to be explored – and those who venture over the river will be richly rewarded by the friendly locals who have been serving up Florentine food for generations.
About our Florence Food Tour
What could be better than eating your way through Florence's liveliest neighborhood of a morning, getting to know the city like a local? Just like our Rome food tours, The Other Side of Florence Food Tour is for small groups (max. 12 people) and includes 8 authentic tastings from specialty food shops, cafes and trattorias. Tuscan food is distinctly different from Roman cuisine, and on this tour you'll understand what makes it so unique from any other region in Italy. You'll get to experience everything from seeing how Italian cantucci (cookies) are made, to sampling crostino Toscano (a toasted treat!) with a glass of Chianti. Each carefully selected vendor prides themselves on the quality of their food and drinks, which is why we want to introduce you to the passionate people behind Oltrarno's local cuisine. Plus, it's much more than "just a food tour" – the neighborhood's fascinating history means you'll learn all about its 14th Century beginnings when the area was protected by a gated city wall. Plus, you'll uncover stories behind Oltrarno's cuisine, community and culture…
Highlights of the Walking Tour
Watch how cantucci (Italian cookies, often known as biscotti) are made – and of course get to taste them afterwards!
Sample typical Tuscan cheeses and our deliciously fennel-spiced salami, finocchiona.
Sink your teeth into a typical Tuscan crostino, washed down with a glass of the region's famous wine: Chianti.
Visit an authentic Italian trattoria, and taste one of their seasonal soups or stews.
Try real-deal gelato – we promise you'll never look at frozen treats the same way again!
For the adventurous foodies, try Florence's famous lampredotto (cow stomach sandwich) – better than it sounds!
Get an introduction to Florence's famous steak, Bistecca alla Fiorentina, and find out the best places to eat it.
Experience Florence's Bohemian side in Oltrarno's quintessential hipster café. Poetry reading, anyone?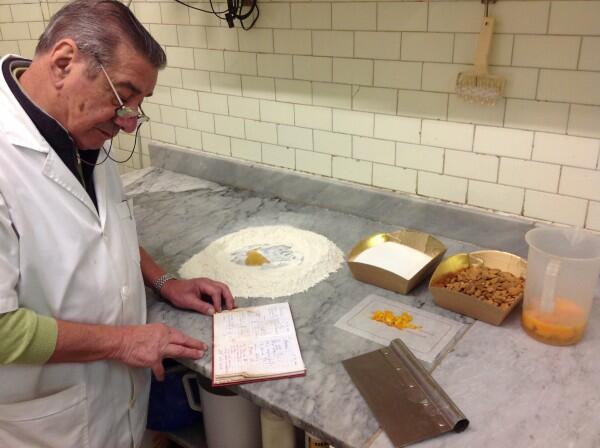 The Other Side of Florence Food Tour runs Monday through Saturday (rain, hail or shine) at 10 am starting from April 18 onwards. Bookings are now open, so be sure to check us out:
And take a look at our Florence Travel Guide uncovering the best tips for eating, drinking and generally making the most of your time in Florence!
So what are you waiting for? See you in Florence!