27748 Views
During your time in Amsterdam, not least on our Twilight Food Tour, you are bound to pass by a few Indonesian restaurants. While at first Indonesian restaurants in Amsterdam may strike you as strange, a quick skim of Dutch colonial history will swiftly explain the connection between the city and the islands of the Indonesian archipelago.
The star of the menu placed in the windows of these Indonesian restaurants is rijsttafel. A mouthful to pronounce and to enjoy, this is our alternative guide to participating in and enjoying your rijsttafel in Amsterdam.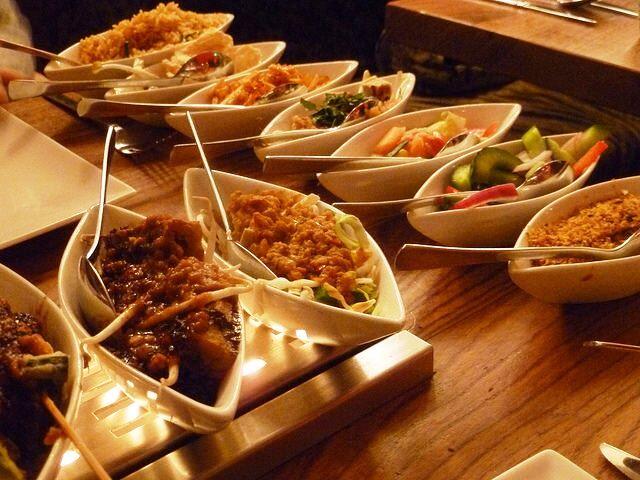 What is Rijsttafel?
Meaning "rice table", rijsttafel is a nearly unending parade of small plates all filled with different spicy-sticky-sweet Indonesian cuisine. All accompanied by rice, of course. The myriad of plates (typically in the dozens) are all laid out on the table at once in true feast fashion, and you simply help yourself to the selections as you wish.
Where Does Rijsttafel Come From?
Rijsttafel comes from Indonesia, and the dishes served are authentically Indonesian, but the concept of rijsttafel was certainly created by Dutch colonists living in Indonesia. Inspired by Nasi Padang, which is an Indonesian dish of rice surrounded by multiple meats and various vegetables in zesty sauces, the colonial Dutch created the massive feast we know today as rijsttafel as a way to sample as many different Indonesian dishes in one sitting as they possibly could.
Essentially, rijsttafel allowed the colonial Dutch people to sample regional dishes from as many of the far flung islands of Indonesia (there are thousands) as they possibly could in one meal. It was also a great way of impressing visitors and showing off the culinary wealth of their colonial empire. It took off in Amsterdam post-World War II when thousands of Indonesians migrated to the city; and since they knew the Dutch loved their rijsttafel, they set up the restaurants you see all over the city today.
Typical Dishes on a Rijsttafel in Amsterdam
Since it would take up too much space to mention all the dishes you might find on a typical rijsttafel (and, most importantly, I might get way too hungry and just run out to enjoy a rijsttafel instead of finishing this article), let's just stick to a small sampling of what you can expect to be served. Keep in mind that every rijsttafel is different, and no matter what your personal tastes, you are sure to find something you quickly become obsessed with.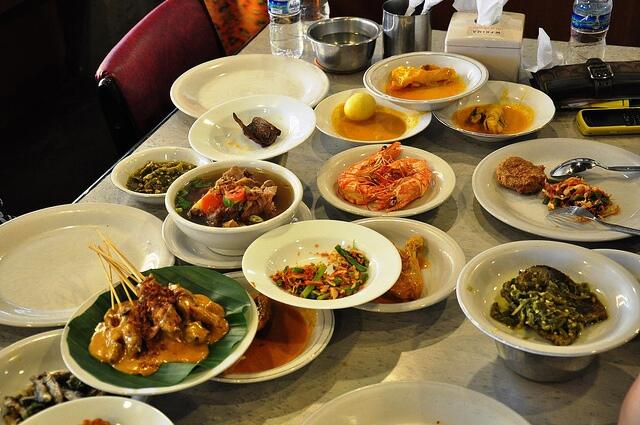 Beef Rendang – Slow cooked but crispy beef in coconut curry sauce
Tempeh Blado – Spicy and sweet tempeh
Saté – Creamy yet slightly spicy peanut sauce covering various meats or vegetables
Pisang Goreng – Crunchy fried banana fritters
Sambal Goreng Telor – Fried egg with tart and spicy Sambal sauce
Typically, roasted coconut and sweet and salty pickled vegetables will also be served as palate cleansers and tongue coolers.
The Best Places for Rijsttafel in Amsterdam
You can find rijsttafel all over our fair city, but a few places stick out above the rest:
Blauw
Located near the far end of the Vondelpark, this sleek and modern Indonesian restaurant is the perfect spot for a romantic rijsttafel in Amsterdam. The lip-smacking and spicy dishes here are accompanied by a classy wine list and trendy decor that sets the tone perfectly.
Amstelveenseweg 158
+31 (0)20 675 5000
restaurantblauw.nl
Open: Mon – Thu 6 – 10.30 pm, Fri 6 – 11 pm, Sat 5 – 11 pm, Sun 5 – 10.30 pm
Tempo Doeloe
One of the standard bearers and probably the most well-known spot in town for rijsttafel, Tempo Doeloe offers a classic rendition of the meal. Located on one of Amsterdam's signature shopping streets, yet home to a quiet and reserved atmosphere, this is a perfect spot for rijsttafel if you are staying in the center of Amsterdam.
Utrechtsestraat 75
+31 (0)20 625 6718
tempodoeloerestaurant.nl
Open: Mon – Sat 6 – 11.30 pm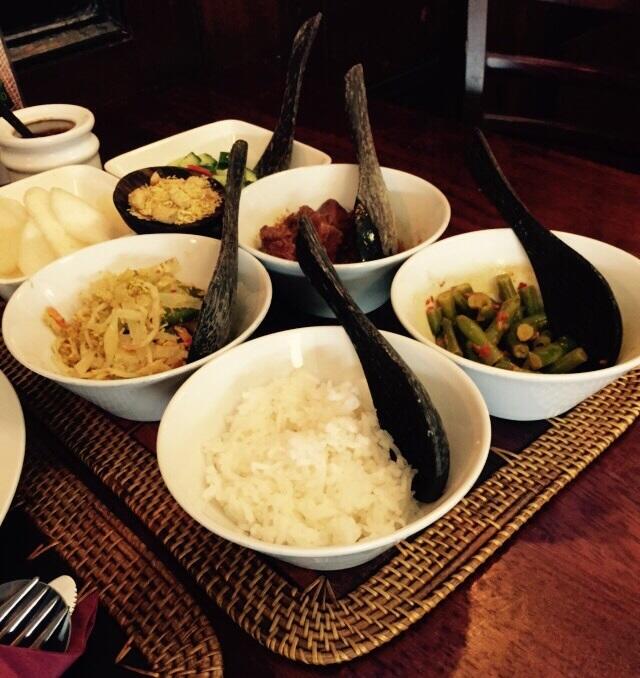 Sari Citra
Located in hip De Pijp, Sari Citra has been offering lovingly crafted Indonesian food since 1996. Offering sit-down service and takeaway, discovering this family-run gem is the kind of experience foodies travel for, and their rijsttafel will have you planning your return visit. Taste their rijsttafel on our Twilight de Pijp Food Tour!
Ferdinand Bolstraat 52
+31 (0)20 6754 102
saricitra.nl
Open: Mon – Sat 2 – 9 pm, Sun 3 – 9 pm
 For more of the best rijsttafel, check out our Top 5 Indonesian Restaurants in Amsterdam. Have we missed any? Let us know in the comments below!