5639 Views
Navigating the seemingly endless companies that brag about their Rome guided tours to the Vatican can be quite a job. While they all expedite you through the museum's often grueling line—four hours under the August sun, anyone?—choosing one from the mass requires plenty of research time beforehand. But there are a few things to keep in mind before starting your search for the best Vatican guided tours.
Before making any decision, stop and think about exactly what at the Vatican you want to see. After all, the Vatican implies both St. Peter's Basilica and the Vatican Museums, each vast storehouses of some of the most beautiful art and architecture in the world.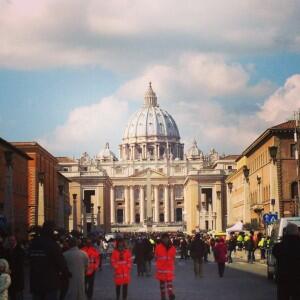 If you're looking for all the good stuff without any extras, plenty of tour companies offer a guided tour of the highlights. Though, if you're dying to see Bramante's staircase, usually closed to the public, you're going to be looking for a different tour completely.
The next question to ask yourself is how do you want to see it? Many of the tour companies listed below offer private tours, while all offer group tours—many of them composed of fewer than twelve people. Some of the companies specialize in morning or evening tours of the Sistine Chapel, which means you'll be almost all alone with Michelangelo's masterpiece! Amazing!
Now you're a little more ready to see what each guided tour has in store for you.
Catholic Tours of Rome
Though this small tour agency targets Catholics, half of their clients are non-Catholics. Their "unabashedly Catholic perspective" could be just what you're looking for during your visit to the center of the Catholic church. Tours are made to order and are led by university professors who specialize in theology and the classics. They offer tours not only of the Vatican and the museum but also of the other churches around Rome.
Imagination Institute in Italy
This small tour company offers a 3-hour highlight tour of the Vatican, St. Peter's, and the Sistine Chapel. "Special access, short cuts and hidden treasures make our tour through the maze of the Vatican so popular." IIItaly also offers private tours designed just for you. If you choose this company, be sure to request the guide Tom Shanker for an entertaining yet knowledgable experience.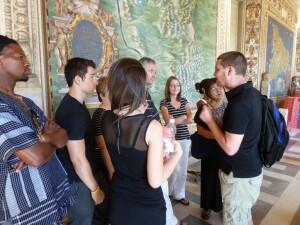 Imago Artis
Imago Artis has 3 different tours of the Vatican City, depending on your needs. Start off with their early morning tour and you'll be among the first to visit the Sistine Chapel before it fills up with its customary crowds of tourists. Imago Artis also have a Vatican Garden Tour and the Niccoline Tour, which takes you to the private quarters of the Niccoline Chapel and also to Bramante's famous staircase. Imago Artis's tour guides are all professionals who specialize in art history and archeology.
My Vatican Tour
Owned by the Dark Rome Tour Company, My Vatican Tour has partnered up with the Vatican to offer more guided tours to take you to more locations that are usually out of bounds for your average tour company. A choice of 11 tours range from your most basic (the museum and St. Peter's Basilica) to the most elaborate and even private. An escorted Papal audience guided tour is also available. Private guides cost a tidy price, and the company cannot tailor make a tour just for you. Also be aware that the group size is larger than the others on this list.
Viator
Viator offers many different options for Vatican tours and tour companies. Whether you are looking for just an entrance to the museum or want a guided tour including St. Peter's Basilica, Viator likely has an option for you. Be sure you read the reviews before you book and make sure you take a look for any special offers!
Vatican tours
The Vatican itself offers tours and are the cheapest if price is an issue. Their licensed guides are Italian and also speak English and French. There are 4 tours that include only the museums, only the gardens, or a combination of museums and St. Peter's Basilica. Like the other guided tours, the Vatican tours can be booked ahead online through the Vatican Museums website.
Contact [email protected] with Blog Enquiry in the subject title for any feedback or requests for a topic you want us to cover. Voted one of the best things to do in Rome, Eating Europe Food Tours offer a Rome walking food tour through one of Rome's oldest and most characteristic neighborhoods.