How Eating Europe Was Born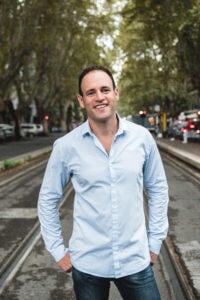 Kenny Dunn – Founder & Managing Director
After spending three years travelling around the world, Kenny returned to his hometown of Philadelphia in 2003, with an armful of stories that almost all involved food! 
There was the time he cooked a fresh catch on the beach with an Indonesian fisherman. And another when he was invited for a grand family feast at a Moroccan farmhouse. Food was the gateway into each culture and sharing it with strangers had created his most unforgettable experiences. 
However, it wasn't until he moved to Rome in 2009 that Kenny really developed a passion for European cuisine. Like any expat, he received several visits from friends and family who were keen to see his new home. He'd often take his visitors to his favourite backstreet eateries, where he'd love introducing them to the people behind the food. 
From Armando, the toothless gelato maker, to Flavio, the charismatic chef with a claim to the city's best carbonara, Kenny's guests fell in love with the characters and stories that came with each dish!
After some encouragement, he finally decided to turn his casual neighborhood stroll into an actual tour. At the time, food tours were rare and Kenny spotted a unique opportunity to give travellers a real taste of the Italian life he'd come to love!
In 2011, Eating Italy Food Tours was born!
Kenny then began traveling to other cities in Europe and meeting people who shared the same burning passion for showing curious travelers the local food, places and people in their own neighborhoods. In each city this person worked hard to create the same unforgettable food tours that Eating Italy was offering in Rome. In London, Nicole was soon introducing guests to Poppy the owner of her local "chippy." In Prague, Robert was breaking gingerbread cookies with guests, and in Amsterdam, Dimitri was teaching people the many different ways to eat fresh herring.
Eating Italy Food Tours soon became Eating Europe. The team and the destinations continue to grow and today are sharing a taste of local life in nine cities all across Europe.