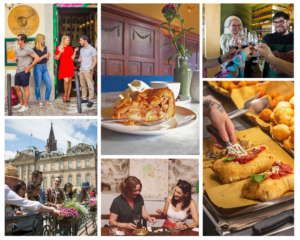 European Food Tour Promo Codes & Special Discounts
Are you planning your next foodie experience? Like us, we know you're always looking for the best deal or to save a little on your next holiday!
We want you to explore the city and get a taste for local life – not spend hours combing the internet for a real discount to one of our food tours. That's why we provide an official Eating Europe coupon code, one that will get you the best discount possible for your experience. So stop wasting time trying to find a real discount code that isn't expired, broken, or doesn't provide any real value for you (such as website that say click here for the deal that really don't provide any sort of discount!). By contacting us and using our official Eating Europe promo code instead, you can use your time to plan your city break and get back to making lasting memories. 
We understand the struggle – we all shop and plan our own holidays! You find the perfect food tour to turn your next trip into an incredible experience, a food tour that will give you a taste of local life and will truly connect you to the place you are visiting. And now you want to make sure that you are paying the best price by searching the internet for an Eating Europe discount code. But most of the sites you land on aren't affiliated with us and are using our name and logo without approval. What you get is outdated coupons, expired promo codes, or even worse, no discounts at all. The result is that you waste your time online without getting any real value in return.
We believe your time is better spent preparing for your vacation. Or simply dreaming about your upcoming food tour that will not only take you to the places locals actually visit but also connect you to the people behind the food. 
So, to make sure you get the best food tour experience at the best price possible: 
Book two or more tours and save 15% on the 2nd tour! You won't find a bigger discount! Contact us via the button below and we'll email you to learn more about your holiday confirm availability and discounted pricing.
Newsletter Promos & Exclusive Deals
We also offer special food tour discounts to everyone that joins our newsletter. Sign up below for exclusive offers and incredible savings.