Explore The City Of Lights On A Paris Food Tour
In Paris, it's easy to feel overwhelmed by all the mouth-watering food on offer. With so many appetizing options, how can you possibly choose? Thankfully, our food tours in Paris take you to the city's most iconic restaurants and cafes where you'll sample some of the best food in France. Experience the world-famous cuisine and culture as Parisians do, led by a fun local guide who will show you the most delicious hidden gems in a city full of history and flavor.
Allow our unique Paris food tours to open your eyes to the City of Light that we know and love. You will experience firsthand the culture and history while enjoying incredible foods. From the classics like a buttery croissant to exciting new flavors and modern fare from restaurants that the locals love.
Whether you're a first-time visitor to Paris or a seasoned traveler, Eating Europe offers several unique tours, including Chef PJ's Montmartre Food Tour and Le Marais Food & Wine Tour, to experience the city's culinary delights. Book your Paris food tour today to embark on a culinary adventure.
Meet Your Local Paris Tour Guides
Experience the city with a Paris food tour guide and feel like a local.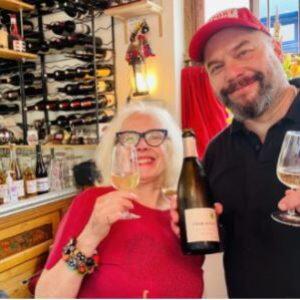 Chef PJ
Born in Paris but a citizen of the world, having lived in the US and traveling on a cruise line as the chef for many years
Favorite dish is whatever I am eating at the moment. France is a banquet of incredible food. I know where to find this, and will show you on the tour
Time off is spent with Laurence, my beautiful wife who you see in the photograph with me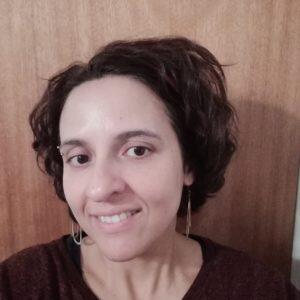 Sylvana
Born in Buenos Aires, Argentina
Something simple like a crêpe oeuf fromage, a croissant aux amandes or just any kind of cheese
My favourite spot is by the river, anywhere between Pont d'Alexandre and the Ile Saint Louis. Have an picnic and a glass of wine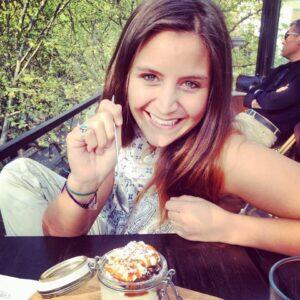 Chef Lulu
I was born & raised in Paris. Like Julia Child, I've lived 6 years in Shanghai, China and when I came back to Paris I decided to go to cooking school. To continue following her footsteps I will probably move to Marseille one day.
My favorite meal would be a perfectly cooked roasted Chicken and potatoes with green beans but I also have a real passion for Indian food.
I can talk about anything food & beverage related for hours!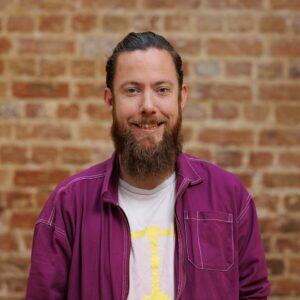 Chef Tristram
Born in London. I first lived in Paris at 18 to apprentice as a chef and moved back in 2018 to be with my wife for the birth of our daughter.
My favourite meal is something Julia Child would have served her guests; a simple green salad, a large selection of french cheeses, red wine and of course a proper Baguette.
My down time is spent cooking; either simple fresh food for our little family or epic meals to entertain friends.
Read Our Reviews
Some Say We Have the Best Food Tours in Paris
---
Taste The Delicious Foods of Paris & Explore The City Like A Local Parisian
A Paris food tour is the perfect experience for those who love the idea of tasting the best of Paris, but are also curious about the daily life of Parisians! We'll share classic French gourmet foods while leading your exploration of the vibrant neighbourhoods in Paris! With glistening fruit tarts down one cobbled street and artisanal cheeses down another, Paris presents a particularly drool-worthy panorama!
By joining us on our unique walking food tours in Paris, you'll have the opportunity to experience our passion for the local food scene and enjoy local dishes and wine. You'll also discover why food is a "way of life" here in Paris. As you enjoy authentic local bites ranging from savory to sweet (plus some wine!), you'll discover the city and many of its hidden corners.
Our local Paris food tour guides have their favorite spots that they are inspired to share, with stories that bring the history and culture of Paris and its cuisine to life.
Dodge the crowds with a local and experience all that Paris has to offer while on our award-winning food tours. You will have a truly authentic experience in the City of Light!
Frequently Asked Questions
What food is Paris famous for?

There are so many favorites to choose from, but there are three foods that stand out: pastries like croissants and macarons, steak tartare, and the croque monsieur. Each are delicious, must-have treats when visiting Paris. 

Do the tours accommodate vegetarian or gluten-free diets?

All of our food tours are vegetarian friendly. However, it may not always be possible to serve vegan, gluten-free, or kosher foods at many tour stops. Please notify us of any dietary restrictions upon booking so we can try to accommodate your needs.

What's included in the price of the food tour?

All food and drinks are included in the price you pay for the tour. Some tours may have the option to upgrade to a more luxurious drink package.

Do you tip in Paris?

A gratuity service charge is generally included in your bill. Additional tips are discretionary and not required, though a 5-10% tip is appreciated.

I'm traveling alone. Do you offer single tickets or just group sales?

We love welcoming solo travelers! All of our tours are open to individual guests.

What is Eating Europe's cancellation policy?

Private tours can be cancelled and fully refunded up to 7 days before tour departure. 

Small group tours can be cancelled and refunded up to 24 hours before tour departure. See our complete

cancellation policy here.