COVID-19 Update, 3 July 2020
As our tours start running again, we continue our commitment to keep our guests, our staff, our guides, and our small business partners safe throughout the COVID-19 pandemic. We and our business partners will all be in compliance with and adhere to the local regulations in each of our destinations.
As local regulations aren't the same for each country and in some cases, each city, the required measures to ensure your health and safety might vary. Please continue to monitor local travel recommendations. In addition:
Where & when possible, we will conduct all food tastings outside
Face masks may be required for our guests in public areas – it is recommended that you bring a mask with you
Face masks may be required for our tour guides in public areas
Hand sanitizer will be provided to our guests as needed
Social distancing will be enforced throughout the experience, when possible
Our tour guides will be required to regularly wash hands and avoid shaking hands and/or otherwise close contact with our guests
Any tour guide that is exhibiting any symptoms related to COVID-19 or those that have a known exposure will be replaced with another Eating Europe tour guide
Guests that are exhibiting any symptoms related to COVID-19 are asked to stay home.
If you have any questions or concerns, please do not hesitate to contact us via email [info (at) eatingeurope.com] or phone. We are here for you!
---
COVID-19 Update, 16 March 2020
Please read this important information message from Eating Europe regarding the COVID-19. 
The last several weeks have been such an anxious time for everyone. With most of our team being in Italy,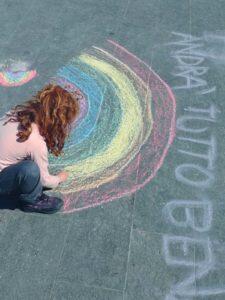 we have seen first hand the awful threat that the world is confronting at this moment.
We are committed to keeping our guests, our staff, our tour guides, and our small business partners safe. We also want to do our part in supporting the precautionary measures that will help slow down the spread of the COVID-19 disease.
We have decided to suspend all upcoming tours through May 1st as a first course of action. We are also urging everyone to please take the maximum precaution possible at this time by practicing what the health authorities globally are recommending – social distancing and staying at home as much as possible.
Over the last nine years we have seen the positive and lasting affect that can happen when different people from all over the world connect around food. This simple notion has been at the core of what we do at Eating Europe since the very first days.
We want to keep connecting around food with all of you and encourage you to do the same with those you are with at home. Let's all use this time indoors to cook new things in creative and different ways, to learn a new skill in the kitchen.
To get behind this we are going to begin sharing recipes of our favourite dishes from the countries and cities where we run our food tours.
Use hashtag #connectwithfood to show us what you're cooking!
Here in Italy we are all rallying around the expression "andrà tutto bene " which in English means "everything will be ok."
Let's get through this together!
Warmly,
Kenny Dunn, Founder
Eating Europe