11238 Views
Surrounded on all sides by lush Tuscan countryside, and within easy reach of the coast, the city of Florence has easy access to every type of Italian produce imaginable. Each morning, the city's markets fill up with just-picked seasonal vegetables, fresh seafood from the Mediterranean, and the high-quality wines, cheeses, oils and other delicacies the region of Tuscany is so well known for producing.
Florence has two permanent covered markets with interesting architecture and plenty of history, as well as many different weekly and monthly markets held around the streets and squares. A visit to these much-loved Florence food markets really is a must while you're in the city as not only can you shop and sample the delicious Tuscan cuisine, but you'll also experience a real slice of city life. 
If you can't wait to see them for yourself, here's our guide to visiting the very best food markets in Florence.
Mercato Centrale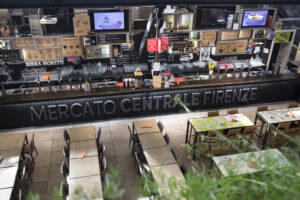 The oldest, largest and most famous market in Florence sits undercover inside a striking building which dates from the turn of the last century when the city was Italy's capital. Designed by architect Giovanni Mengoni, who was also behind the Galleria Vittorio Emanuele II in Milan, the building has two floors with distinctly different architectural styles, atmospheres, and produce for sale.
The historic ground floor market area boasts countless stalls piled high with meats and cheeses, and many of these stalls are owned by the third or fourth generation of the same family that has traded here since the place was built. You can find Florentine butchers displaying every cut imaginable, seemingly endless varieties of artisan cheeses for sale, and shop at fresh fish stalls beloved by some of the best chefs in Florence.
There's a large, renovated space on the more contemporary steel-and-glass first floor. This is where you'll find the vegetable and flower stalls, as well as a restaurant, a pizzeria, a brewery, a bookshop and a cooking school. While the Central Market is not the cheapest place to grab a bite to eat in Florence, it's an atmospheric spot where quality really is guaranteed.
Mercato Sant'Ambrogio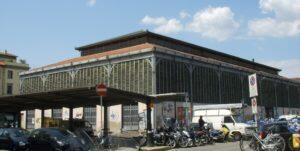 Florence's other covered food market was also designed by Mengoni, and there are noticeable similarities with the Central Market when it comes to the architecture. Otherwise, things are a little different here. Many say it's the market most favoured by Florentines, both for the quality of produce available and for the lively atmosphere in and around the market building. 
Inside, the stalls sell a wide variety of fresh meat, fish, cheese and cured meats, and prices are very reasonable. Outside you'll find the 'barrocci', the fruit and vegetable sellers who shout their latest special offers out to passers by. Many of  these market sellers have been working on the same pitch for years, if not decades, and their shouts are part of the fabric of life in the area. 
Like almost all Italian markets, Sant'Ambrogio sells both fresh produce with all kinds of other items. Other stalls around the market building offer all kinds of household goods, vintage clothing and more.
Il Mercatale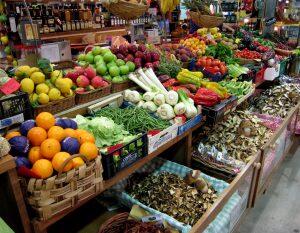 If you're in Florence on the first Saturday of the month, you can't miss this popular outdoor food market held in the central Piazza della Repubblica. Around a hundred organic producers from within one kilometre of the city limits come together to showcase their goods, which include honey, olive oil, wines, cheeses, herbs and handmade pasta.
As well as being a food/lover's dream, and a very pleasant way to spend a Saturday morning, this market has historical significance. This piazza was the original location of the Mercato Vecchio, or Old Market, and a food market stood here until the end of the 19th century. This was moved when Florence became the capital of Italy, but this newer market celebrates the location's long association with food.
The market runs from 8am to 8pm every first Saturday of the month, except for in January, July and August.
Le Cascine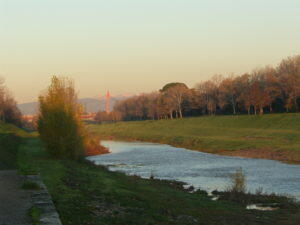 Tuesday mornings for foodies in Florence are all about biking or catching the tram down to the colourful riverside Cascine Market. One of the best/loved food markets in Florence, it's perfect for a stroll and some bargain/hunting, as it's known as the biggest and cheapest market in the city.
Stalls selling street food, fresh produce, clothing and household goods stretch for a kilometre along the north bank of the Arno river, through the Parco delle Cascine. This large, green park just outside the city centre is perfect for a walk and a picnic after you've finished shopping at the market, where you'll be spoilt for choice when it comes to picnic foods.
Visiting Le Cascine is the perfect way to spend a morning if you're looking to get out of the hectic central area and see a different side to Florence. It's a down-to-earth affair but the quality of the produce for sale is, as at any Italian food market, always extremely high.
Opening hours and addresses for all food markets in Florence can be found on the official City Hall website.
Visiting the markets is just one way to experience the best of Italian food in Florence. Planning your trip? You can taste all of the traditional dishes in Florence by joining one of our Florence Food Tours.