10332 Views
Brick Lane in London's East End is an epicenter of cultural diversity, the Curry Capital of the U.K., and a mecca for on-trend shopaholics. The street runs from Bethnal Green to Whitechapel, passing through the Shoreditch and Spitalfield areas but nowadays 'Brick Lane' tends to refer to the wider area around the thoroughfare and not just the street itself. You'll find a dizzying array of vintage shops, record stores, niche boutiques, street art, and nightlife catering to every taste as you navigate the area's winding cobbled streets.
Weekends on Brick Lane are a full-on affair and not for the faint-hearted (or severely hungover). Throngs descend on the Brick Lane Market to haggle over one-of-a-kind clothing and eat at a food market which boasts more cuisines than you can shake a stick at, while a few badass buskers playing live music hold crowds in their thrall. If you're in the area, don't miss the jagged slabs of hot salt beef encased in small bagels smeared with mustard at Beigel Bake, the scent of fresh flowers at the Columbia Road Flower Market, and you certainly can't leave Brick Lane without having a curry – that would just be wrong.
Here are a few things you may not know about the most famous street in London's East End.
5 Things You Didn't Know About Brick Lane
1. Why Is Brick Lane Known as Banglatown?
"Indian" food plays a huge role in British culture, and the U.K has over 10,000 "Indian" restaurants. Why the quotation marks? The Indian restaurants aren't actually Indian. Over 80% of all South Asian or Indian restaurants in the U.K. are owned by Bengalis and almost 95% of them have roots in Sylhet in northern Bangladesh.
The partition of the Indian subcontinent in 1947 led to major political upheavals in Bangladesh so many moved to the U.K. seeking work and security. The British love affair with South Asian food began just after the Second World War when curious natives discovered the spicy, flavourful food being cooked by the influx of Bengali migrants in the cafes and canteens that they set up to feed themselves and their families. Brick Lane is at the heart of London's Bangladeshi-Sylheti community which is why it was nicknamed Banglatown.
As well as countless curry houses, you'll find Bengali foods on sale in the local shops and markets, and the street plays host to an annual Curry Festival with live entertainment laid on by the Tower Hamlets Council. It's clear that these days Brick Lane is a melting pot of social groups, cultures and subcultures, all of whom come together to enjoy the U.K.'s favourite dish: the curry.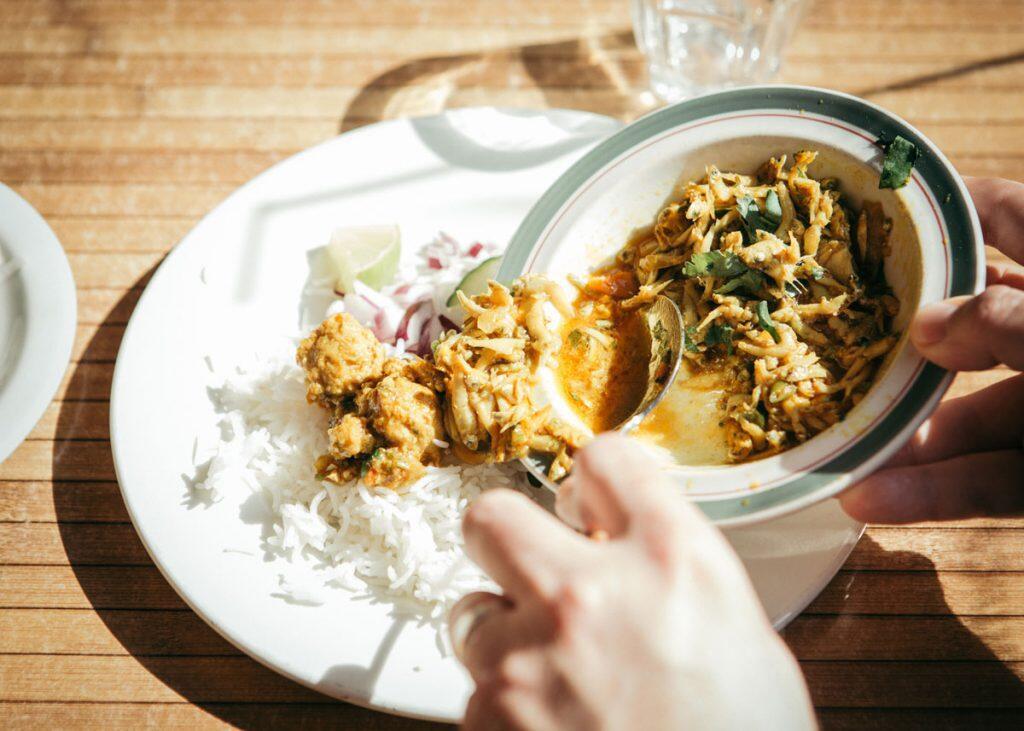 * * * * * * * * * * * * * * * * * * * * * *
Taste the best of Brick Lane!
Join us on our Brick Lane – Flavours of India & Beyond food tour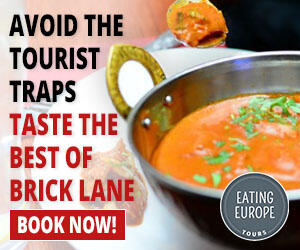 * * * * * * * * * * * * * * * * * * * * * *

2. Dogs, Cats, Monkeys & Lion Cubs
We've mentioned that there's an impressive selection of wares on offer in the shops, the the pop-up stores which occupy studio and gallery spaces, and of course the weekly markets around Brick Lane, but there was a time when the goods on sale were a little more extreme.
Between the 1800s and 1980s a live animal market took place each Sunday from Club Row to Sclater Street. Huguenot silk weavers selling songbirds were said to have started the market which expanded to include the sale of poultry, cats, dogs, rabbits, guinea pigs, and disturbingly exotic creatures like snakes, monkeys and even lion cubs.
In 1977, photographer Markéta Luskačová documented an instance where a lion cub being sold encountered a curious dog. After receiving thousands of complaints, the RSPCA finally shut down the market in 1983.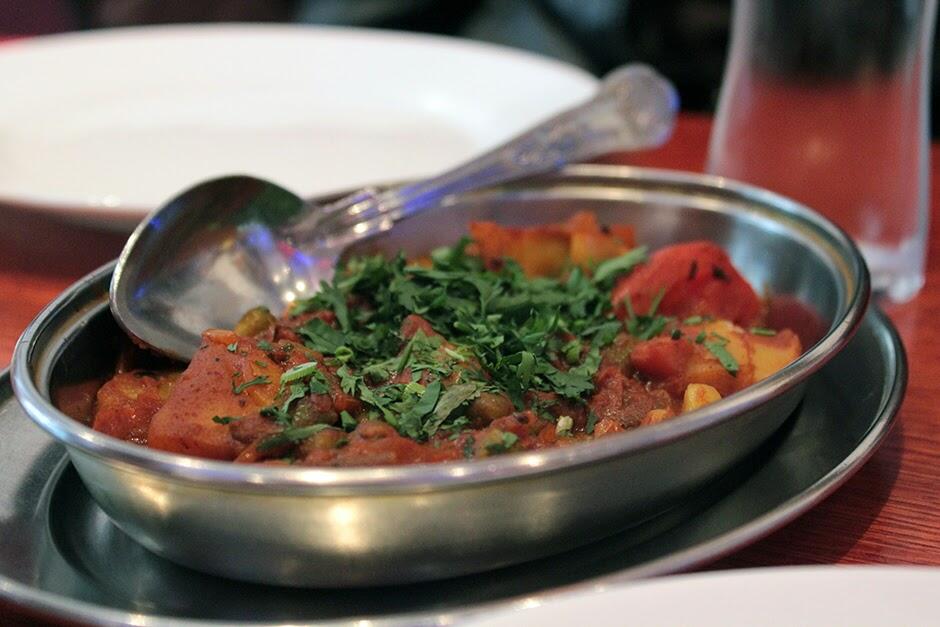 3. Brick Lane the Movie
Monica Ali's novel Brick Lane, about a Bangladeshi woman in an arranged marriage was shortlisted for the Man Booker Prize and adapted into a film which was released in 2007. Brick Lane residents were hired to appear in the film as extras and many of the scenes were scheduled to be shot on location on the street until fierce protests involving over one hundred British Bangladeshis in July 2006 halted the production and an alternative location had to be found.
The novel and film provoked criticism by some in London's Bangladeshi community who felt that Bangladeshis particularly from the Sylhet region were portrayed as uneducated and unsophisticated. Novelists Salman Rushdie, Hari Kunzru and Lisa Appignanesi came out in support of the production and the film was well received by most critics including Roger Ebert.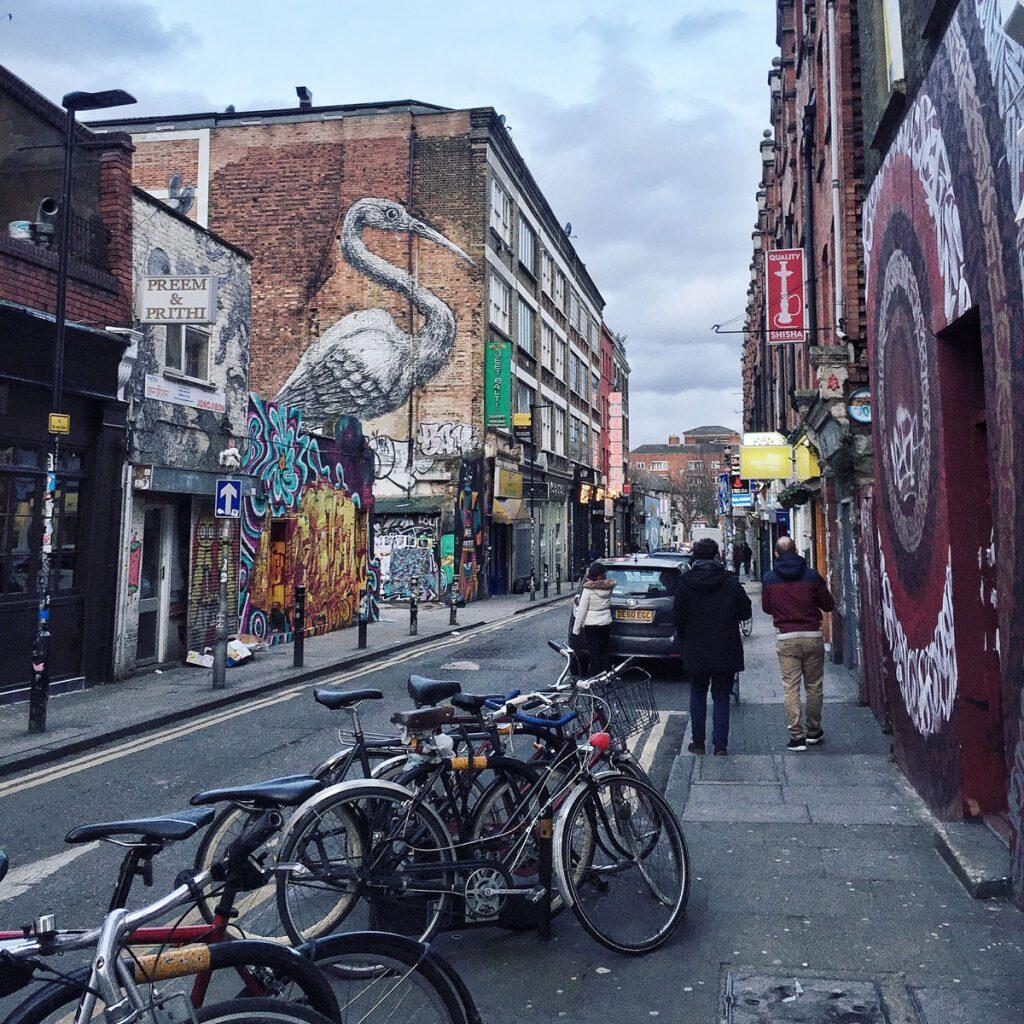 4. Street Art
Street artists from the local area and around the world come to Brick Lane to leave their mark. Well-known artists like Banksy, Stik, D*Face, ROA, Ben Eine and Omar Hassan have all contributed to the area's legacy of stencil-based, and often political art.
One of the most prominent pieces by Banksy was painted close to a bridge on Brick Lane where no other street art was situated at the time. The piece read: "To advertise here call 0800 Banksy", but sadly some of the work has since been removed by thieves. Keep your eyes peeled for pieces along the street, as well as on Pedley Street, Grimsby Street, Rivington Street, and Hanbury Street.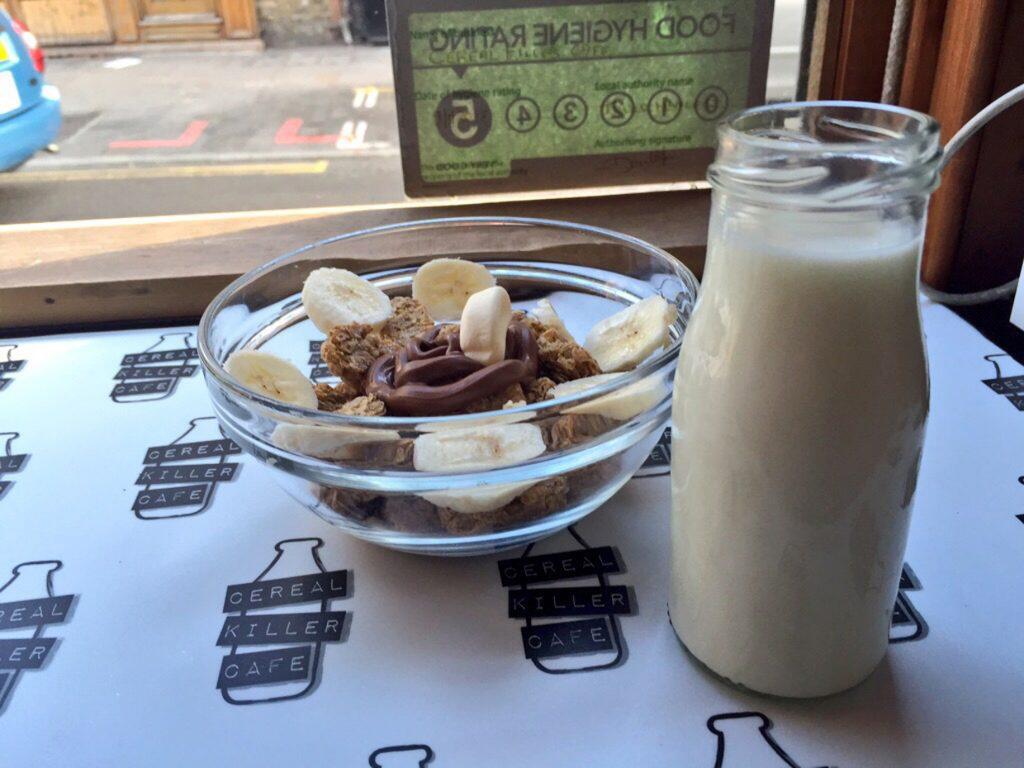 5. A Cereal Cafe as a Symbol of Gentrification
Brick Lane's Cereal Killer Cafe was made famous by an anti-gentrification protest in September 2015. A large crowd of anti-gentrification activists carrying torches and pigs' heads surrounded and defaced the premises until riot police arrived. Protesters outraged at the area's rising rent prices saw the cafe which sells bowls of cereal as a valid target, however, the Cereal Killer Cafe an independent business run by two brothers and not a conglomerate.
The cafe's customers are spoilt for choice with over 120 different cereal brands from all over the world to choose from and over 30 types of milk. Prices for a bowl of cereal range between £2.60 to £5.50 (not including toppings or premium milk). If cereal isn't your thing Pop Tarts, a variety of coffees and malt shakes are also available. The cafe, situated at 139 Brick Lane is open 8 a.m. to 8 p.m. but get there early on weekends unless you want to queue.
Let us show you the best of Banglatown on our our Brick Lane – Flavours of India & Beyond food tour