1394 Views
At Eating London, there's nothing we love more than cheese. So it's only natural that we've searched far and wide across the capital to bring you the ultimate cheese lover's guide to London. From gourmet cheese and indulgent cheesecake to gooey fondues and cheese specialities, there's no doubt that London has it all! If you're headed to the capital and looking to chow-down on some cheese, then be sure to follow our handy guide and remember, you'll find us with a plate or 2 full of cheesecake…
For cheese with a side of sophistication: Androuet
Established in 1909, Androuet London offers some of the finest cheeses in London. During a visit this gourmet cheese shop, you can pick up everything from Camembert and Swiss Gruyere to Stinking Bishop and Roquefort, along with a variety of seasonal specials. If you've got some time, why not grab a table at the Androuet restaurant? Here, you can create your own cheeseboard or indulge in one of their Cheese Specialities, which includes a Vintage Gouda Double Baked Soufflé and the Androuet Tartiflette. Don't forget, we also take a trip to Androuet during our East End Food Tour!
Old Spitalfields Market
107b Commercial Street, London E1 6BG
+44 (0)20 7375 3168
androuet.co.uk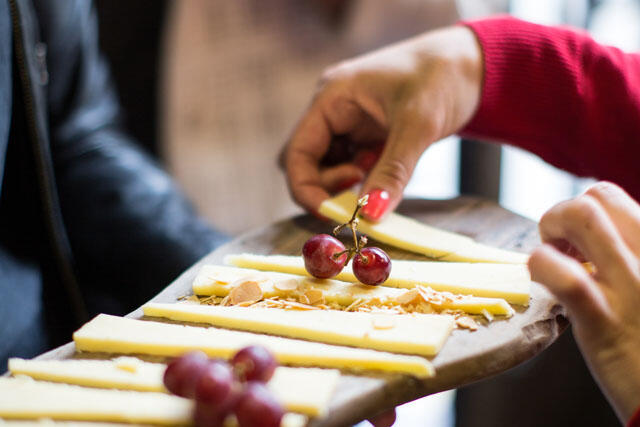 Tuck into a tasty cheese toastie: Grill My Cheese
When it comes to toasties oozing with cheesy yumminess, it just doesn't get better than Grill My Cheese. Their menu might be simple, but their sandwiches are scrumptious. In every toastie you'll find a signature blend of artisan cheese on organic sourdough bread, plus you can choose to add an array of tasty homemade fillings. If this sounds like your kinda thing, you can find Grill My Cheese at Leather Lane Market on Tuesday through to Friday and the South Bank Christmas Market over the festive season.
Leather Lane Market on Leather Lane
Holborn, London EC1N 7RJ
grillmycheese.co.uk
The capital's yummiest cheesecake: English Cheesecake Company
Offering nearly every flavor imaginable, there's no way we could forget about the English Cheesecake Company. Just some of the mouth-watering desserts available include After Dinner Mint, Butterscotch Caramel Crunch, Bohemian Rhaspberry and the delectable Cinnamon Bun Streusel Cheesecake! What's better yet? You don't even have to be in the city to enjoy the English Cheesecake Company's treats, as they'll deliver anywhere in the UK for free. We've no doubt about it: you'll be in creamy cheesecake heaven.
But if you fancy something a little bit quirkier head to Harrods in Knightsbridge, where you'll find the Goats Cheese Éclair and Salmon Gâteau…
+44 (0)20 8964 9556
Cheesecakes can be ordered on their website: englishcheesecake.com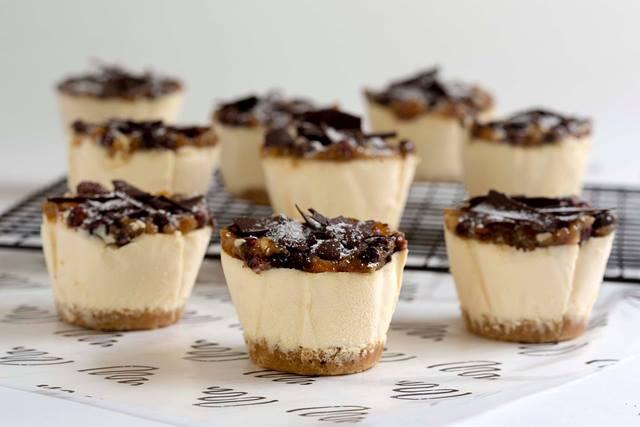 For London's finest fondue: St Moritz
If you're after some cheesy fondue goodness, then there's only one place to visit in London: St Moritz. Established in 1974, this authentic Swiss restaurant is known for serving some of the best melted cheese in the UK. Visitors to St Moritz can take their pick from a wide variety of huge fondues, alongside a whole host of other Switzerland specialties. We highly recommend tucking into the Fondue Moitie-Moitie, a bubbling mixture of Gruyere and Vacherin cheese served with fresh new potatoes and crusty bread – yum!
161 Wardour Street, London W1F 8WJ
+44 (0)20 7734 3324
stmoritz-restaurant.co.uk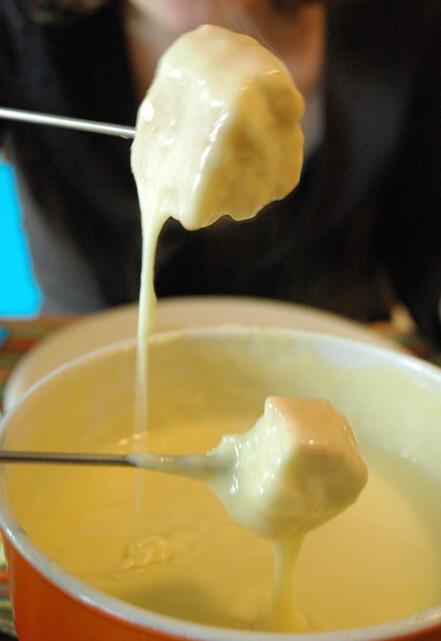 And finally… London's cheesiest nightclub: Tiger Tiger
Located in the heart of Piccadilly Circus is one of London's coolest clubs, Tiger Tiger. Known as a hip hangout for many London-ers, you might not know that Tiger Tiger is also home to one of the capital's cheesiest party rooms – Groovy Wonderland. With a playlist packed full of 80s pop classics, Tiger Tiger is the perfect place for you to party 'til dawn! So grab a Club Tropicana and get ready to throw some groovilicious shapes on the dance floor…
29 Haymarket, London SW1Y 4SP
+44 (0)20 7930 1885
tigertiger.co.uk
Next time you're in London and looking to indulge in some of the best cheese experiences in the capital, be sure to follow our handy list and as always, remember to let us know your favorites!