7226 Views
Thoughts of Milan might not immediately conjure its cuisine. Instead, you probably think of the city's high fashion scene, its shop windows full of Gucci, Prada and Armani. But like every other city in Italy, Milan cooks up some delicious food. It has local specialties that are sure to get your mouth watering, like the risotto milanese, which is a subtle saffron risotto, or the cotoletto milanese, thin veal cutlets breaded then fried. In Milan you can find everything from restaurants that serve a refined take on more traditional dishes and hole-in-the-wall trattorias that worry more about taste than presentation.
A big part of dining out in Milan is the aperitivo, served usually between 6 and 8 pm. And while the Romans like to compete with their very own version – the Rome aperitivo –  it was the Milanese who actually invented the concept! The prices of drinks rise by a couple euros to include vast buffets of food. We've organised the list below by sit down places (restaurants), stand up places (for quick bites), and places to go for drinks (the aperitivo). We hope you enjoy our suggestions as much as we do!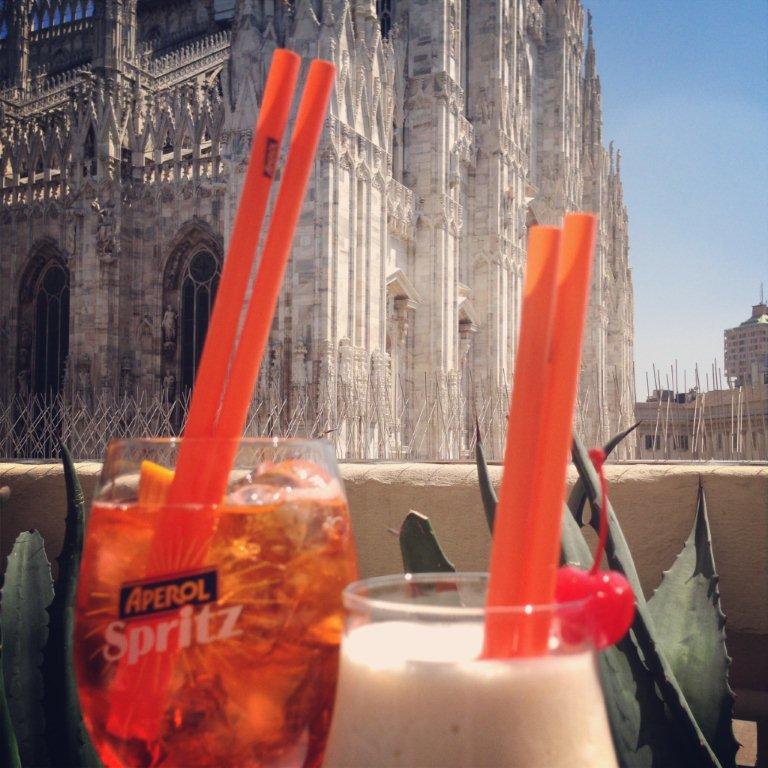 Restaurants in Milan
Alla Cucina delle Langhe
In the shopping centre of town, Alla Cucina delle Langhe has gained fame as Tom Ford's favourite place to eat. The prices are good and the food is even better.
trattoriaallelanghe.com
Corso Como, 6
+39 02 655 4279
Ristorante Brellin
This restaurant in the Canal District is known for its romantic atmosphere. And from the outside it looks like a cozy, old house on the Grand Canal. Brellin serves traditional Milanese food with a fine-dining twist. If it's warm at night, try to sit outside on the patio under the candlelight. It's a perfect place for dinner with your favourite person.
brellin.it
Alzaia Naviglio Grande, 14
+39 02 5810 1351
Ristorante La Tradizionale
Another popular restaurant in the hip Canal District, La Tradizionale serves delicious pastas, pizzas and meat. The restaurant's interior is all open and elegant spaces, and outside there's a terrace perfect for summer nights.
latradizionale.com
Via Bergognone A. da Fossano, 16
+39 02 4229 2026
Cheap Eats in Milan
Luini 
You really won't want to miss eating at Luini while you're in Milan. Just around the corner from the Duomo, Luini has been serving panzerotti, small deep-fried calzone, for 150 years. This small bakery is popular with Milanese and tourists alike, so if you're going at lunchtime, expect a wait.
luini.it
Via Santa Radegonda, 16
+39 02 8646 1917
Pasticieria Marchesi
Milan is well known for panettone, the sweet bread typically served at Christmas time. And the Pasticieria Marchesi is one of the best places in the city to try it. Even if it's not Christmas, there are still plenty of other sweets to stop in and try alongside a cappuccino at its classic zinc bar.
pasticceriamarchesi.it
Via Santa Maria alla Porta, 11
+39 02 876730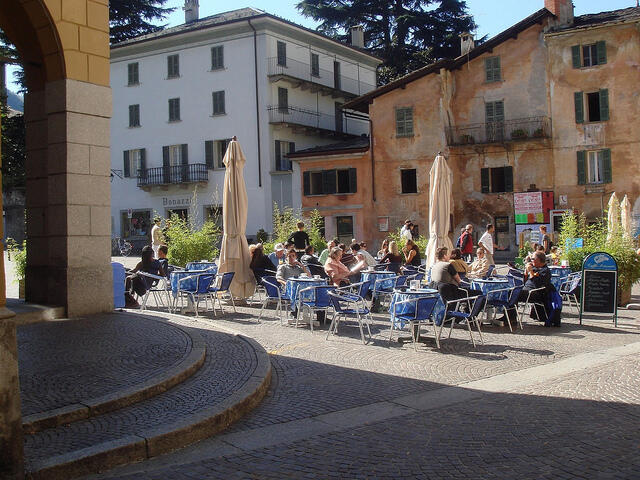 Drinks in Milan
Le Biciclette
Le Biciclette calls itself a restaurant and art bar. It's a trendy restaurant at night, and in the evenings the bar serves drinks alongside the requisite snacks in a relaxed, fashionable atmosphere. Keep an eye on the website for events such as live music, art exhibitions, and themed cocktail hours.
lebiciclette.com
Via Torti, 2
+39 02 5810 4325
La Vineria
Vino sfuso, which could be loosely translated as bulk wine, can be found throughout Italy. But La Vineria in Milan is a rare treasure because not only can you buy your wine in big glass jugs to take home but you can also sit and enjoy a glass at the bar with a plate of local cheeses and cured meats. This is one of those places where once you take a table and have a glass of wine in hand you feel like a local.
la-vineria.it
Via Casale, 4
+39 02 8324 2440
Trattoria Toscana
So it's true that trattoria means restaurant, but this is one-of-a-kind trattoria also has a cocktail bar. Alongside the cocktails and wine in the evenings, a delicious and varied buffet is served at the bar. You might eat so much that it would be difficult to imagine moving on to dinner.
trattoriatoscana.net
Corso di Porta Ticinese, 58
+39 02 8940 6292
 * * *
Contact [email protected] with Blog Enquiry in the subject title for any feedback or requests for a topic you want us to cover. Voted one of the best things to do in Rome, Eating Italy Food Tours offer Rome walking food tours through Rome's oldest and most characteristic neighborhoods.