6104 Views
When it comes to food and wine, Tuscany would have to be north of our long list of favorite regions in Italy. It's just so breathtakingly beautiful and offers the traveler a lot of diversity. From cities to coast, medieval towns and the rolling hills of the Tuscan countryside, there's just about something for everyone in this region. And not to mention, delicious food and wine for your Tuscan holidays. Here are some of our favourite spots and tips on what to see and importantly… what to eat in Tuscany!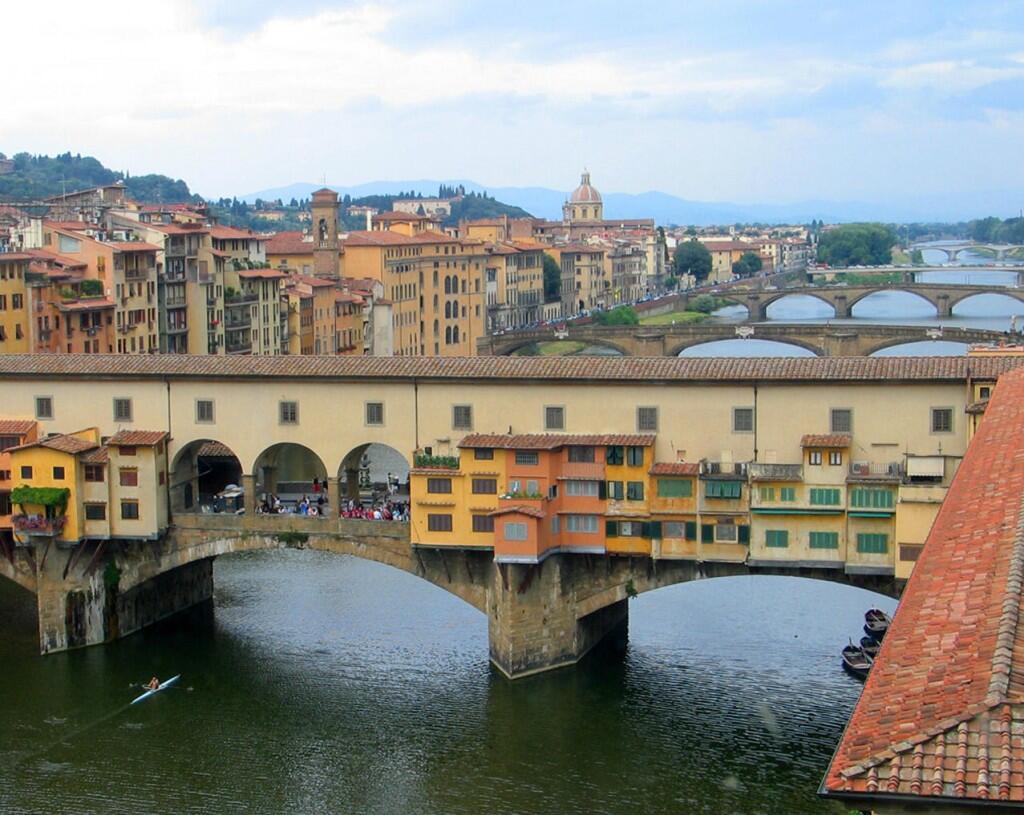 'Tis the season…
We love the fact that in Italy, diet and cuisine is based not only on fresh organic produce but the seasons. Seasonal produce in Tuscany at the moment includes persimmons, chestnuts, walnuts, pumpkin, porcini mushrooms, truffles, artichokes and leeks. Things like rabbit and cinghiale (wild boar) are also popular in the region and are available all year round. It's also the season for olive harvesting – oh and it's always the season for wine here!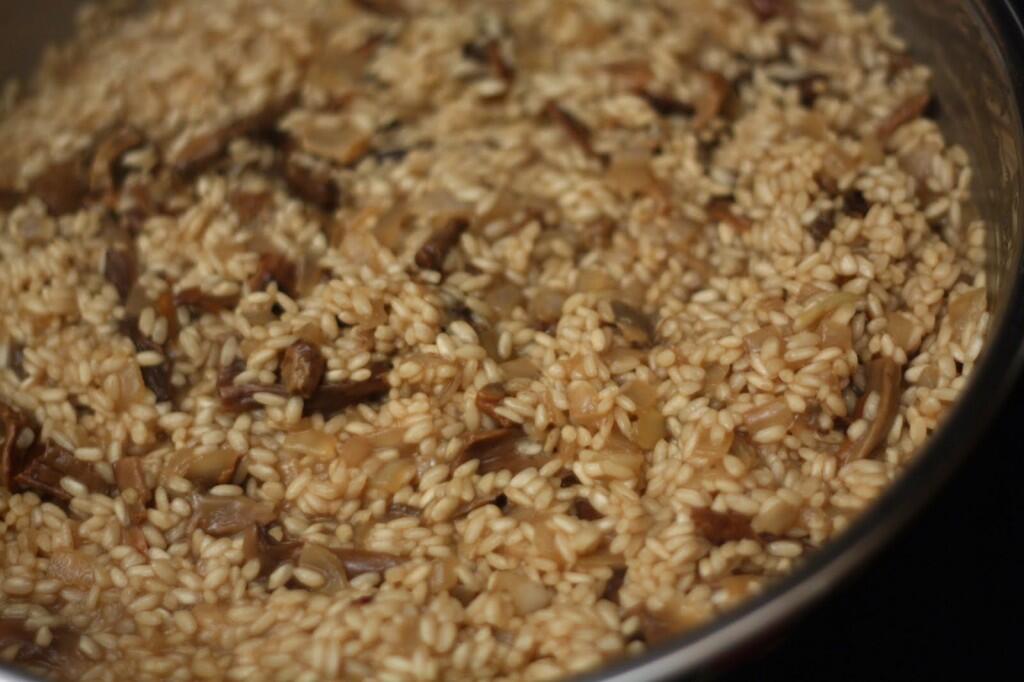 Florence
Florence is the capital and largest city in Tuscany. It is one of the most beautiful cities in Italy and the home of the Renaissance. It's possible to visit on a day trip but also consider taking a longer trip. Florence is a must visit with its amazing art history, monuments and attractions like the Duomo, Uffizzi Gallery, the Ponte Vecchio and the famous Statue of David. It's great for buying leather with many markets and boutiques to choose from, especially near Piazza Santa Croce. But if you need to take a break from taking in all the culture Florence has to offer, sit down for a meal and order the compulsory Bistecca alla Fiorentina – a T-bone steak made from the white Tuscan Chianina cattle and renowned for its tenderness and flavor. You might want to consider sharing this dish though since it is a thick cut and remember it's traditionally served rare. Check out the Tuscany restaurant, Trattoria Bordino, for a steak we know you won't forget!
For something sweet, the famous Biscotto Fiorentino (the Florentine biscuit) is a must have while in Florence! Made from nuts, candied cherries and formed in a caramel disc, these delicious biscuits have a dark chocolate base. They are easy to find in the city but for an extra special version and other amazing chocolate creations visit the historic restaurant and cafe, Café Gilli, located in Piazza della Repubblica. They have been serving up treats since 1773!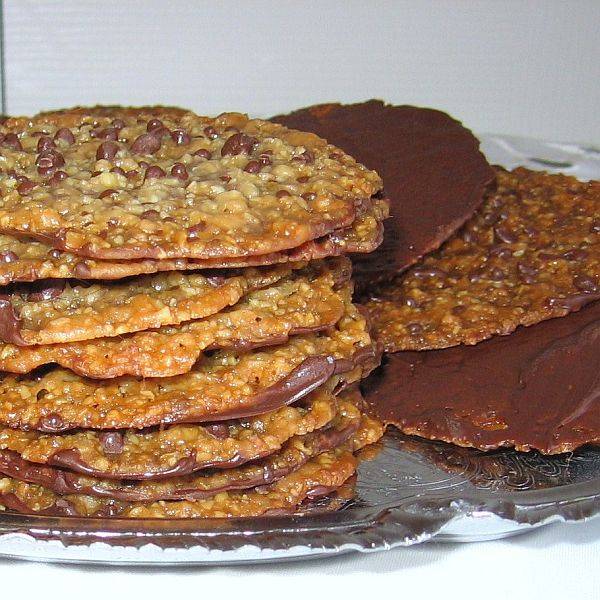 If you're after a quick lunch in between your sightseeing and leather shopping, check out All'Antico Vinaio located right behind Piazza della Signoria near the Uffizi Gallery.  You can't go wrong with this panino (sandwich) shop, a favorite among locals and visitors with their reasonably priced sandwiches and great local wine.
Siena
When we think of Siena we think of art and all things medieval. Oh and one other thing of course… Panforte! This usually round, flat cake is made with candied fruits, nuts, and flavored with honey, vanilla, nutmeg and cinnamon and is just divine. It's the perfect way to finish of a Sienese meal. For panforte that we're certain you won't forget, visit Pasticerria Bini which is easy to find right behind the Duomo in the center of town.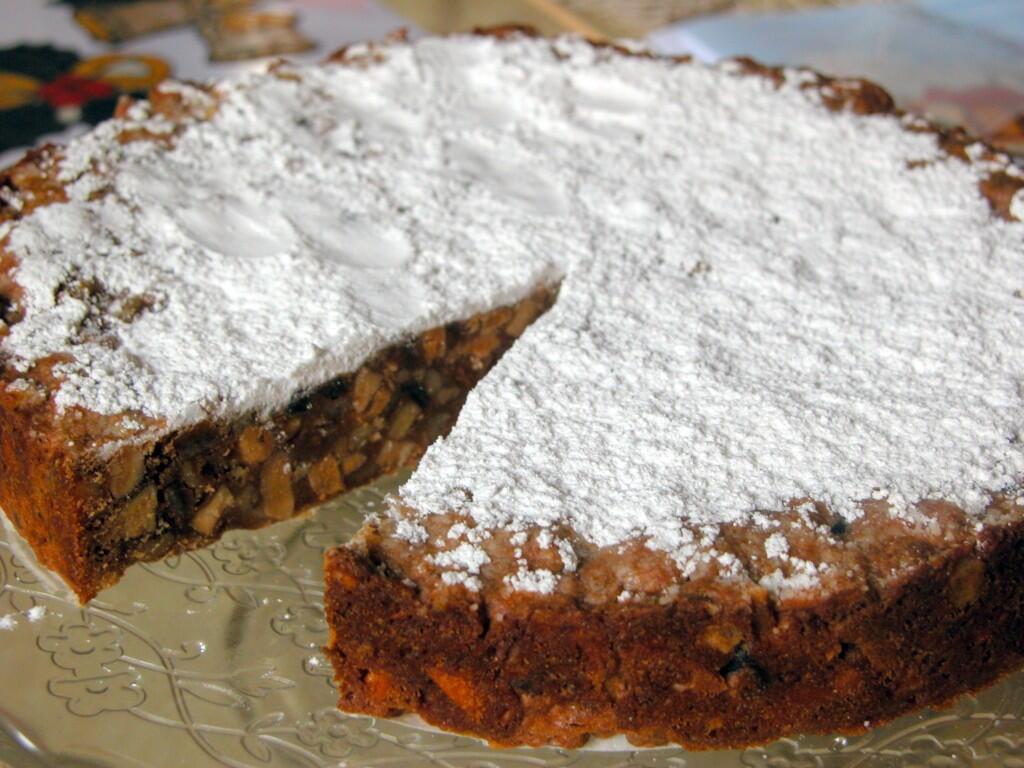 Other things you might want to try while in this area are the various pork dishes. With cinta senese – a breed of pigs found only the Chianti region – this is a must try. Try some rolled pork or pork spare ribs or even the cinghiale (wild boar) soup at the restaurant Antica Trattoria Papei set in the Piazza dei Mercanti and where locals have been lining up for simple but great Sienese food fare for years.
Pisa
Now you may not have thought that there is more to Pisa than the Leaning Tower but the city is renowned for some great specialty dishes.
You must try the minestra di fagioli bianchi di S. Michele (a soup made with navy beans), bavettine sul pesce (seafood with linguine like pasta), or risotto con le arselle (rice cooked in stock with clams). We like Restaurant Leopolda Pisa where they serve up authentic and tasty versions of all these classics and the staffs are delightful.
Lucca
The charming town of Lucca is famous for its Renaissance-era city walls that have remained intact while many other towns in Tuscany saw theirs destroyed in the past. The must-see sights in this stunning medieval town include the Duomo di San Martino and the Roman amphitheater.
But you would be forgiven for coming to Lucca just to sample the local fare. Staples here include a soup of faro (a grain not dissimilar to barley) with beans, rabbit cooked in many forms from baked to braised to fried and baccala' (salt cod).
But the classic Lucchese dish is Tortelli Lucchese – homemade egg pasta stuffed with seasonal meat and served with a rich tomato and beef ragu.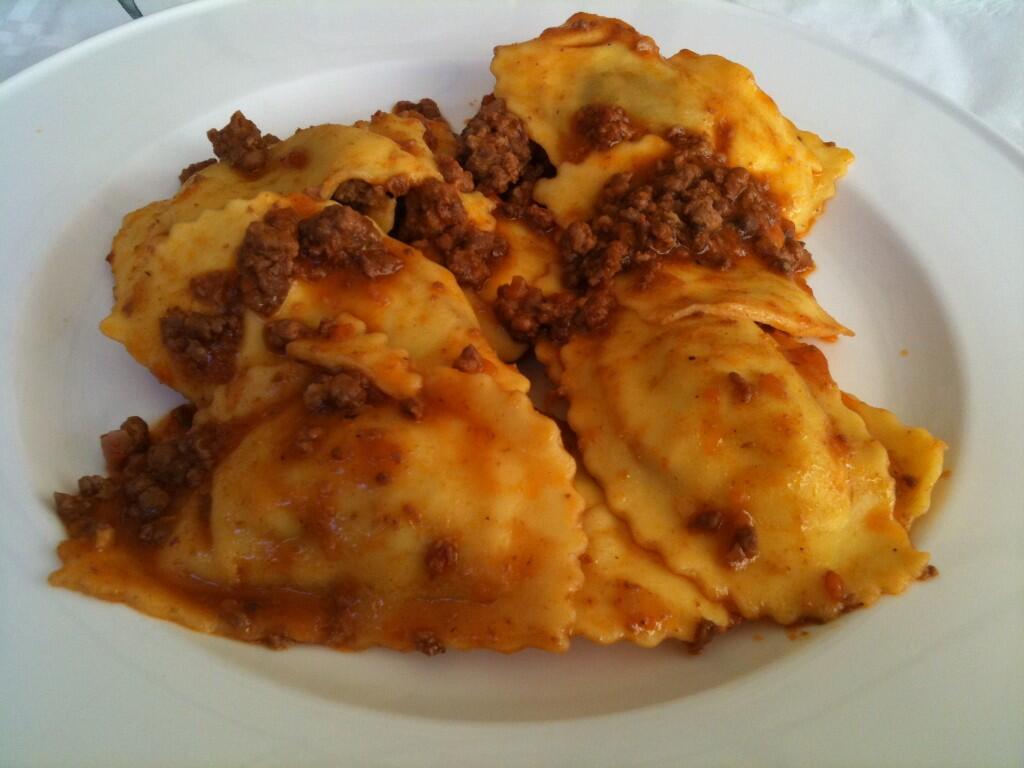 And there's a bit of trivia around the look of this divine pasta dish. In Italy, they say that you can determine the historical affluence of a region by their signature pasta dish. The reason being that poorer communities would make pasta with flour, water and some oil, the not-so-poor would add a few eggs and then the wealthy would make their pasta with many eggs – creating pasta of a brilliant yellow color.
Now while Tuscan pasta was apparently almost never made with eggs (rendering the region closer in spirit to the country's southern regions), Lucca historically had a banking and quite robust silk trade and therefore money. The Lucchese maintain this explains why food here is better here than anywhere in Tuscany!
Our #1 restaurant recommendation for Lucca, Italy is Trattoria Da Francesso for super friendly service and mouth-watering Lucchese cuisine. You must try the faro soup with beans, the Tortelli Lucchese of course and roasted rabbit with hot peppers.
Cortona
Cortona is the Tuscan hill town made famous in the book and subsequent movie Under the Tuscan Sun by Francis Mayes. Surrounded by Etruscan walls around 3000 years old, it retains much of its history through its architecture. In line with the regional local specialties, you should try the steak in Cortona and mushrooms, including porcini, are not to be missed. Rabbit cooked in a variety of ways as well as cinghiale are also common on the menu here. You should also try Crostini Neri Toscani alla Cortonese, crusty bread served with a spread made of pork sausage, chicken liver and capers.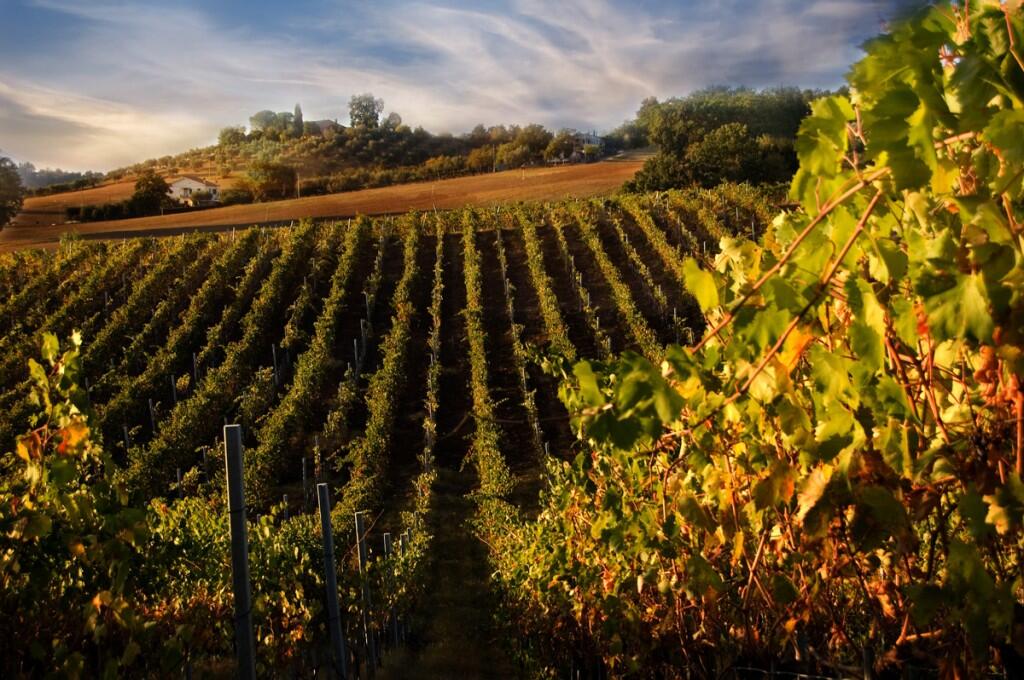 So after exploring the city walls, sit down for a Cortonese feast at La Locanda nel Loggiato, set in a 12 century building overlooking the main piazza and featuring a seasonal menu. If you're in town on a Saturday, our tip is to head to the fresh food market in Piazza Reppublica for some delicious local food and wine supplies and head out of town for a picnic – you are spoiled for choice here when it comes to views of the spectacular countryside.
Montepulciano and Chianti
Now we know that if Tuscany is on your Italian travel list, you probably don't mind a drop (or three!) of wine! Well you're in the right region for exactly that. If you are looking for great wine and perhaps a wine tasting tour, don't look further than Montepulciano or Chianti.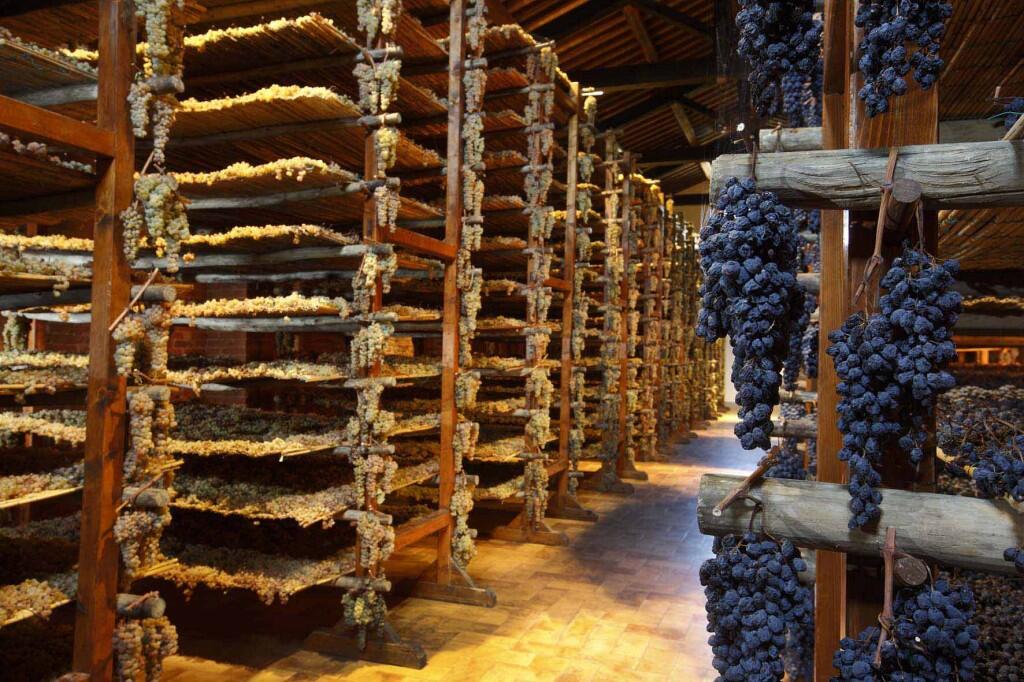 We suggest you check out the internationally famous Avignonesi in Montepulciano where you can tour the vineyards, cellar, have cooking class and enjoy an authentic Tuscan lunch. In Chianti, you must take a tour of Baribe Ricasoli for the wine of course, but also to see the castle that belonged to the Ricasoli family dating back to 1141!
Happy traveling and buon appetito!
* * *
Interested in learning about Tuscan food while in Florence? Join our Florence Food Tour to taste some fine Chianti, try the famous lampredotto (a typical Florentine street-food snack), learn how to bake cantuccini (Italian cookies) and find out where to get the best bistecca fiorentina. Book now!