2859 Views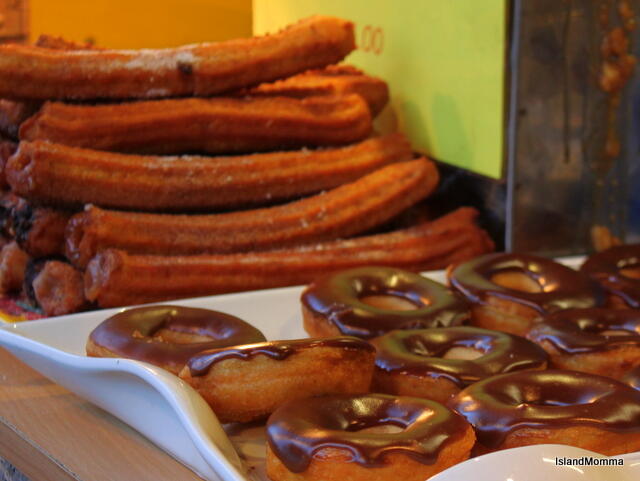 My memories of Camden Market were vivid; funky clothing fit for rock stars, trying to haggle for antiques, and trying on silly hats. It was also one of the few times in my life that I'd quite literally been soaked to the skin, so thunderous was the rain, all the live-long day. That was in September of 2001. It's a period you don't forget.
London is so vast, and although I've been back many times since, I never made it back to Camden Market until last year, 2012. But it had become evident from my reading that there was a whole lot more I'd missed. Writers of all hues were raving about some aspect or other of it. I began to think it surely must be over-hyped.
How different it looked under kinder, if chilly skies. Granted some of the stuff on offer can be bought in markets the world over, but there are a lot of original bits and pieces too – and history of course. London is nothing if not teeming with history.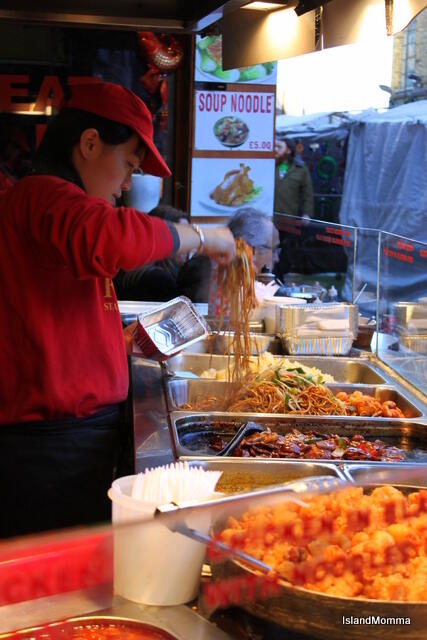 I discovered that, dodging those rain clouds the first time, there was a whole swathe of the market I'd missed, and mostly it concerned food – my favorite theme. Although it didn't rain last Autumn, it was cold, food was a necessity, not just a novelty!
Thankfully, if you're on the prowl for cheap food in London, the Camden Markets are excellent hunting grounds. Deciding what to eat is a bit like taking a trip around the world. I drooled over heavenly-scented Moroccan tagines; spicy, Jamaican beef jerky; good old English Cornish pasties; oodles of noodles; and enough sweet stuff to give my dentist nightmares.
Eating like this, trying different dishes, making a culinary world tour is best shared, if only so you can taste each other's food. Our tour began in Italy this day with chunky, tomato-ey slices of pizza to start, which we washed down with traditional English mulled wine and apple cider – excuse being it was a cold day and the warmth was needed!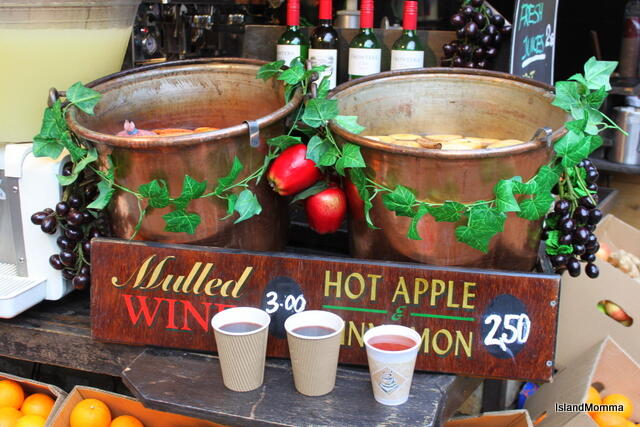 After that we wandered around a bit, but somehow, all those exotic smells kept drawing us back to the food stalls, and we nibbled on that beef jerky – wow, it certainly packed a punch! We scoffed kangaroo burgers from a stall which specializes in exotic but approved meats, what's available on the day depends on supplies, so you can go several times and different meats will be being served. Our universal favorite, however, was Mei Mei's street cart which serves traditional jian bing, which, if you haven't tried them are like those thin pancakes you get with Peking Duck, but much larger, made as you wait on a special griddle and stuffed with fillings of your choice. D-licious!
After all that do you think we had room for desert? Well, actually, yes! We tried the Scottish tablet (a sort of rich, dense fudge), melt-in-the-mouth, rainbow-colored macaroons and ….. drum roll ….churros, although not with chocolate but filled with dulce de leche or chocolate as you choose and dusted with cinnamon sugar. I don't know about you but this is my idea of foodie heaven!
We only had a half day to spare to explore the Camden Market food, so I would thoroughly recommend that you set aside an entire day, because in our gluttony we certainly didn't explore all the different facets of this fascinating place. Next time I'm in London it will be my first port of call!