4064 Views
For so long an afterthought in the London food scene, the choice of vegetarian and vegan restaurants in London is now one of the best in Europe. From gourmet "clean eating" to vegan burgers as dirty as anything you will find on a greasy street-food truck, here are 15 of the best vegetarian restaurants in London.
Mildreds
Around long before celebrity wellness chefs, Mildreds is Soho's go-to stop for exciting vegetarian food. Its no bookings policy means that the occasional queues will give you time to dream about their dumplings.
45 Lexington Street
+44 (0)20 7494 1634
mildreds.co.uk
Open: Mon – Sat 12 noon – 11 pm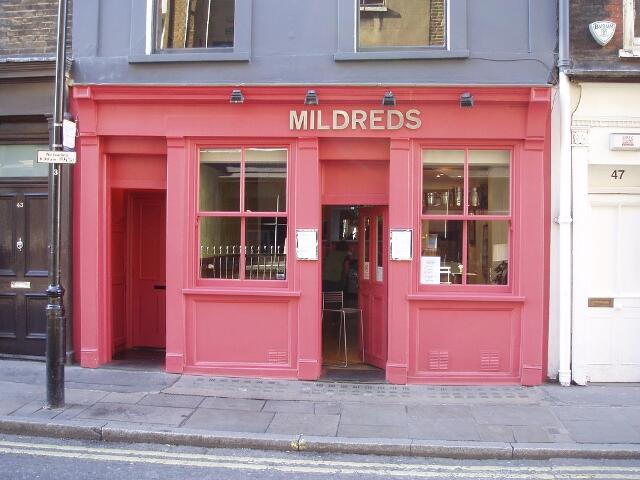 Nama
Vegan and raw, Nama aims to keep the goodness in the food – and it does pretty well on flavor too. Nothing is cooked above 42 degrees Celsius, so all the vitamins, enzymes and minerals end up inside you.
110 Talbot Road
+44 (0)20 7313 4638
namafoods.com
Open: Mon – Wed 9 am – 5 pm, Thu – Fri 10 am – 10 pm, Sat 10 am – 10 pm, Sun 10 am – 6 pm
The Natural Kitchen
Not exclusively meat-free but as organic as you can get, The Natural Kitchen's aim is to offer fun, tasty food with an emphasis on provenance. From source to plate, ingredients are tracked to make your meal the cleanest it can be.
77/78 Marylebone High Street
+44 (0)20 3696 6910
thenaturalkitchen.com
Open: Mon – Fri 7 am – 8 pm, Sat – Sun 9 am – 7 pm
The Gate
The Gate offers vegetarian fine dining at its locations in Islington and Hammersmith, and will have even the staunchest meat-lover convinced of the deliciousness of vegetarian food. Try the wild mushroom arancini.
370 St John Street
+44 (0)20 7278 5483
thegaterestaurants.com
Open: Daily 12 noon – 3 pm and 6 – 11 pm
Bonnington Café
A cute spot located in the midst of leafy communal gardens in Vauxhall, Bonnington Café is a quirky vegetarian and vegan food cooperative. Maintained and run by a collective of cooks, the home-cooked style of vegetarian food is ever changing.
11 Vauxhall Grove
+44 (0)75 5247 5535
bonningtoncafe.co.uk
Open: Daily 12 noon – 2 pm and 6.30 – 11 pm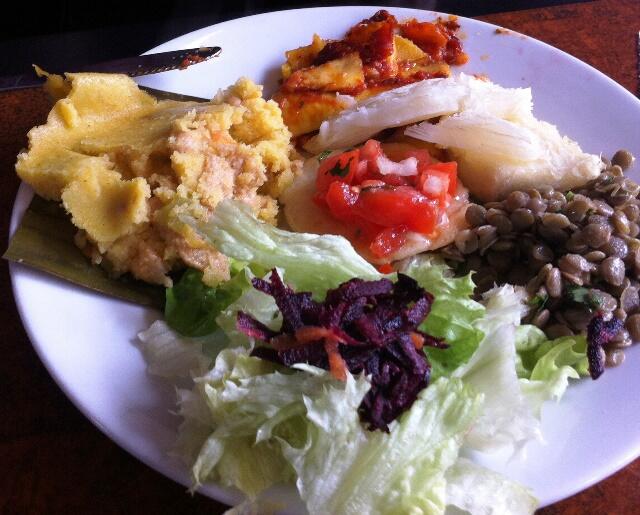 Wild Food Café
If you like to eat your food while it is still alive and well, the Wild Food Café is for you. Its menu of "living" breads, plants and raw dishes presents its mantra for eating fresh and in harmony with nature.
14 Neal's Yard
+44 (0)20 74192014
wildfoodcafe.com
Open: Mon 12 noon – 5 pm, Tue – Sat 12 noon – 10 pm
Dishoom
A great choice if your group isn't entirely vegetarian, this hip chain of restaurants is based on the old Irani-style Bombay dining rooms of the past. Their black daal is the stuff of legends, and they serve mean cocktails too.
7 Boundary Street
+44 (0)20 7420 9324
dishoom.com
Open: Sun – Wed 8 am – 11 pm, Thu – Fri 8 am – 12 midnight, Sat 9 am – 12 midnight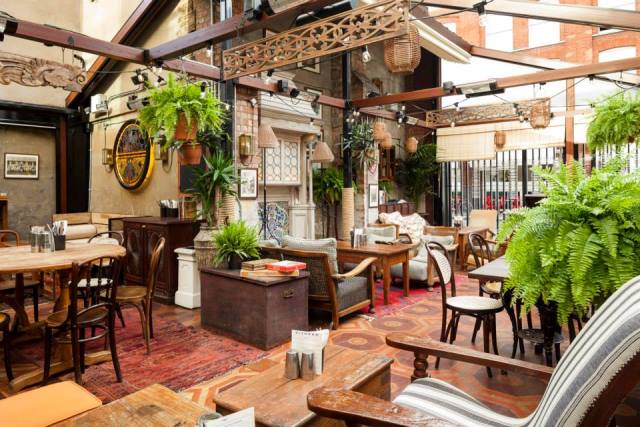 Song Que Café
Again, not exclusively vegetarian, but Song Que Café is one of the best spots on Kingsland Road's "Pho Mile" to find great meat-free Vietnamese food.
134 Kingsland Road
+44 (0)20 7613 3222
songque.co.uk
Open: Mon – Fri 12 noon – 3 pm and 5.30 – 11 pm, Sat – Sun 12 noon – 11 pm
Ottolenghi
If you don't know Ottolenghi then where have you been hiding? One of the jewels in London's foodie crown, he is nothing short of a legend. While not exclusively vegetarian, his restaurants offer impeccable meat-free options, with the salads standing out above all others.
287 Upper Street
+44 (0)20 7288 1454
ottolenghi.co.uk/islington
Open: Mon – Sat 8 am – 10.30 pm, Sun 9 am – 7 pm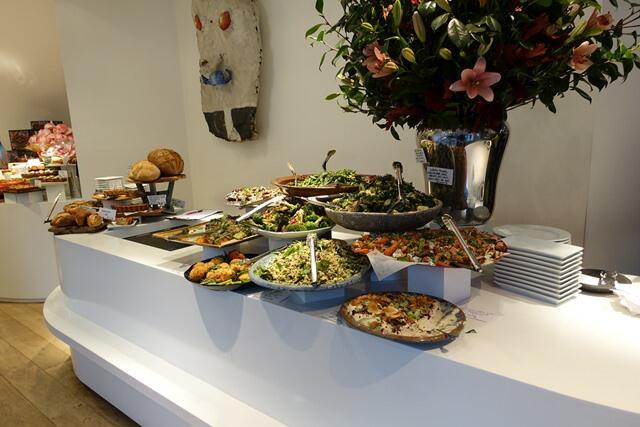 inSpiral
inSpiral does not fool around with its concept. In fact, it goes for the triple threat: vegetarian, vegan and entirely gluten-free. Its canal-side location in Camden is almost as good as its food. PS. it has an organic, vegan cocktail bar too.
250 Camden High Street
+44 (0)20 74285875
inspiral.co/cafe
Open: Sun – Tue 10 am – 10 pm, Wed – Thu 10 am – 11 pm, Fri – Sat 10 am – 1.30 am
Vanilla Black
More exclusive than Chiltern Fire House and not a steak in sight, Vanilla Black is the place to win the affections of any vegetarian foodie. Exciting and experimental, the food and ambiance at the restaurant are excellent.
17-18 Took's Court
+44 (0)20 7242 2622
vanillablack.co.uk
Open: Mon – Sat 12 noon – 2.30 pm and 6 – 10 pm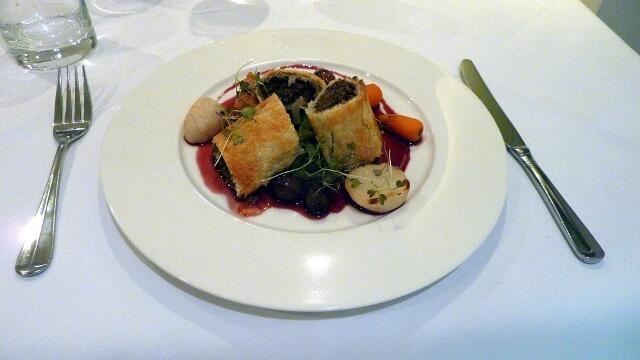 Manna
An entirely vegan restaurant, Manna offers a range of world cuisine offering big flavors with its 100% natural ingredients. One of London's oldest vegetarian restaurants, you might even spot the odd vegan celebrity in the well-heeled Primrose Hill spot.
4 Erskine Road
+44 (0)20 7722 8028
mannav.com
Open: Tue – Fri 6.30 pm – 10.30 pm, Sat – Sun 12 noon – 10.30 pm
Ganapati
A small restaurant in Peckham offering takeaway and delivery, you might not expect Ganapati to find its way onto this list. But, loved by critics and locals alike, the South Indian cuisine that they serve is close to addictive. There are meat options, but the vegetarian dishes are the stars.
38 Holly Grove
+44 (0)20 7277 2928
ganapatirestaurant.com
Open: Tue – Fri 12 noon – 2.45 pm and 6 – 10.30 pm, Sat – Sun 12 noon – 10 pm
The Retreat Café
Attached to TriYoga in Soho, the Retreat Café specializes in wholesome nourishment that won't mess with your zen. No gluten, no sugar, just experimental home cooking with natural ingredients.
2 Kingly Court
+44 (0)74 9630 8960
retreatcafe.com
Open: Mon – Fri 7.30 am – 8 pm, Sat – Sun 8.30 am – 6 pm
Vantra Vitao
Dedicated to health and nutrition, eating at Vantra Vitao is almost akin to a workout. Using only raw foods and whole ingredients, both the taste and benefits of the dishes on its vegan menu are of equal importance.
25-27 Oxford Street
+44 (0)20 74398237
vantra.co.uk
Open: Mon – Sat 11.30 am – 11 pm, Sun 11.30 am – 9 pm