15611 Views
Writing about traditional meals served across London is a little complex. London, like many large cities, is an incredible melting pot of flavours from around the world. But here we'll explore its most historically traditional dishes, some of which also count as some of London's best foods.
Britain may not be renowned for its culinary delicacies. But to say it's hard to find good food, especially in London, is to really do the city a disservice.
** We know where to find traditional English cuisine in London – try our food tour! **
The dishes here rarely grace top menus of London's finest eateries. But chefs will often add a sprinkle of inspiration from the more traditional of London's best foods to their creations. Calorie watchers beware: these dishes are not among the healthiest – they were created for hearty folk, who worked on London's docks or markets. Alternatively they're feast day staples – and no one diets on a feast day. But they are among the best foods from London's oldest kitchens.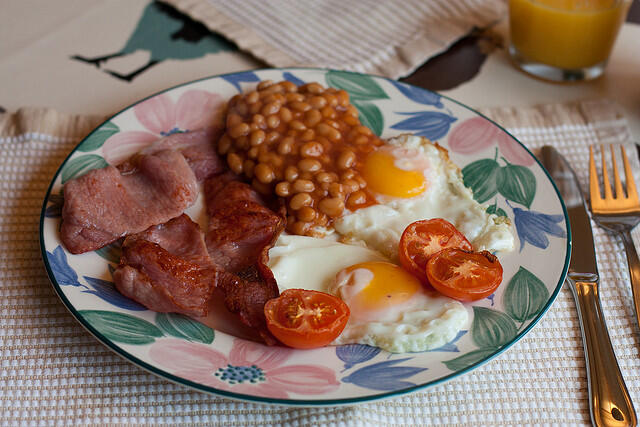 A Hearty Start with the Traditional English Breakfast
For some, this is the only way to start your day. A full English, or a fry up, is the heartiest, highest-carb breakfast you'll find anywhere, but it is truly delicious.
A full English breakfast can also work as brunch and is the perfect way to kickstart the morning after the night before.
Created by the affluent classes of the 18th century, it typically includes fried or scrambled eggs, bacon, sausages, baked beans, fried bread (yes, bread fried in oil), fried potatoes, chips or hash browns, black pudding, mushrooms and tomatoes. Naturally, this is accompanied by a cup of tea, or perhaps coffee and juice. But there are many variations on the theme and you can add or exclude any items you would like.
Vegetarians too are well served – for whom an English breakfast will often include vegetarian sausages.
Where to Eat: English Breakfast
You'll find an English breakfast on the menu at most hotels and cafes in London. But breakfast at The Walpole Restaurant in Ealing, and The Hawksmoor in Guildhall, rank among London's best for breakfast.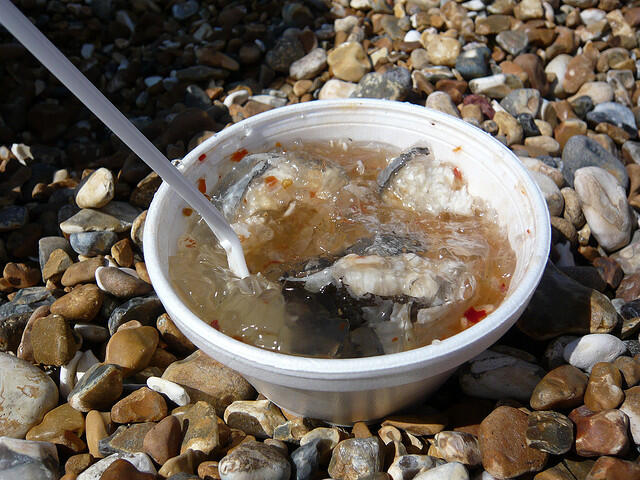 Cockney Favourites
After East London boy David Beckham visited his favourite pie and mash shop when at the height of his football career, it put this famed dish back on the menu.
Pie and mash is an East End favourite – a meat pie with mashed potato and liquor. The liquor is a non-alcoholic green sauce made from parsley and the water used to cook another Cockney dish, served alongside pie and mash – stewed eels.
Years ago eels were found in huge numbers in the River Thames, though most pie and mash shops now import them.
Stewed eels and jellied eels – left to cool in the water and vinegar they're boiled in – are served with chilli vinegar. The vinegar which originates from the days of the British Empire, when spices were imported to London's docks. Some pie and mash shops will serve vegetarian and fruit pies also.
Where to Eat: Pie & Mash
The most famous pie and mash shops in London include one of the oldest pie and mash producers Goddards, in Greenwich, which has been in business since 1890. Then there's Arments, which opened in Southwark in 1914, and M. Manze's in Tower Bridge Road, which dates back to 1902. If you're looking for a celebrity cooked pie however, you'll have to wait a few more months until David Beckham and famed chef Gordon Ramsey open their pie and mash restaurant in Bermondsey.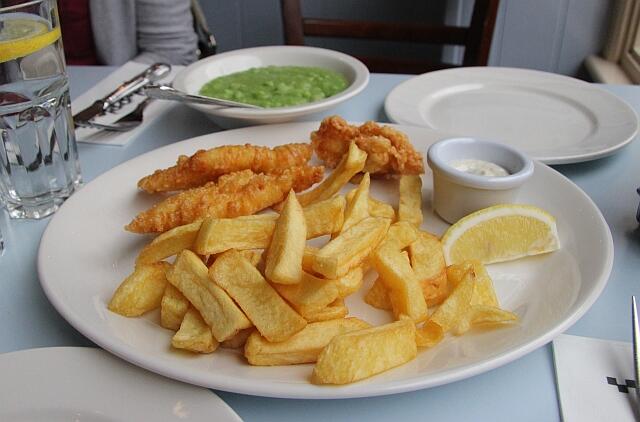 Fish & Chips – England's Most Traditional Food
If you want a traditional experience when sampling some of London's best foods, a trip to a fish and chip shop is essential.
Fish and chips is serious British comfort food. It's usually a white fish – the most popular being cod and haddock deep fried in batter and served with chips and likely a side order of mushy (or pureed) peas, onion rings and tartar sauce.
It is thought to have been brought to Britain by Jewish refugees from Portugal and Spain in the 17th century. The first fish and chip shop opened in London in 1860.
Like pie and mash, it was considered a working class meal, but in recent years it has worked its way into more upmarket establishments. It can now be found in restaurants across London.
Where to Eat: Fish & Chips
You can sample fish and chips at any number of fish and chip shops too but some of the best in London are Poppies in Spitalfields, featured in the East End Food Tour, and The Golden Fish Bar, in Farringdon Road, which has been serving up this takeaway treat for 150 years.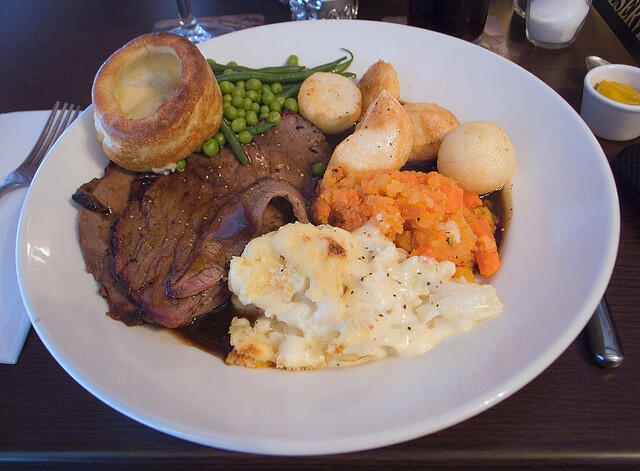 Sunday Roast in London
Prepare for a feast – a roast dinner, most commonly served at Sunday lunchtimes, is a meal of grand proportions. Be it roast beef, chicken, pork or lamb, you'll find meat served with roast potatoes, Yorkshire pudding (a batter-based accompaniment), various vegetables and gravy.
The roast dinner, or Sunday lunch, is thought to have originated from the hearty meal of meat and potatoes landowners would reward their labourers with each week after church. Meanwhile roast beef has long been part Britain's culinary tradition: in the 18th century, Henry Fielding praised it as an: "Englishman's food which ennobled our brains and enriched our blood".
Where to Eat: Sunday Roast
Roast dinners are a pub staple, but can also be sampled in any number of restaurants and hotels across the city. Some popular choices are the Royal Oak in Shoreditch for its family-sized sharing platters and the grand dining room at The Delauney in Aldwych.
* * *
Planning your trip to London? Read about our  5 favourite things to do in London
Our food tour in London is the perfect way to explore London if you like culture, history, and food