5630 Views
Before I get things underway, I think there may be a few things I need to clarify:
First things first, the title for this article is slightly misleading. I apologise for that. However, the Angel-via-Highbury-Corner-and-parts-of-Holloway-Road Pub Crawl seemed a little ungainly and even given my distinctly clunky writing style, I felt a pared-back title was preferable.
Secondly, this post is not claiming that the pubs and bars featured on this crawl are the best in Angel/Highbury Corner (although some of them are easily amongst the best), but rather attempts to suggest a nicely linear pub crawl. One that even the most 'tired and emotional' of contestants (that's probably not the right word, perhaps challengers? combatants? athletes?!) would be able to easily follow in the latter stages.
Thirdly, I can't officially condone binge drinking. Then again, I'm not writing in any official capacity (as far as I'm aware), and have been known to indulge in the occasional session given the right circumstances, so I shouldn't be hypocritical either. Basically, enjoy your moment responsibly (just like the adverts say!) and avoid all the nasty problems that can come from overindulgence: hangovers, fallings out, public peeing, overpriced cabs and truly bad kebabs to name just a few of the milder symptoms.
Finally, timing is everything with this crawl. My advice would be to ensure that Arsenal aren't playing at home on the day of the crawl. The proximity to the Emirates Stadium means that practically all of the pubs around Holloway Road and a number on Highbury Corner become 'Home Fans Only' for large parts of the day, essentially barring access unless you have a ticket to the game. As impressed by I'd be by the commitment to the route, paying £60+ per person just to be allowed into the pub (assuming you can even get tickets) is probably a step too far.
The following pub crawl is based on real events…
So a few weeks back I was faced with the awful prospect of turning AGE REDACTED FOR REASONS OF AUTHOR'S VANITY. There was only one thing for it I thought: a last hurrah, a final raging against the dying of the light, a pub crawl around my old stomping ground: Highbury Corner and Angel.
Gathering a number of like-minded and similarly-aged individuals, a route was proposed and the date was set. So late afternoon on a Saturday in mid-september, we stiffened the sinews, summoned up the blood, disguised fair nature with with hard-favour'd rage (maybe not the last part) and set off. The first stop on our route was: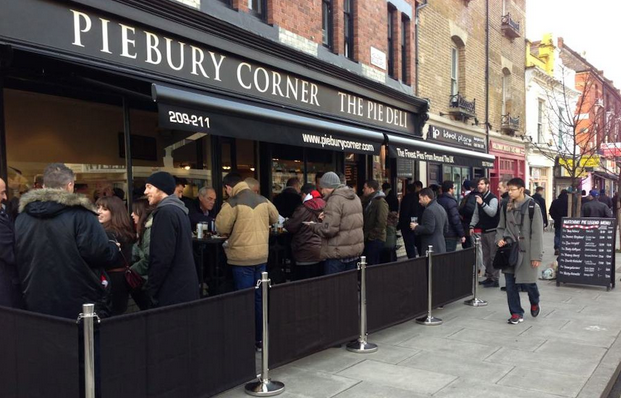 Stop 1 – Piebury Corner (nearest tube – Holloway Road)
pieburycorner.com – check the website for opening times 
Yes, so technically it isn't a pub. In fact it isn't a pub in any way, shape or form (although they do actually sell a great range of bottled beers and ales from all over the place) but it's almost certainly my favorite location on this list.
Anyone who tells you that 'eating is cheating' on a pub crawl is wrong (and probably 19). Lining your stomach is an essential part of any pub crawl, and I really cannot think of a better place to do it than at Piebury Corner.
Opening in 2012 (following the success of their food stall selling pies to Arsenal fans en route to games), Piebury Corner has quickly become a Holloway Road institution, selling gourmet pies (all named after Arsenal legends) to an ever expanding crowd of thankful punters from their location on the corner of Liverpool Road and Holloway Road.
Great pies, great customer service and an all-round great experience, I've even taken Spurs fans there – they all loved it. Try the Dennis Bergkamp (Chicken, Ham & Leek).
* * * *
Tour London's pubs with 10 tastings of beer, cider and food
Join the Historic Pubs, Food & Beer Tour of the London Docks
London is filled with amazing history – but if you want to feel like you've actually gone back in time hundreds of years, there's nothing like visiting the historical pubs along the docks of old London town. Learn more about the tour here.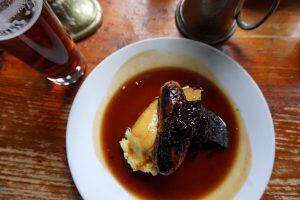 * * * *
Stop 2 – The Lamb (nearest tube is Highbury & Islington)
thelambn7.co.uk (opens 4pm daily – although it will open earlier on match days)
Just a quick hop, skip and jump down the road from Piebury Corner is The Lamb, a charmingly scruffy, totally independent pub and a great place to start the pub crawl with one of their craft brews (they specialize in UK produced craft beers) and maybe a cheeky packet of Taytos if you aren't still full from the pie.
Even outside of the confines of the crawl, I'd thoroughly recommend the Lamb as a place to grab a few beers on a Sunday night, as the place seems to attract fantastically gifted musicians to their Sunday sessions. The music is predominantly Irish/Folk, so if you're brave enough, grab your Celtic Harp and don't be afraid to join in.
Stop 3 – The Junction (nearest tube is Highbury & Islington)
timeout.com/london/restaurants/the-junction 
Conveniently situated just off Highbury Corner itself, The Junction is comfortably the largest pub on this list. With big comfy leather couches, a huge bar and screens dotted around virtually everywhere, The Junction is a great sports bar and an ideal meeting place to pick up latecomers to the crawl (they know who they are).
Also one of the few pubs on the list with a decent-sized outdoor space (turns out space is at a premium in Central London – who knew?) that does great value pizzas and all the usual suspects on tap, it's a great place to kill time with mates if the sun is shining.

Stop 4 – The Four Sisters (nearest tube is probably H&I again)
Ok, slight change of pace all of a sudden for this crawl. Away from the beers for a few minutes and on to something a tad classier. That's right, it's cocktail time, and the guys and gals at The Four Sisters make some of the best in the business.
With the menu pitched between classic and modern cocktails, there really is something for everyone on the menu (can i recommend the Whiskey Smash?) and with a happy hour pushing them out at 2 for £10 between 4-7pm, it's great value too.
On my crawl, we intended to pop in for a quick one, and ended up staying for a couple of hours. Whoops. But if you can extricate yourself at some point, it's on to Stop 5:
Stop 5 – The Vineyard
So the Vineyard is remarkable for two reasons. Firstly, it's front garden. It's one of the biggest outdoor pub spaces you'll find in Islington (definitely on Upper St), and as such is a great place to soak up the sunshine and split a bottle of wine if you're into that kind of thing.
Secondly, it's directly opposite Islington town hall. Which means it tends to be the first port of call for very-soon-to-be or very-recently-been married types, either summoning up that last drop of dutch courage or letting their hair down for the first time since exchanging vows. It's one of the few bars in Islington where you're probably as likely to see guys in top hats & tails as you are to see bearded hipsters in designer jeans (not that the two are mutually exclusive of course).

Stop 6 – The Taproom (located halfway between Angel and H&I)
So the Taproom is a newish one on Upper Street. Originally conceived as a month-only pop-up bar in late 2012, the unqualified success of that run lead to it's opening full time in 2013.
Modelled as London's only 'Cask to Glass' Ale House and Wine Bar, with 15+ cask ales and ciders on tap at any given time, it really is a bit of a beer lover's dream, and as such, fully deserves it's position on this pub crawl. Also they do meatsticks (although I'm pretty sure they're called something else); essentially a great version of a pepperami. I dare you to eat just one.
Stop 7 – The Mucky Pup (nearest tube is Angel)
So, you're five bars in by now, so a bit of a walk certainly won't do you any harm. If anything, a bit of fresh air will be exactly what you need. So off to the Mucky Pup you go.
Set back a hundred or so yards from Essex road, this great little pub is really just off the tourist radar, and all the better for it. With a distinctly rock-y (as in the music, not the fictional boxer) aesthetic with knowledgeable, friendly staff and a relaxed atmosphere, It's well worth a visit.
They also have Burger Bravas as their resident chefs, so if you can, get down there whilst the kitchen is open (6-10pm, Tuesdays through Saturdays).
Stop 8 – The New Rose (nearest tube is Angel)
The website really undersells this place. It might well be my favourite pub in London, let alone in Angel.
This is the ideal place to end the pub crawl (seven pubs is probably enough), with it's fantastically varied music playlist (Frank Zappa and R Kelly were played one after the other on my most recent visit), great range of beers (particularly their bottled selection) and generally laidback atmosphere.
It's mixture of the above factors makes it the ideal place to kick back for a few hours, recount the number of units you've drunk, and make semi-serious promises to yourself never to embark on a pub crawl again. Until the next time…
* * * *

Tour London's pubs with 10 tastings of beer, cider and food
Join the Historic Pubs, Food & Beer Tour of the London Docks
London is filled with amazing history – but if you want to feel like you've actually gone back in time hundreds of years, there's nothing like visiting the historical pubs along the docks of old London town. Learn more about the tour here.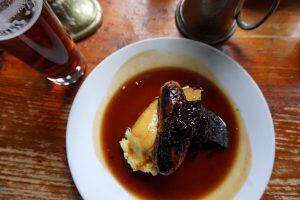 * * * *