6346 Views
Thanksgiving is the day each year when Americans take time to give thanks for what they have, take part in tons of festive feasting, and spend quality time with family and friends. In fact, for many Americans, it's the biggest and most fun holiday of the year, rivalling even Christmas.
But what if you are visiting Amsterdam over Thanksgiving or live here now? Well, that doesn't mean for a second that you have to miss out on stuffing yourself with turkey, stuffing, and pecan pie, because there are quite a few options for having a Thanksgiving dinner in Amsterdam.
The following are a few of the best places in Amsterdam for Thanksgiving dinner or to buy the ingredients yourself. Whether you are an expat, American on holiday, or just an Amsterdammer who wants to see what Thanksgiving is all about, you are sure to have a fun – and filling – day.
Sit-Down Dinners
The Hard Rock Cafe
The beacon of American food the globe over, the Hard Rock Cafe comes through for those craving a slice of home with a two- or three-course Thanksgiving dinner featuring turkey or a vegetarian option, stuffing, cranberry sauce, and pumpkin pie. You can also partake in the Thanksgiving tradition of watching American football here, as they will be broadcasting the traditional Thanksgiving Day games as well. Reservations required.
Max Euweplein 57-61
+31 (0)20 523 7625
hardrock.com/cafes/amsterdam/
Serving lunch and dinner from 12 noon
Seasons Cafe
This modern cafe located in the heart of Amsterdam's canal belt will be featuring a four-course Thanksgiving dinner featuring smoked turkey, a vegetarian option and stuffing, among other fun and festive trimmings. There will be two dinner seatings at Seasons, and also a lunch seating which will only feature three courses. Reservations required.
Herenstraat 16
+31 (0)20 330 3800
seasonsrestaurant.nl
Serving lunch 12 noon – 2 pm, first dinner seating at 5 pm, second dinner seating at 8.30 pm

Family-Style Fun
The American Book Center
The venerable American Book Center always puts on a cosy Thanksgiving dinner, and this year is no different. In its ABC Treehouse, the Amsterdam store will provide turkey, a vegetarian main course, mashed potatoes and sweet potatoes, but guests are encouraged to bring their own starter or dessert to share with everyone else. This always makes for a fun night and has become legendary in town for Thanksgiving. Reservations required.
Spui 12
+31 (0)20 625 5537
abc.nl
Serving dinner from 6 pm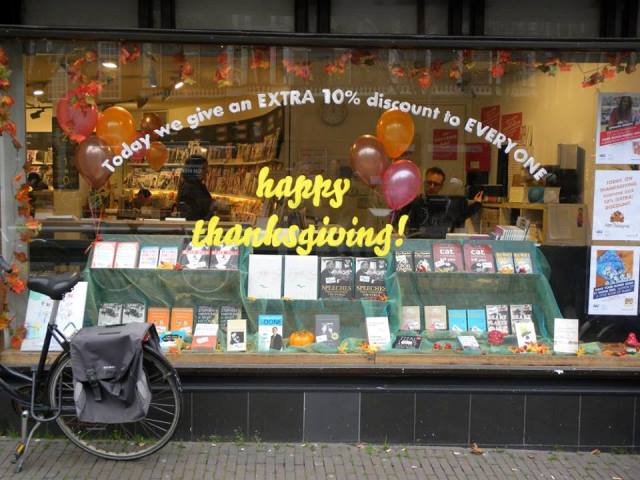 Bring Your Own Bird
If you find yourself with an apartment kitchen at your disposal while in Amsterdam, or have been invited over to a friend's place, here are a few of the best places to stock up on supplies:
Slagerij De Leeuw
In the heart of the city, this butcher is truly a one-stop-shop for Thanksgiving dinner in Amsterdam. Here, you can purchase a plain turkey or a pre-stuffed version, and they will even roast it for you if you are pressed for time. In addition, the butcher also provides all the sides you could want with your bird, like mashed potatoes, roasted sweet potatoes, and gravy.
Utrechtsestraat 92
+31 (0)20 623 02 35
slagerijdeleeuw.nl
Open: Tue – Fri 8 am – 6 pm, Sat 8am – 5 pm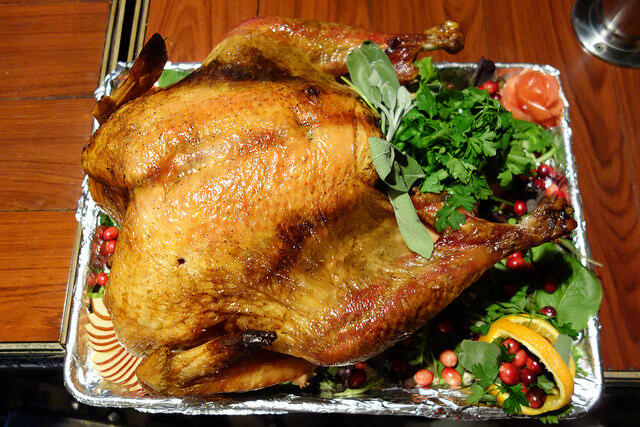 Albert Cuypmarkt
At Amsterdam's world-famous street market, two butchers will help you with your turkey search. The appropriately named gentleman Chris Kip (kip is Dutch for chicken) sets up shop each day at stall 117. He specializes in fowl, with turkeys among his expansive stock. At a storefront behind the market (133 Albert Cuypstraat), you will find Slagerij Alain Bernard, the home of a famous French butcher who can source excellent turkeys.
Albert Cuypstraat
albertcuypmarkt.nl
Open: Mon – Sat 9 am – 5 pm
Tjin's Toko
Located in the Pijp neighborhood of Amsterdam, Tjin's Toko stocks many American specialty brands that are tough to find elsewhere in town. Tijn's is a great place to find things like Stove Top boxed stuffing and canned pumpkin – perfect for making pumpkin pie.
Eerste van der Helststraat 64
+31 (0)20 671 7708
tjinstoko.eu
Open: Mon – Sat 10 am – 8 pm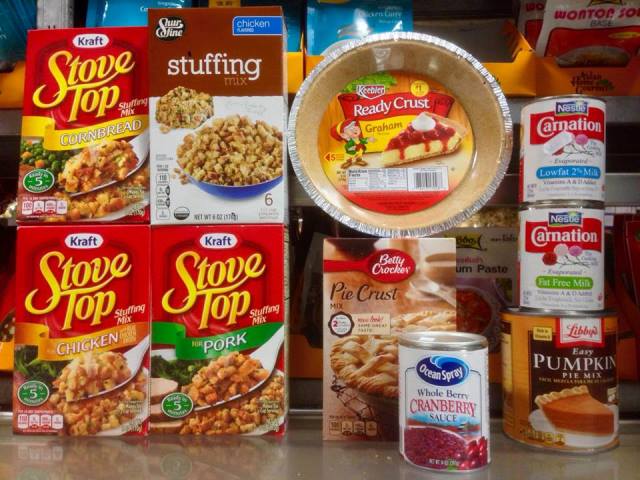 Kingsalmarkt
Located in the outer Amsterdam suburb of Amstelveen – but still reachable by convenient tram – Kingsalmarkt is also a great place for holiday supplies. American gravies and canned pumpkin are commonly stocked on their shelves, and they are happy to try and order anything for you if you call ahead.
Rembrandtweg 621, Amstelveen
+31 (0)20 643 37 51
kingsalmarkt.nl
Open: Mon – Fri 8.30 am – 7 pm, Sat 8.30 am – 6 pm, Sun 12.30 pm – 5 pm
Happy Thanksgiving!