1843 Views
The 5 Best London Food Tours In 2023
London is historic, beautiful, and diverse. It's also foodie heaven! There is truly no better way to explore the city than through your tastebuds. A food tour in London is the ideal way to dive into the culture head first and experience the city like a local. That's why we've selected the 5 best London food tours.
This carefully curated list features the very best tours you can embark on. Each one gives you the chance to walk through the city like a true Londoner while giving you an authentic feel for the city. You'll be well-versed in the history, the trends, and most importantly, the food! If you want to pack the ultimate educational and delicious trip into 3 or 4 hours, make sure to join one of these food tours!
Sip on cocktails and dine of award-winning food in the coolest spot in London. Your guide will take you on an evening like no other around the hub of central London. Prepare yourself for a night of learning, laughter, and lots and lots of food. This is the best way to discover the very best of Chinatown and get an exclusive taste of the famous nightlife. It' s not just about tasting the food, it's about tasting the centuries of culture and history, and becoming a true expert about your surroundings. In 3.5 hours you will experience cuisines from around the world that have found their home in London. The Twilight Food Tour will leave a memorable mark on any foodie trip.
2. The Cheese Crawl : from £25
Think you know your cheeses? This is your chance to put your knowledge and tastebuds to the test on this trivia route. Indulge in London's finest cheeses and take part in the interactive challenge: 'QUIZtro Fromaggio'. Beginning in Mayfair, and ending in Covent Garden, this tour will take you across the city, whilst you consume dairy delights. Experience Fortnum and Masons iconic department store dairy counter. Then, water it down with perfectly paired wines in Little Italy. The selection of cheeses on offer is exciting and advanced. The guide will put a cheesy grin on your face as you compete in teams to outsmart one another's cheese expertise. For £25, this is the ultimate 3 hours London food tour to satisfy all your cheese cravings.
View this post on Instagram
Become a true cockney Londoner for the day and escape the typical tourist trail. This tour will show you London's best kept food secrets. The variety of foods ranges from sweet treats created in the second world war, to chicken tikka masala (England's national dish), from the best curry house in Brick Lane. And, of course, fish and chips! This is the ultimate introduction to British cuisine. By the time you end with afternoon tea with your guide and new friends you have made, you will be an expert in the landmark's history and culture. This is more than just a food tour, it's a deep dive into the remarkable communities of East London. What better way to explore the home of the hipsters than through their delicious food.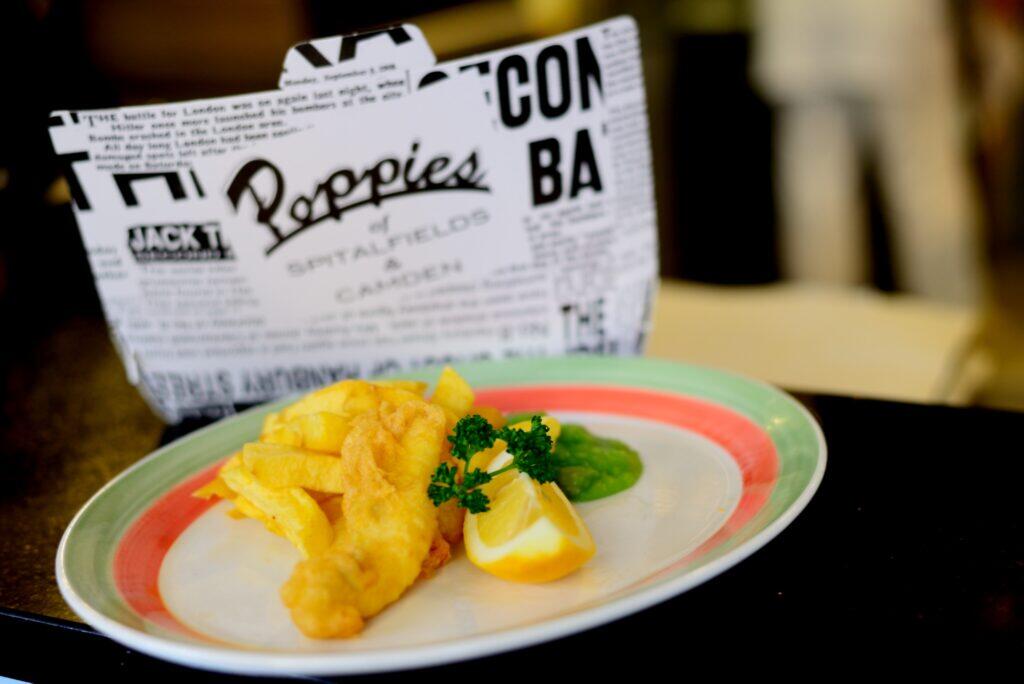 4. Plant Power Tour : from £60 
You don't need to be Vegan to enjoy plant based food, especially in Camden Town! This London borough is famous for its creative spirit, and identity of punk music. At the heart of its alternative character is alternative food. Your vegan guide is an expert in meat-free treats. Across 2.5 hours you will explore Camden Market, the town, and the beating heart of the community – the wild Camden lock. This is the perfect chance to try something new in the safe hands of an expert on all things vegan. 
View this post on Instagram
 5. 

London Downtown

Doughnut

Tour 

: from £54.14
If you have a sweet tooth this is the London food tour for you! Explore the breath-taking scenes of London Bridge, and the famous foodie paradise of Borough Market with a doughnut at every stop. The baked goods are fresh and delicious. You will sample a variety of different flavours. This is two hours of sugar heaven and with a range of iconic bakeries, to commercial leaders, you will be an expert in the London Doughnut scene. History is certainly easier to take in with a doughnut in your hand and we think you will agree!
Final Thoughts
No matter which option you choose, a food tour in London is the perfect way to truly experience the culture and history of the city. You'll get an intimate feel for London, with the opportunity to sample authentic local dishes, drinks, and entertainment. Whether you are a foodie, history buff, or just wanting to explore the city with travel companions, we hope you can enjoy one of the best food tours in London on your next visit!