14307 Views
Rice, polenta and fish: these are the main products used in Venetian cuisine and yes, rice is at the top of the list!
Rice, which arrived in Venice from the East, soon became a symbol of wealth, abundance and fertility, as shown by the act of throwing a handful of rice over the newlyweds at the end of a wedding ceremony. In the Veneto region, rice has always been a very auspicious dish, found on the tables of the poor as well as those of the rich. Its cultivation on the plains of Verona, which dates back to the early 17th century, greatly influenced the agricultural landscape and changed the traditions of the entire region.
In Venice, rice is combined in dozens of different ways, especially in risotto and soups. The risotto – thanks to the spread of rice cultivation in the Pianura Padana – has carved itself a leading role and it is traditionally served as a recipe not just for the holidays, but for everyday life. The reason is not hard to imagine: its preparation requires time and care, but the result is a refined and tasty first course, which can exalt the skills of the chef and entertain the guests. The risotto also enhances the versatility of rice, which can be paired with an extremely wide variety of flavors: vegetables, cheeses, meats and fish. The large range of recipes is due to the availability of different ingredients in the pantry and the area's natural resources, rather than the desire for an ever-changing menu.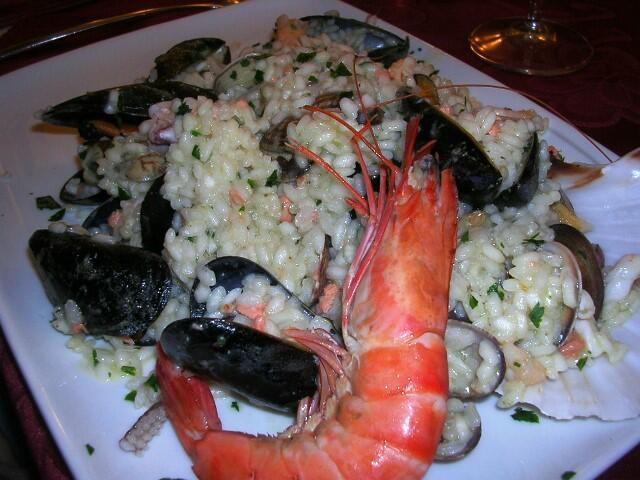 So where can you eat the best risotto in Venice? Here is a list of my top places to try it.
Vini da Gigio
This cozy typically Venetian restaurant is run by Paolo and Laura, a brother-sister team, who make you feel just like you're at home. They make some of the best risotto in town: the variety is strictly linked to what's in season, so in winter be sure to try their Risotto with Radicchio di Treviso and Shrimps. Ask Paolo to match your risotto with the best available wine: he runs the biggest cellar in town, so he should have no problem helping you out!
Calle della Stua 3628a, 30121 Venezia
+39 041 528 5140
vinidagigio.com
Open: Wed – Sun 12 noon – 2 pm, 7 pm – 10 pm
Al Gatto Nero
One of the most historic restaurants in Venice, Al Gatto Nero is run by chef Ruggiero and his sommelier son Massimiliano. This is, in my humble opinion, where you will eat the best risotto of your life. Ruggiero's Risotto di Go is famous worldwide. It is a risotto made with a typical Venetian little fish and it's so creamy and delicate that one plate simply won't be enough!
Via Giudecca, 88, 30142 Burano, Venezia
+39 041 730120
gattonero.com
Open: Tue – Sat 12.30 – 3 pm, 7.30 – 10.30 pm; Sun 12.30 – 3 pm 
Antico Panificio
Even though many people walk into Antico Panificio for their pizza, I am glad to say this is where I had one of the best fish risotto in Venice in a while: creamy and full of flavor, just as it should be. Risotto di Mare is one of the classic dishes of Italian cuisine, excellent when prepared with good quality fresh fish. And here it was: simply perfect.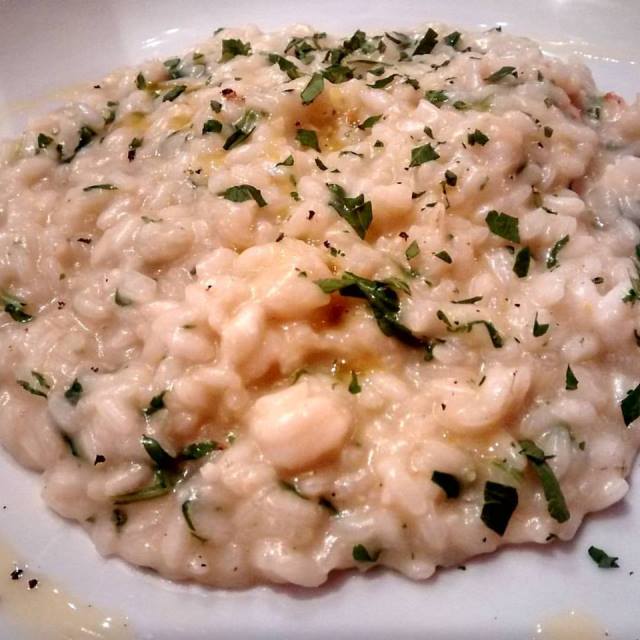 Campiello Del Sole 945, 30125 Venezia
+39 041 521 0137
Open: Mon – Sun 11 am – 12 midnight
Ristorante Agli Alboretti
A lovely restaurant just by the Accademia Bridge, run by Niccolo and his staff, this is a little place which never fails to enchant – especially if you go during the summer and manage to enjoy your meal in their beautiful garden (book ahead!). I think that Agli Alboretti has a particularly good chef, which is an extra plus-point when eating in Venice: you can taste the great passion and care in all the dishes he prepares, but above all in his risottos, which are always made with seasonal ingredients.
Rio Terrà Antonio Foscarini 882, 30123 Venezia
+39 041 522 9937
aglialboretti.it
Open: Mon – Wed & Fri – Sun 12 noon – 2.30 pm, 7 – 10.30 pm
Osteria al Portego
This place is very famous among students and locals for their cicchetti, Venice-style tapas, and their cheap wines, available only at the counter. But many people do not know that this is also a lovely cozy restaurant, with only 6-7 tables, where you can eat one of the best risottos in Venice. It is not always available on the menu because it is only prepared with seasonal ingredients, but if you are lucky to find it prepared on the day, then you will be glad you made an effort to book a table! A must-try is their Risotto di Nero di Seppia, black squid-ink risotto.
Calle della Malvasia, 6014, 30122 Venezia
+39 041 522 9038
osteriaalportego.it
Open: Mon – Sun 10.30 am – 2.30 pm, 5.30 – 10.30 pm