7541 Views
One positive result of being stuck at home during a pandemic – brushing up on my cooking skills & learning a new technique or a new cuisine. Personally, I fall somewhere between a beginner and a decent home chef – I prepare meals every night but generally need to follow a recipe (though I can follow them to a T!). But I still struggle with technique and knowing top of mind what goes well with what! For me, these cooking tips for beginners or even more advanced home cooks is always helpful. Any simple cooking tip or trick I learn is a good thing!
So we've reached out to our network and are bringing you some of the best cooking tips and tricks for everyone in the kitchen, whether you are a beginner who struggles to boil water (YES! you should salt your water for pasta) or an experienced home chef!
Let's get to the tips!
1. Read the entire recipe before you start cooking
Ligia Lugo from the Daring Kitchen tells that it's a must to read the entire recipe before starting. I've made this mistake before – starting to prepare a dish I need ready in one hour before realizing I needed to marinate the meat for at least 2 hours! Like many of our  cooking tips and tricks, this seems to be obvious … but we've all been in this situation!
View this post on Instagram
2. Keep your knives very very sharp
"The sharper the knife the safer the knife" says Nicole Campoy Jackson, founder of To Taste. To me, this seems like a cooking tip for beginners, but I was surprised when I learned how many people don't sharpen their knives frequently. I sharpen mine weekly (now) – but that's probably not even enough. Plus, a sharper knife will actually cause less tears when cutting an onion. Try it! You'll never go back to a dull knife. 
3. A few drops of vinegar in boiling water will make hard boiled eggs easier to peel
We've all struggled with those eggs that just don't want to peel and they end up all riddled with holes and definitely NOT like something you want to eat. Tangela Walker-Craft, amateur cook and blogger at Simply Necessary Inc gives us this simple tip. Keep in mind, the more eggs, the more vinegar you need to use. 
4. Know which vegetables freeze well and learn how to make things last
While the hype to stock up on anything and everything (hello, toilet paper shortage) has died down, it's still important to know what freezes well and what doesn't. For this, we reached out to Craig Rispoli, Executive Chef at fresh&co in NYC. Here's what he told us:
"It is important to have vegetable items to be able to provide balanced meals in times of difficult shopping. Some vegetables freeze well, some are ideal for pickling, and others are great for jarring. With the downtime, why not try some new techniques and save some money all in one?"
 What freezes well: Green Beans (blanched), Carrots (blanched), Spinach (Sautéed and frozen in little balls), Root Veggies (Mashed or Roasted). Mashed banana or mashed avocado both freeze well, but will still oxidize if exposed to air. 
Making Foods Last Longer: Airtight Containers always work best. Pro tip: toss veggies with a bit of olive oil, or press down with plastic wrap to help prevent freezer burn."
5. Making your own spice mixes can bring an international flavor to any meal

Jennifer Espinosa-Goswami is a health coach, speaker and mom who has experimented a lot in the kitchen and has her "go to" blends to spice up any meal. 
Mexican Spice Blend: combine cumin, chili pepper, black pepper, a pinch of cayenne, and garlic salt. Squeeze fresh lime on top once cooked helps round out the flavors. 
Italian Spice Blend: use thyme, rosemary, garlic, marjoram and parsley. Squeeze fresh lemon on top once cooked. 
Indian Style Spice Blend: use turmeric, garlic, ginger, cumin, coriander, and chili powder. Top with chopped raw onion and chopped cilantro.
Follow Jennifer on Pinterest for more tips.
6. Practice Mise en Place
Mise en place basically means to prepare everything in advance! I've certainly started cooking before I had to pause cooking to chop an onion or mince garlic. And I always wonder why the "20 min" recipe prep takes me 2 hours! Seems simple, but way too often overlooked as its too easy to dive right in and start cooking. 
Carrie Forrest, MBA/MPH in Nutrition and Creator of Clean Eating Kitchen provided this tip and says "Becoming a better and more efficient home chef is to apply the culinary practice of mise en place. This means that you should gather up all of your ingredients before you start a recipe. Make sure you have everything, measure out the ingredients, and prep them as necessary. This will make sure that the cooking process goes much smoother, and you never get halfway through a recipe and realize you don't have a critical ingredient prepped."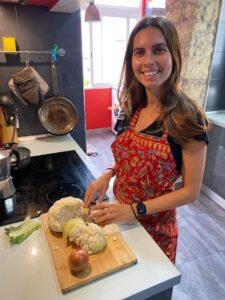 7. Smash your garlic to make it easier to peel
From our own online cooking class host and Lisbon Food Tour City Head, Katrina – she explains in the European Feast online cooking class that her grandmother taught her that smashing a garlic clove with a knife (or other tool) makes the peeling process simple.
Helps avoid getting garlic under your nails which we all know can linger for days!
---
Like many of us, we've learned some new skills and are really enjoying the time spent in the kitchen, often even cooking as a family activity. We do hope you continue to cook – not only do fresh prepared dishes taste better, but it's healthier for you as well (ok, not all the time).  And let us know in the comments if there are any tips that have changed your life in the kitchen.