11074 Views
The most abundant street market in all of the Netherlands and permanent resident near the pinnacle of all Amsterdam to-do lists, Albert Cuypmarkt (Albert Cuyp Market, in English) is a one-of-a-kind treat for the senses that simply has to be seen and eaten at least once. To help you get your bearings for cruising this quintessential Amsterdam street carnival for yourself, here is our guide to the Albert Cuyp Market.
The Food
Food is usually the first thing that comes to mind when you hear the word "market", and as you would expect, the Albert Cuyp Market's cup runneth over. Everything ranging from fresh-from-the-farm vegetables to sizzling savory snacks and sweet treats that are all waiting to be tasted.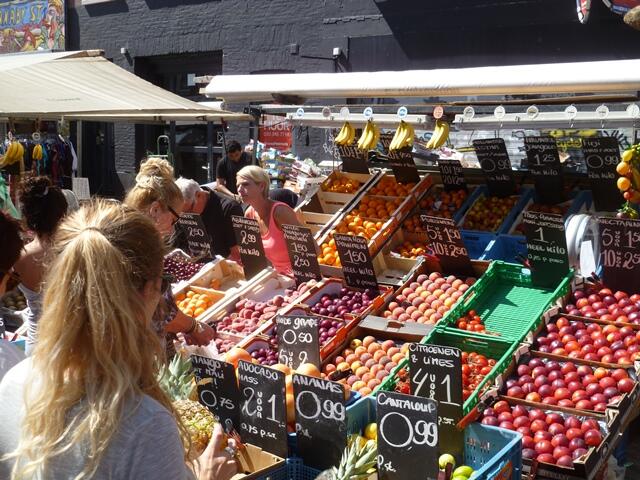 Fresh fruits and vegetables abound at Albert Cuyp Market, at prices that are very competitive against other markets in town as, while it is a massive draw for tourists, the market is still frequented by discerning locals. Most of the fruit and vegetable vendors offer a similar range and price, but there are some specialty stalls that do focus on one specific type of product. Cheese, olives, nuts, chocolate, and roast chicken are all well-represented by specialty stalls, and the cheese stall is a perfect place to pick up your obligatory wheel of Dutch cheese.
Tip: Look beyond the stalls to the storefronts behind for even more fresh goodness, especially tropical produce and one of the best burgers in the entire city at The Butcher.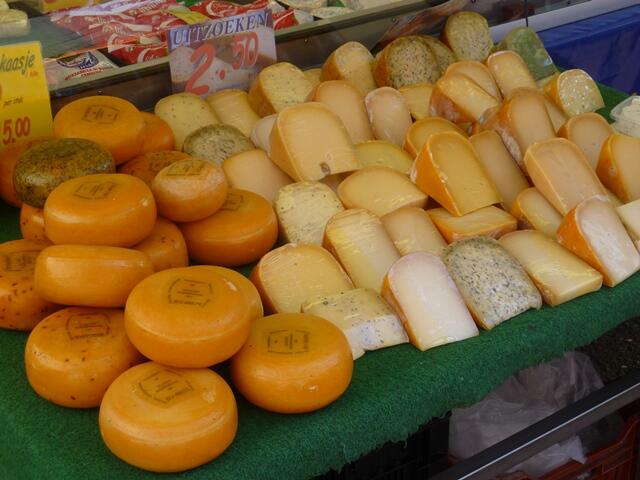 If you aren't necessarily looking to stock up on supplies for a recipe, the savory snacks available at Albert Cuyp Market are perfect to enjoy while walking, and are sure to keep your appetite at bay until dinner. Fries, Vietnamese spring rolls, fried fish bites called kibbeling, the Dutch favorite herring, roast chicken drumsticks, and toasted sandwiches are all great options for a tasty snack.
However, the sweet treats are where Albert Cuyp Market truly sends your taste buds into the stratosphere. Soft and pillowy little Dutch pancakes called poffertjes and crunchy-gooey waffle cookies called stroopwafels are both freshly made and served hot on the spot at Albert Cuyp Market. The little poffertjes are drizzled with warm butter and then blanketed with a layer of powdered sugar to bring a sweet and warm flavor to your taste buds, while the stroopwafels are a crunchy waffle cookie with hot caramel sandwiched in between.
Tip: Go for the large stroopwafel at the stall that has the "Goudse Stroopwafel" sign in front of it, as these are legendary here. Having one (or more) of these sweet treats and posing for a picture of yourself eating it is practically a rite of passage among visitors to Amsterdam.  
The Fashion
Clothes-wise you can find something for each and every dresser drawer at the Albert Cuyp Market, as styles of all stripes and sizes are proudly on display. Clothes stalls at Albert Cuyp range from a vendor offering nothing but tube socks to booths selling bikinis and beachwear. The quality and style ranges from just off the runway to "run away quick", but there are without a doubt some fashion-forward diamonds in the rough that wouldn't look out of place at your nearest H&M and can be had on the cheap.
Jewelry stalls are very popular at Albert Cuyp as well and you will find rings, trinkets, turquoise, and an entire stall selling watches, all looking to assist you with your next accessory.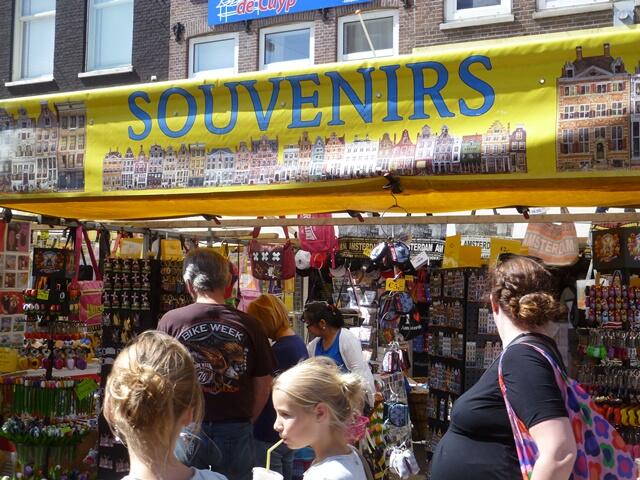 The Random Fun Stuff
While food and fashion make up a large percentage of the stalls at Albert Cuyp Market, stalls offering everything from batteries and cell phone cases to Dutch souvenirs (wooden shoe keychain, anyone?) and kitchenware make a strong showing as well. If you have forgotten something at home or just want to take advantage of a steal-of-a-deal, this is the place to do it.
The Albert Cuyp Market is open every Monday – Saturday at 9 am – 5 pm and runs the length of the Albert Cuypstraat from Ferdinand Bolstraat to Van Woustraat.
For more markets in Amsterdam, don't forget to check out our blog post: Amsterdam's 8 Best Markets for Your Every Foodie Find!