4245 Views
At some point in between admiring exquisite art at the Rijksmuseum, floating down Amsterdam's famous canals and gawking at the bawdy Red Light District, you are probably going to need a snack. Luckily, you will find many snack bars around Amsterdam that will quickly fuel you up for a small fee. These places specialize in a dazzling array of deep-fried specialties, sometimes sold from behind their own individual little windows (we're looking at you, Febo).
After one trip to a snack bar, you could be mistaken for thinking that all popular snacks in Amsterdam are deep fried, but that's not technically true, as much as we may love them. You'll need to stray from the traditional snack bar to find them, but as you will see from our list, not all Dutch snacks are deep fried – only a small, crispy chunk of them.
Here are our favorite Dutch snacks to fuel you up until dinner.
Loempia
These lightly fried Indonesian and Vietnamese-inspired spring rolls are ubiquitous at Amsterdam's many street markets, and they are the perfect finger food to pick up while you peruse the stalls. Pretty much every market from Waterlooplein to Albert Cuyp is home to a loempia stand, and at usually only around €1 for a spring roll, they can be your wallet's best friend too. Sure, they are fried, but you can always order the vegetable variety for a healthier option, if you feel so inclined.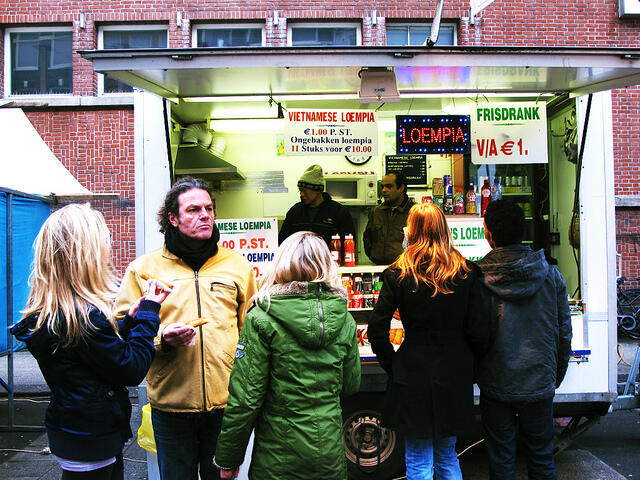 Photo credit: https://www.flickr.com/photos/simplifica/5094674695
Hagelslag (sprinkles)
If you haven't had sprinkles on your food since you were a child, you can easily re-live those glory days here in Amsterdam, as chocolate sprinkles on bread are a very common snack in the Netherlands. This is more of a do-it-yourself snack as you will need to do as the locals do and pick up a box of chocolate sprinkles at the supermarket, along with some bread, and make yourself a sandwich. It's typically eaten for breakfast, but you could definitely get away with having some hagelslag for lunch in the park or on a bench overlooking a canal.
Dutch Cheese
A map of the Netherlands is a veritable who's-who of the cheese world. You'll see both Edam and Gouda on our map, and their finest versions are available at kaas (cheese) shops all over Amsterdam. These shops stock a wide variety of Dutch cheese, and they are typically more than willing to slice you off as much or as little as you would like. Many have even been known to give out free samples. Be aware that the older the cheese is, the stronger the flavor will typically be.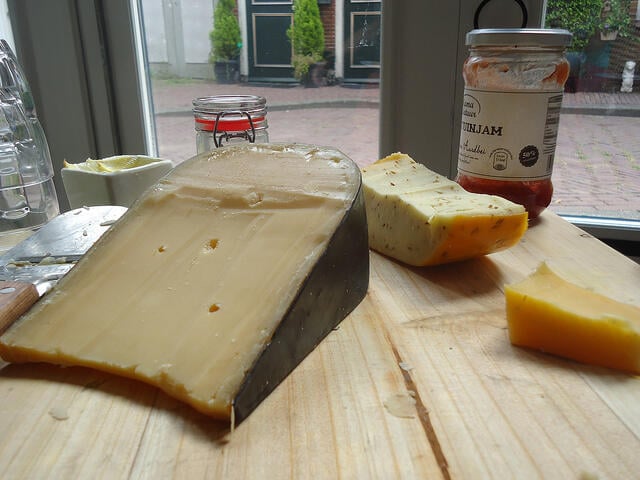 Speculaas
A spicy shortbread, speculaas cookies may look familiar to you as they are known in many parts of the world as Dutch Windmill Cookies. The cookies (or biscuits depending on where you call home) are filled with touches of cinnamon, nutmeg and cloves, and are sold at almost all supermarkets and most bakeries in Amsterdam. Speculaas cookies are as fun to eat as they are tasty; they typically have an imprint of a windmill, tulip, or other Dutch scene on the top of them.
Kibbeling
If you'd like to try seafood in Amsterdam, but aren't totally sure that herring is for you, then kibbeling is just the thing. Kibbeling is warm and flaky white fish battered and golden fried, then served with a variety of tasty dipping sauces. You can even order it with fries and re-create your own version of fish and chips. Kibbeling is usually sold at seafood stands at the street markets in Amsterdam or a fine fish shop, like our favorite Meer dan Vis.