6269 Views
There is no question that Amsterdam is one of the best places to party in Europe. For many people, nightlife is the main reason they decided to come to Amsterdam in the first place. Even with this in mind, nightlife is the type of thing that can be easily overlooked when planning a trip; and, once here, it can be tough to differentiate between nightlife establishments due to the similar architecture of our canal belt and historic center.
One thing is for sure: you can find plenty of places to partake in Amsterdam nightlife almost anywhere in the city. There are a few distinct areas around town that party just a little harder than the rest, however, and this is our guide to Amsterdam nightlife to help you get in on the fun.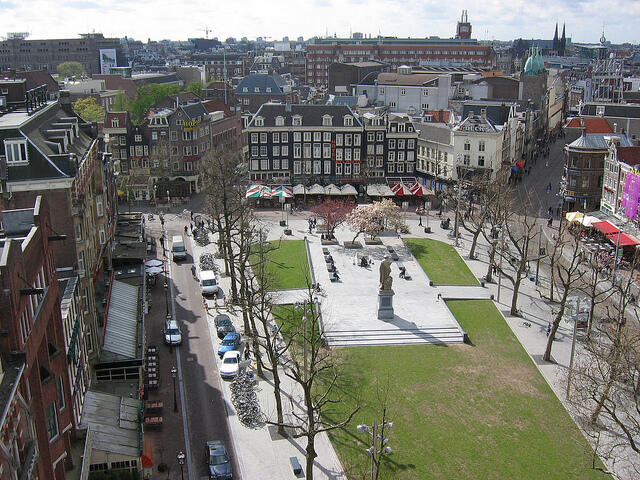 The Can't-Miss Party Spots
Rembrandtplein
The definitive spot for a wide range of Amsterdam nightlife, the Rembrandtplein is great because it really does have a little bit of something for everyone. Home to a diverse mix of bars and clubs to suit almost any taste, the Rembrandtplein is the spot to kick back and relax with a crowd of locals at a brown cafe or even club until the wee hours of the morning at a state-of-the-art dance venue. If you can count on one spot to be hopping any night of the week, it's the Rembrandtplein.
Leidseplein
Another can't-miss hub of Amsterdam nightlife on a par with Rembrandtplein is Leidseplein. Still located within the inner center of Amsterdam, but just outside the canal belt, Leidseplein is home to laid-back Irish bars, shiny ultra-clubs, and one of the city's favorite relaxed late night haunts: Cafe Lux. Hiding right around the corner from the busiest Leidseplein bars, Lux maintains a more intimate vibe than the other spots and is a great place for a chilled-out pre-partying or post-partying libation.
Cafe Lux, Marnixstraat 403
020 422 1412
weberlux.nl
Open: Sun – Thu 7 pm – 3 am; Fri and Sat 7 pm – 4 am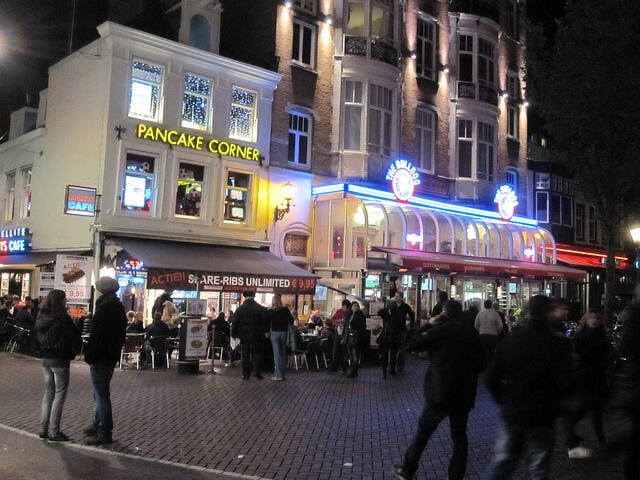 Red Light District
Most people end up discovering early on in their trip to Amsterdam that the Red Light District isn't as seedy as they imagined, and that it can, in fact, be a fun place to hang out. Sure, the streets with the working girls on them can be a little tacky, but mixed in and around them are a hearty collection of bars popular with tourists, backpackers and locals alike. The Amsterdam-ubiquitous Bulldog coffee shop/bar chain is well represented here, but you can also find well-worn historic bars around every corner.
Where to Find More Locals than Tourists in Amsterdam Bars & Clubs
De Pijp
If you want to have an experience that's more trendy than touristy, then you will love what you find hidden behind the Heineken Brewery, in arguably Amsterdam's hippest neighborhood: De Pijp. Home to the famous Albert Cuyp Market by day and a bevy of trendy bars and restaurants by night, this is the place to go if you want to both blend in and be seen. Both the Heinekenplein and the pedestrian-only street of Eerste van der Helstraat buzz with bars and cafes.
The Jordaan
On the opposite side of town, but in the same category as De Pijp, the Jordaan is home to our Amsterdam tour during the day, but definitely knows how to party at night too. The main street Westerstraat stays busy most nights of the week, and the nearby Elandsgracht is home to both quiet brown bars and an ultra-cool cocktail bar called Bar Oldenhof.
Bar Oldenhof, Elandsgracht 84
020 751 3273
bar-oldenhof.com
Open: Tue – Thu 7 pm – 1 am; Fri and Sat 7 pm – 3 am
The Amsterdam Nightlife Hall of Famers
No mention of Amsterdam nightlife would be complete without talking about two venerable venues that have shaped Amsterdam nightlife for decades and are always worth a visit. Both of them are located right near the Leidseplein, so that may just give it the tie-breaker for best Amsterdam nightlife spot.
The Melkweg (which means "Milky Way" in Dutch) is regarded as one of the cradles of Amsterdam's unique counter-culture vibe ever since its opening in 1970, and is still the home for DJs, concerts and theater. Popping in for a show or a drink is a rite of passage for visitors to Amsterdam.
Melkweg, Lijnbaansgracht 234a
020 531 8181
melkweg.nl
Opening hours vary according to concert and movie schedule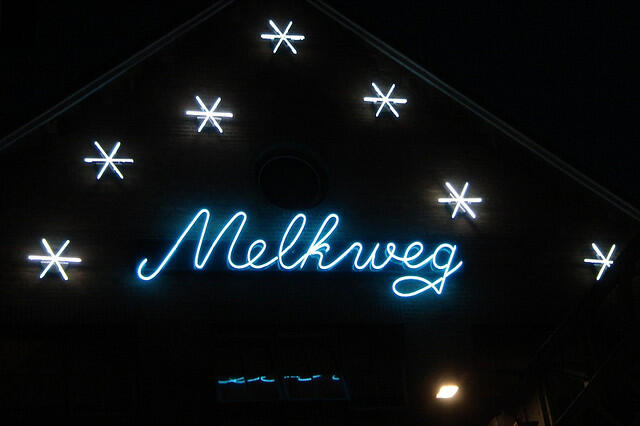 The other member of the Amsterdam Nightlife Hall of Fame is the Paradiso. This converted church is home to concerts and DJs most nights of the weeks, and due to it being a converted church, the acoustics here are out of this world.
Paradiso, Weteringschans 6-8
020 626 4521
paradiso.nl
Opening hours vary according to concert and music schedule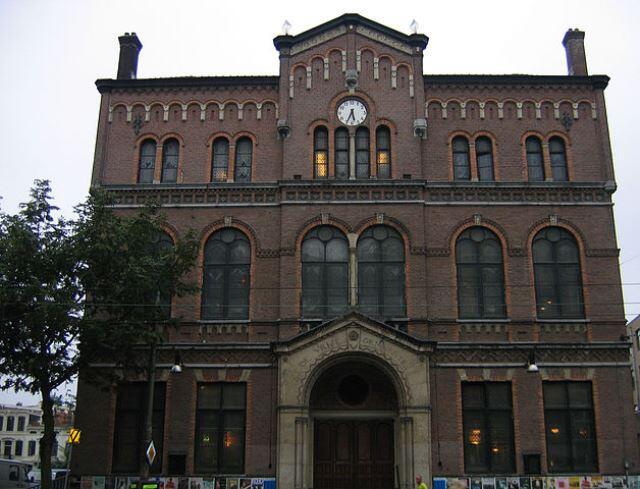 Photo credits:
Rembrandtplein: https://www.flickr.com/photos/minkewagenaar/4540984347
Leidseplein: https://www.flickr.com/photos/nh53/6262007246/
Melkweg: https://www.flickr.com/photos/bitboy/204529137
Paradiso: http://en.wikipedia.org/wiki/Paradiso_(Amsterdam)#mediaviewer/File:Paradiso_Amsterdam.jpg