2864 Views
Amsterdam's charm lies in its picturesque parks, unique architecture, leafy trees and serene canals. The scenery makes the city a perfect setting for lunching and dining in the open air, especially with the summer coming up. If you need an advice on where to eat great food while getting a suntan, here are a few suggestions.
Eye Film Museum
If you like combining food with culture, the Eye Film Museum is the place for you. On a sunny day off, take a boat from Central Station (the boat ride itself will be worth your while) and in just a couple of minutes you'll see a stunning, futuristic construction that seems like it's floating on the water. The Eye Film Museum offers temporary exhibitions of art cinema, and has a few rooms with screenings of independent films, as well as famous Hollywood productions. After visiting the exhibition, you can sit on an open air terrace and enjoy a spectacular view over the water and the south bank of Amsterdam.  The Eye restaurant's menu offers light, fresh dishes that are best enjoyed with a sunset and glass of wine.
IJpromenade 1
eyefilm.nl
Open Sunday–Thursday 10 am-1 am, Friday and Saturday 10 am-2 am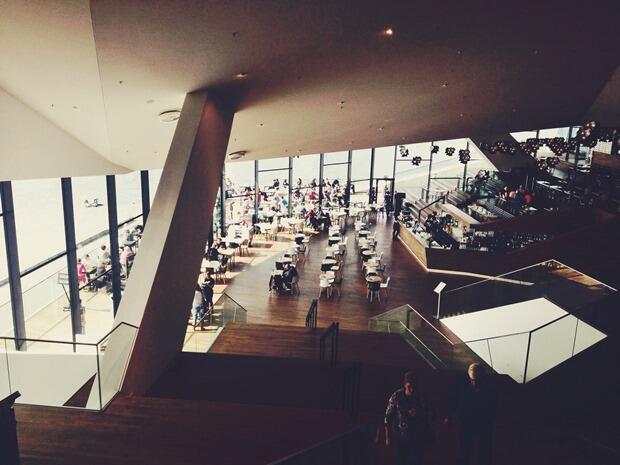 Café de Jaren
Another great restaurant with a breath-taking view from its terrace is Café de Jaren on the Amstel canal. The café is known for great food at surprisingly reasonable prices and its light, airy venue, but the main attraction is its two-story terrace overlooking the water. When you go there, make sure you have a few hours to spare; you can easily lose track of time staring at the boats and picturesque Amsterdam architecture. It is also the perfect place for a date. Although De Jaren is in the very heart of the city, its romantic balcony is hidden at the back of the café, keeping the lovebirds away from the gaze of passers-by.
Nieuwe Doelenstraat 20 – 22
cafedejaren.nl
Open Monday-Thursday 9.30 am-1 am, Friday and Saturday 9.30 am-2 am
Rollende Keukens
This five-day long food festival, meaning "Rolling Kitchens" in English, is like nothing you've ever seen before. Every year strange vehicles including hippie vans, tractors and campers park at Westergasfabriek and open their mobile kitchens to hungry visitors. Rollende Keukens is like Disneyland for foodies – it offers a wide variety of food, from traditional Dutch snacks like fresh herring and kroketten, to more sophisticated Asian snacks and French fondue. The entrance is free, and on Wednesday you can be entertained by live music while you're munching on all the delicious dishes.
Westergasfabriek
rollendekeukens.nl
Open Wednesday, May 28 at 6-11 pm, Thursday, May 29 through Sunday, June 1 at 1-11 pm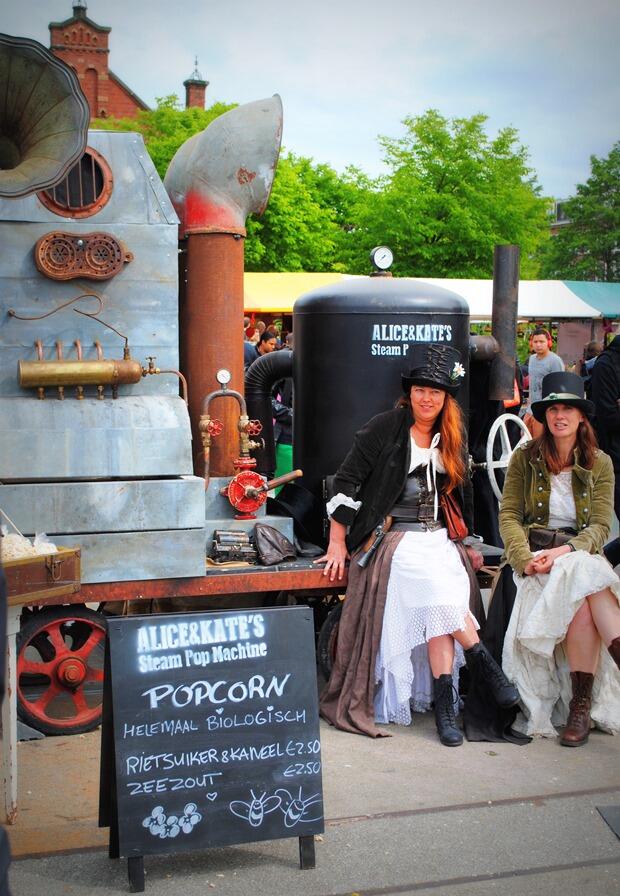 Amsterdam terraces
There are plenty of other places in Amsterdam that are perfect for al fresco dining. In almost every district you will find cozy little cafés with terraces, many of them overlooking the canals. If you're up to exploring the most famous patios in Amsterdam this summer, you can find a very helpful overview on the iamsterdam website.