3065 Views
Selecting a well-defined list of best food venues in Amsterdam is not an easy task. Amsterdam is one of the capitals of creative cafés, pop-up restaurants and food markets, so I needed to carefully go through the list of my favorite spots scrupulously saved on my Evernote Food app. There are plenty of burger places or Asian eetcafés that surprised me with great food, but I realized that I wouldn't go there for a nice evening with a friend. A good chef is not enough to make a restaurant exceptional. That is why my criteria for choosing the top 10 venues were not only tasty meals, but also cozy interiors and an innovative approach to food, drinking culture and the environment.
Top 10 Amsterdam Restaurants
Wilde Zwijnen
I already had a pleasure of recommending Wilde Zwijnen in my previous blog post, and it still remains one of my favorite restaurants. While every Dutch person I know complains about typically Dutch food being fries with mayo, raw herring and (ironically) Indonesian satay, the chefs at Wilde Zwijnen continually restore my faith in Dutch cuisine. All ingredients used in the kitchen are grown or bred in the Netherlands, and the dishes are beautifully presented on the plates. If you have trouble choosing one dish, order a surprise menu to taste the full potential of this restaurant.
Javaplein 23
+31 (0)20 463 3043
wildezwijnen.com
Open: daily 12 noon – 10.15 pm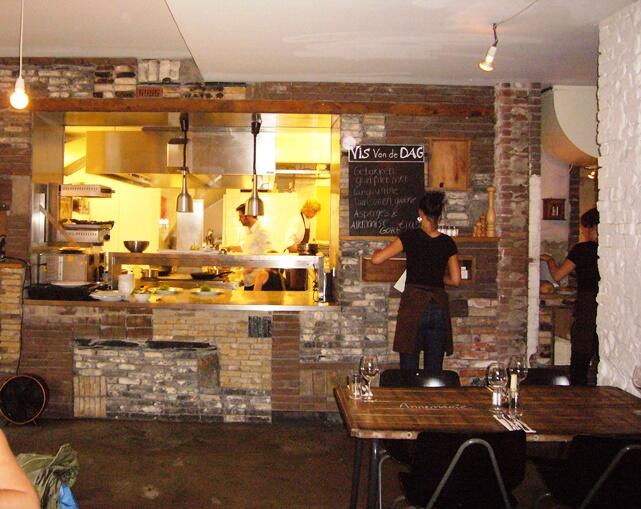 Foodism
Run by 3 chefs from Bosnia, Serbia and Monte Negro respectively, Foodism is a place merging tapas with broadly Mediterranean cuisine. The place captivated me with the simplicity of the food it offers; each plate contains just one dish (e.g. a piece of meat, stuffed eggplant, a fresh salad, or squid in an amazing sauce) so you can mix and match the dishes however you like. The chefs go back to the basics, and they do it right! Foodism encourages customers to come with a group of friends and share the decent-sized tapas portions with each other. It's a great idea, because the scents wafting through the restaurant will make you want to try everything!
Nassaukade 122
+31 (0)20 486 8137
foodism.nl
Open: daily 5 pm – 1 pm
Café Brecht
Café Brecht is a perfect example of an Amsterdam venue with character. The café looks like my grandmother's living room, with antique furniture, dimmed lighting, and old photographs on the walls. In terms of food, Café Brecht only serves snacks and finger food, but it makes up for it by offering special German beers and seasonal drinks such as mulled wine, warm apple cider, or Beaujolais Nouveau. You might need to wait quite some time for a table, but it's worth it!
Weteringschans 157
+31 (0)20 627 2211
cafebrecht.nl
Open: Sun – Thu 12 noon – 1 am; Fri and Sat 12 noon – 3 am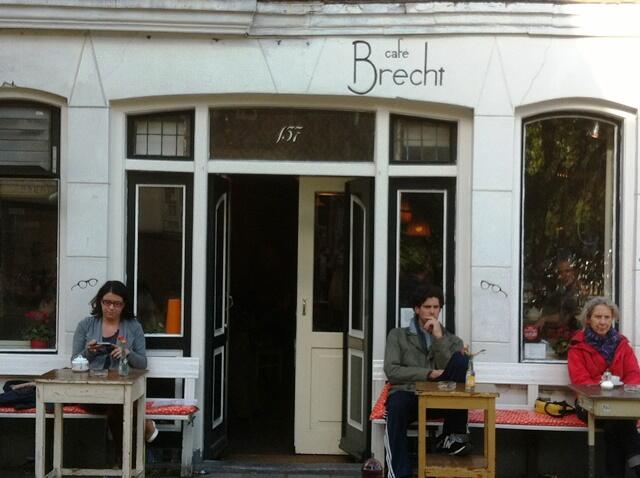 Browerij 't IJ
Say "goodbye" to Heineken's monopoly on beer! Recently more and more cafés in Amsterdam offer specialty beers produced by a local brewery Browerij 't IJ. Located in a windmill (worth visiting just for the venue itself!), the brewery has been producing its non-pasteurized and non-filtered beers since 1985. Browerij 't IJ landed on my "best of" list because it's changing the drinking culture in the Netherlands. Although I was not a beer person before, special Dutch and Belgian beers certainly prove that there is more to this drink than its bitter taste. You don't need to stick with standard lagers anymore; you can choose a beer that pairs with your food like you choose your wine.
Funenkade 7
+31 (0)20 528 6237
brouwerijhetij.nl
Open: daily 2 pm – 8 pm
Olivity
When you enter Olivity, you immediately feel like you've just arrived in someone's kitchen. The owner, a Greek woman who quit her copywriting job to pursue her passion for food, cooks fresh lunches and bakes cookies in the open kitchen at the back of the café. She also enjoys sharing her experiences and recipes for light and healthy Greek meals with her customers. Don't forget to try the home-made ice tea and the best dairy- and sugar-free baklava in Amsterdam!
The place is perfect for breakfast or lunch, and because of the welcoming atmosphere you'll feel like staying for the whole of Sunday – drinking real Greek coffee, reading a magazine and chatting with the owner.
Overtoom 239
+31 (0)6 43177443
olivity.net
Open: Mon 12 noon – 7 pm, Wed – Fri 11 am – 7 pm, Sat – Sun 11 am – 5 pm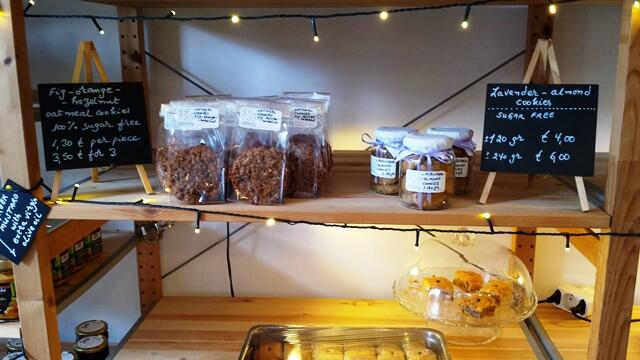 La Perla
It might be surprising that I included a pizzeria in the "top 10" list, but pizza made by La Perla may just be the best I have ever eaten. Thin crust, incredibly smooth mozzarella, salami imported from Italy… Forget about the overpriced, touristy restaurants serving pizzas dripping with grease. La Perla reminds us that what we consider to be fast food for hangover days actually has its roots in simple and seasonal Italian cuisine. La Perla has two locations: you can choose to go to one side of the street for a takeaway pizza, and to the other for a cozy dinner.
Tweede Tuindwarsstraat 14 and 53
+31 (0)20 624 8828
pizzaperla.nl
Open: for takeaway daily 5 pm – 10 pm; for lunch and dinner daily 10 am – 10 pm
Hostaria
Hostaria is one of the hidden treasures of Amsterdam. Serving real Sicilian food, the restaurant is a family business run by a Sicilian chef and his Dutch wife, and employs mostly Italian-speaking staff. It's easy to miss, because it's a small place with a humble interior, but the food is to die for. Seafood dishes are true masterpieces, and don't even think of leaving before trying the homemade tiramisu or panna cotta.
Tweede Egelantiersdwarsstraat 9
+31 (0)20 626 0028
Open: daily 6 pm – 10 pm
De Kas
De Kas definitely takes local cuisine to the next level. The venue has its own set of greenhouses growing fresh vegetables and herbs. There is no menu card, as the chef prepares one menu per day based on the daily harvest. Whatever doesn't come from the greenhouse, De Kas orders from local farmers.
Kamerlingh Onneslaan 3
+31 (0)20 462 4562
restaurantdekas.nl
Open: lunch Mon – Fri 12 noon – 2 pm; dinner Mon – Sat 6.30 pm – 10 pm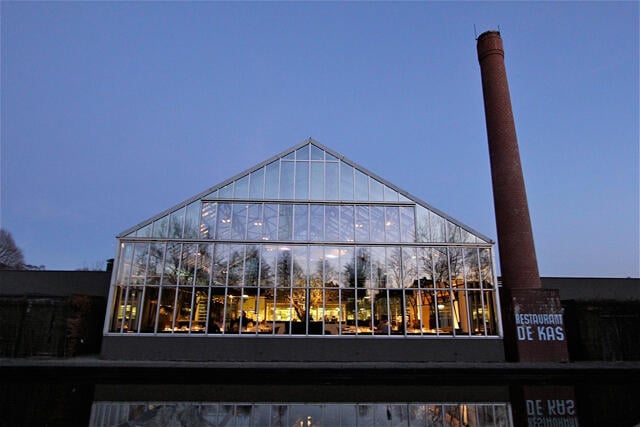 Café De Ceuvel
For me, Café De Ceuvel is the epitome of minimalism, sustainability and recycling. The surroundings of the café are filled with pieces of old boats, wooden planks and metal sheets that serve as recycled pieces of furniture. As I have written before, I discovered Café De Ceuvel during a cozy, rainy November evening but I can't wait to join one of their famous summer barbeques. I also very much appreciate their efforts to cook more sustainable food. Café De Ceuvel's policy supports the eco-food innovation movement and aims for a zero-waste kitchen.
Korte Papaverweg 4
+31 (0)20 229 6210
cafedeceuvel.nl
Open: Tue – Thu 10 am – 1 am; Fri 10 am – 3 am; Sat and Sun 11 am – 3 am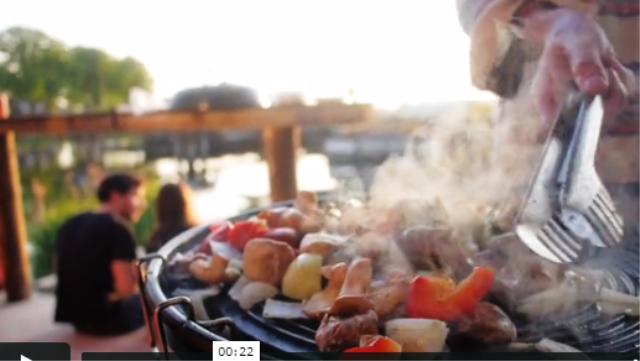 Bier Fabriek
What I love about Bier Fabriek is that they focus on what they're good at: beer, chicken and peanuts. The choice is simple. They brew their own beer, and you can chose between White, Dark and Rosé brews. If you want to eat, you have a choice of snacks for the light appetite, or half a roasted chicken if you're feeling hungrier. They also serve a simple, vegetarian "meal of the day". And the thing that makes Bier Fabriek so unforgettable is that they allow you to take handfuls of peanuts from bags hanging on the walls and simply throw all the shells on the floor. How liberating!
Rokin 75
+31 (0)20 528 9910
bierfabriek.com
Open: Mon – Thu 3 pm – 1 am; Fri 3 pm – 2 am; Sat 1 pm – 2 am; Sun 1 pm – 12 midnight