54222 Views
The Netherlands is famous for tulips, cheese, clogs and…? Why, windmills, of course!
Amsterdam's center used to be cluttered with windmills fulfilling various purposes, from preventing the city from flooding to grinding the seeds for the Dutch favorite condiment: mustard. Most of the capital's windmills have long been dismantled but 8 remain. As it turns out, windmills have been on the move and many of Amsterdam's mills have been relocated to the suburbs where wind conditions are more favorable than in the built-up inner city. And while only the Molen van Sloten is open to the public, many mills participate in the National Windmill Day, held on the second Saturday in May, when these historical buildings become hubs of activity once again.
Venture just a little outside of Amsterdam and you can admire your fair share of windmills in the outdoor museum Zaanse Schans. It pays homage to the Dutch heritage and, of course, in a land that used to be dotted with 10,000 windmills, those are an essential part of it.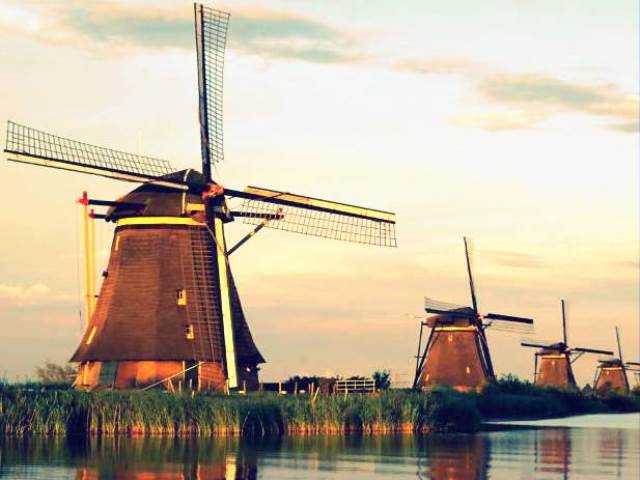 Windmills in Amsterdam
Molen van Sloten
The Sloten Windmill is the only one of Amsterdam's 8 windmills open to visitors. It is still operating and, being a draining mill or tjasker, it is used to pump excess water from the surrounding area that was once the Haarlemmer Lake (Haarlemmermeer).
Akersluis 10
020 669 0412
molenvansloten.nl
Open: daily 10 am – 4.30 pm (except Jan 1, April 27 and Dec 25 and 26)
De Gooyer
Kill two birds with one stone by visiting de Gooyer mill. If you do, you won't just get to see Amsterdam's most iconic mill but you can also sample one of Amsterdam's best beers, brewed in 't IJ brewery next door. The mill itself was built in 1725 and is the tallest wooden mill in the Netherlands. During its working life, it was used as a corn mill but it hasn't been operating since it was damaged during a storm in 1972.
Funenkade 5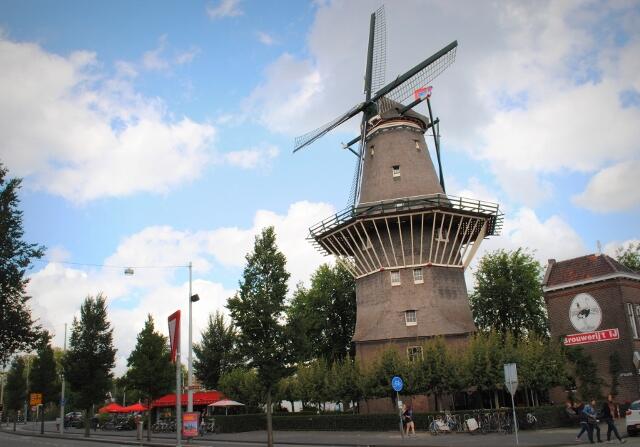 De Otter
Located not that far away from de Bloem mill is the small paltrok mill de Otter. Built in 1631 as one of many sawmills that were dotted around this area, it remained in operation until the early 1900s. Due to Amsterdam's growing population as well as industrialization, all but the Otter sawmill were dismantled. The mill was restored to full working condition in the 1990s; however, the many buildings that have shot up in the area mean that wind conditions are no longer suitable to operate the mill. As a result, the owners have proposed to relocate the mill but, being a national monument, they had to seek permission from the city council. Several court cases later, the Otter remains, for the time being, in its current location.
 Gillis van Ledenberchstraat 78
Riekermolen
No mill in Amsterdam seems rooted to its spot, and the same is true for the Riekermolen. Built in 1636 in the village of Sloten, just outside Amsterdam, the Riekermill was moved to its current location next to the Amstel River in 1961. Like the Molen van Sloten, it is a drainage mill, but unlike its operating cousin, it has been retired. Nevertheless, when the wind is right, the Riekermolen still spins on weekends during the afternoon. Next to it, you'll also find a statue of Rembrandt who favored this area and eternalized it in many of his sketches.
De Borcht 10
Operates: some weekends 12 noon – 5 pm
D'Admiraal
Hop on the ferry to Amsterdam Noord to visit the last remaining chalk and trass mill in the Netherlands. Built in 1792 to grind a volcanic stone from the German Eifel region, used in the making of mortar, it was later used to grind chalk for putty. It was erected (and still stands) in the picturesque Buiksloot, a former village and now part of Amsterdam.
Noordhollandschkanaaldijk 21
De Bloem
Built in 1768, flour mill de Bloem started life in the Bloemgracht in the Jordaan. Much like de Gooyer windmill it was later relocated to a windier location on the outskirts of town. Today it is used as an office and can only be visited during the National Windmill Day.
Haarlemmerweg 465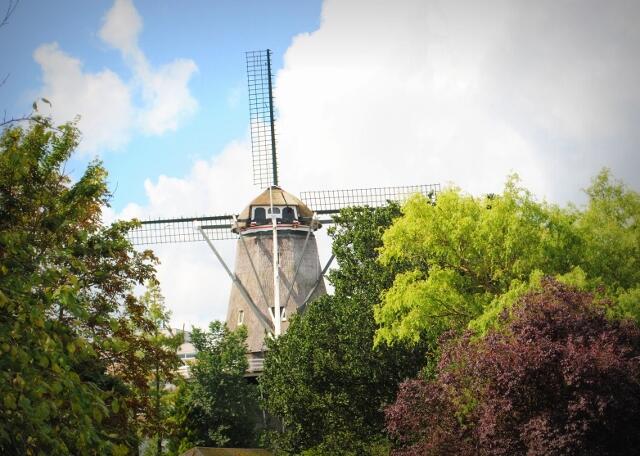 Windmills outside of Amsterdam
De Zaanse Schans
Can't get enough of windmills and Dutch history? Then Zaanse Schans is the place for you. A short train ride outside of Amsterdam you will find the outdoor museum Zaanse Schans. Since 1961, historical mills, buildings and barns from the 18th and 19th century have been transplanted to this area outside Zaandam, creating at once a thriving community and living monument.
De Zaanse Schans is home to 8 windmills with great names such as The Cat (de kat), The Spotted Hen (de bonte hen) and The Cloverleaf (het klaverblad). The mills were used for varying purposes from sawmills to oil mills to mustard mills. With many other attractions at de Zaanse Schans (such as a bakery museum and a museum of Dutch clocks) you can easily spent a whole day exploring the area.
Schansend 7, Zaandam
dezaanseschans.nl
Open: Mon – Sun 10 am – 5 pm