5994 Views
Having moved from my hometown Amsterdam to Sydney for two years, and now have a new life in London, you could say that I am a bit Cuisine-Confused. I'm craving Dutch vintage cheese and mayonnaise on thick fries, dreaming of Australian chocolate-covered Tim-Tams and Lamingtons and have only just learned—on the Eating London Tour—that Indian curry is actually considered a British dish. While I'm still adjusting to my new eating habits, I am happy about the fact that I get to make so many culinary discoveries. And that from now on, I will be sharing them with you here on the blog. I hope to give you a regular update on my food finds, new London hotspots and the good old classics, as well as showing you some of the history and culture of this amazing country. My first stop is one for me to bridge the gap a bit: Showing you the best Australian restaurants in London.
Bill Bryson wrote in his book In a Sunburned Country about Australia:
"The people are immensely likable— cheerful, extrovert, quick-witted, and unfailingly obliging. Their cities are safe and clean and nearly always built on water. They have a society that is prosperous, well ordered, and instinctively egalitarian. The food is excellent. The beer is cold. The sun nearly always shines. There is coffee on every corner. Life doesn't get much better than this."
Sounds good, right? Here's a couple of Australian restaurants in London that recreate that ultimate Ozzie feeling for you:

Lantana Cafe
Named after a flowering plant that was transported from South America to Australia by immigrants, Lantana brings you iconic Australian favourites in laid-back style: good coffee and breakfasts such as sourdough toast with vegemite or freshly baked banana bread. And as on many Australian menu's there is a brunch section with many more options. For takeaways, simply go next door to Lantana Out. In Shoreditch, you can find their sister cafe 'Salvation Jane'.
Location: 13 Charlotte Place, London, Fitzrovia, W1T 1SN Opening Hours: Mon-Fri (8am-6pm) and Sat-Sun (9am-5pm) Website: http://www.lantanacafe.co.uk
The Slug @ Fulham
The Slug @ Fulham is an Australian/New Zealand/South African bar and restaurant in the heart of Fulham. Everything from decor to music, drinks and pub food classics is typical of a bar Down Under. If you're looking for a party, you're also at the right place as they have a dance floor and organise many events.
Location: 490 Fulham Road, London, SW6 5NH Opening Hours: Mon-Tue (5 pm-11pm), Wed-Fri (5pm-2am) and Sat-Sun (noon-2am) Website: http://www.theslugatfulham.co.uk

Walkabout
Walkabout is a chain of Australian party places all around the UK. At Temple, you can eat, dance and watch sports just like the Ozzies do! Strictly over 18's only, so bring your ID. All their Aussie beers are sourced and shipped from Australia, from VB to James Boags, Carlton Draught, Tooheys, Coopers and Little Creatures, you can find them all (and more) at Walkabout.
Location: Temple Place, London, WC2R 2PH Opening Hours: Mon, Wed, Thu (noon-1am), Tue, Sun (noon-12am) and Fri-Sat (10:30am-3am) Website: https://www.walkaboutbars.co.uk
Barossa Fulham
Barossa Fulham is an independent coffee house & Australian kitchen, inspired by the cafe life that Australia is so famous for. They serve all day breakfast and quality coffee. They also have a small lunch menu with seasonal food and baked goods.
Location: 277 New Kings Road Fulham, London, SW6 4RD Opening Hours: Mon-Fri (8am-5pm), Sat (9am-5pm) and Sun (9am-4pm) Website: http://www.barossafulham.com
Granger & Co
Bill Granger is an Australian chef and food writer, known for his relaxed style and fresh local-ingredient led dishes. His two Australian restaurants in London, Granger & Co in Notting Hill and Clerkenwell are very successful and people are queuing daily for his brunches, with which he became famous.
Location: 50 Sekforde Street, Clerkenwell, London, EC1R 0HA /175 Westbourne Grove, Notting Hill, London, W11 2SB Opening Hours: Mon-Fri (8am-11pm), Sat (9am-11pm) and Sun (10am-6pm) Clerkenwell, / Mon-Sat (7am-11pm) and Sun (8am-10pm Sun) Notting Hill Website: http://www.grangerandco.com
And last, but not least, my personal favourite. It's not a restaurant, but a Australian tea shop that you cannot miss: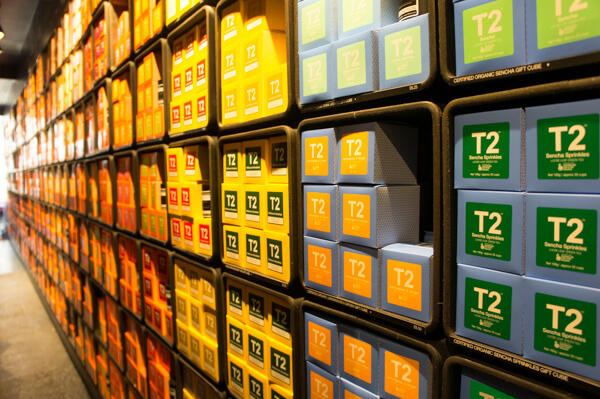 T2 Shoreditch
T2 offers Australia's biggest range of beautiful, fragrant teas from all around the world. This brand began over 18 years ago, with its first retail outlet in Brunswick Street, Fitzroy. Now, with over 50 stores throughout Australia and New Zealand, T2 sells enough tea per month to make 9 million cups of tea.
Location: 48-50 Redchurch Street, Shoreditch, London, E2 7DP Opening Hours: Mon-Fri (11am-7pm), Sat (10am-7pm) and Sun (11am-5pm) Website: http://www.t2tea.com
With these Australian restaurants in London, you'll be sure to enjoy a tasty brekkie, brunch or dinner. And then you can enjoy the rest of your day… with No Worries of course!
Have you visited any of these places yet? What is your favourite Australian dish?