7398 Views
Whatever the occasion, there's no more classically British way to enjoy London than with afternoon tea. As well as all of the major London hotels hosting afternoon teas, plenty of cafes and restaurants dotted across the city serve up their own individual spins on the delicious 3-tiered ensemblage. Indulge in a selection of delightful cakes, sandwiches, and fine teas from some of the best spots the capital has to offer. Here are our 5 favorite places for the best afternoon tea in London!
This post has been updated for accuracy with their status as of 19 January 2021, but due to the changing Covid-19 landscape, we recommend you confirm services and times directly with the restaurant. 
Classic Afternoon Tea Bus London
Let's start our list of the places for the best afternoon tea in London with an unconventional one: The Classic Afternoon Tea Bus London from Brigit's Bakery.  Its creators really pushed the boundaries when they conjured up this concept – what could be more British than afternoon tea served on a London tour bus? It's a tour like no other, though, as diners can enjoy a fine feast of goodies and take in the capital's landmarks, including the London Eye and Big Ben. There's no tour guide either, letting you savor the refreshments and marvel at the sights in peace.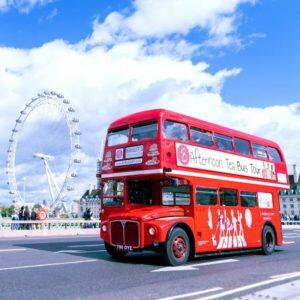 All of your favorite goodies are on the menu, including tiny sandwiches, cakes and pastries. And you don't need to worry about the motion being a problem – everything is designed perfectly so you won't spill a (precious) drop of your tea.
6-7 Chandos Place, Covent Garden, London WC2N 4HU
Tours run daily between 12:00 and 5:00pm.
£45 per adult – click here to learn more and book. 
Sketch
Making a name for itself due to its blush pink interiors, Sketch not only wins points for its decor, but it also has a top-notch menu. The gorgeous room, designed by artist David Shrigley and designer India Mahdavi, has a quintessential, classy charm that perfectly complements the fine delicacies and drinks.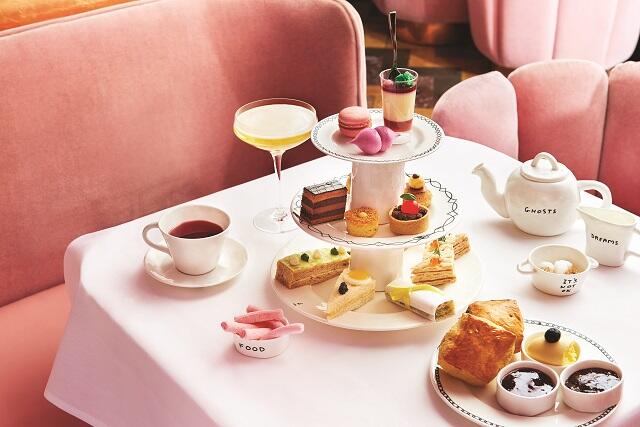 On the menu are 2 tiers of cakes, including French pastries and miniature chocolate gateaux, Comte cheese toasties and caviar-topped egg sandwiches, and a delightful side of pink marshmallows to match the surroundings. Champagne is an optional extra so that you can truly toast the occasion.
Note: Sketch is currently closed due to Covid-19, but is a favorite. You can support this business by visiting Sketch's online shop.
9 Conduit Street, Mayfair, W1S 2XG
+44 (0)20 7659 4500
sketch.london
Afternoon tea served daily: 12:30 pm – 4:30 pm
£45 per person; £57 with champagne; £27 for children
Orange Pekoe
In a list of places for the best afternoon tea in London, you cannot leave out Orange Pekoe. Its cute coziness makes it really stand out from its more refined competitors. Tucked away in the chic Barnes neighborhood, the tearoom pays close attention to detail with its collection of decorative vintage teacups and crockery. It might not be big inside but the skylight roof and white-brick walls add to the laid-back atmosphere, and in the summer the cafe moves outdoors so that you can enjoy afternoon tea in the sunshine.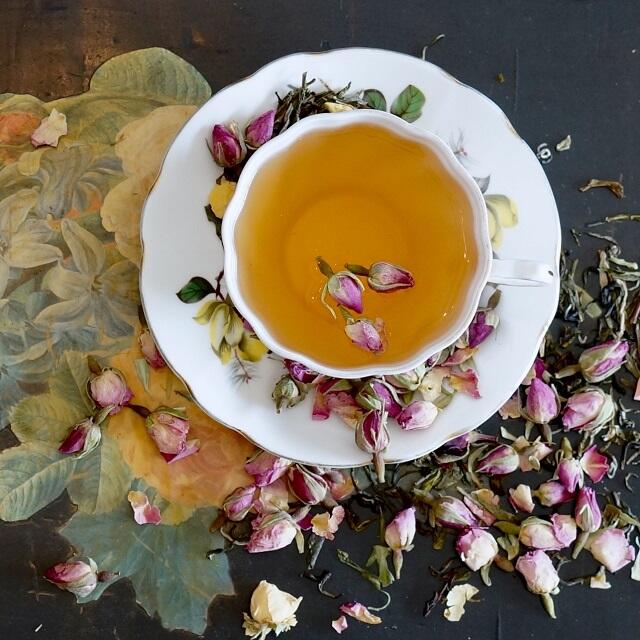 Renowned for its homely cooking and hearty menu, every cake and sandwich is beautifully reminiscent of something your grandmother used to bake. There are more than 50 loose-leaf teas to choose between, so you can try out a new or unusual herbal or fruit infusion every time, from classic black and oolong teas, to premium Japanese green tea.
Note: Orange Pekoe Teas is currently open for takeaway only due to Covid-19. 
3 White Hart Lane, Barnes, SW13 0PX
+44 (0)20 8876 6070
orangepekoeteas.com
Afternoon tea served daily: 2 pm – 5 pm
From £19.95 per person
Fortnum & Mason
No doubt this is one of the best afternoon tea in London. No one understands tea quite like luxury tea brand Fortnum & Mason. The elegant salon was originally opened by Her Majesty The Queen, to mark her Diamond Jubilee, so it holds a place close to the British heart.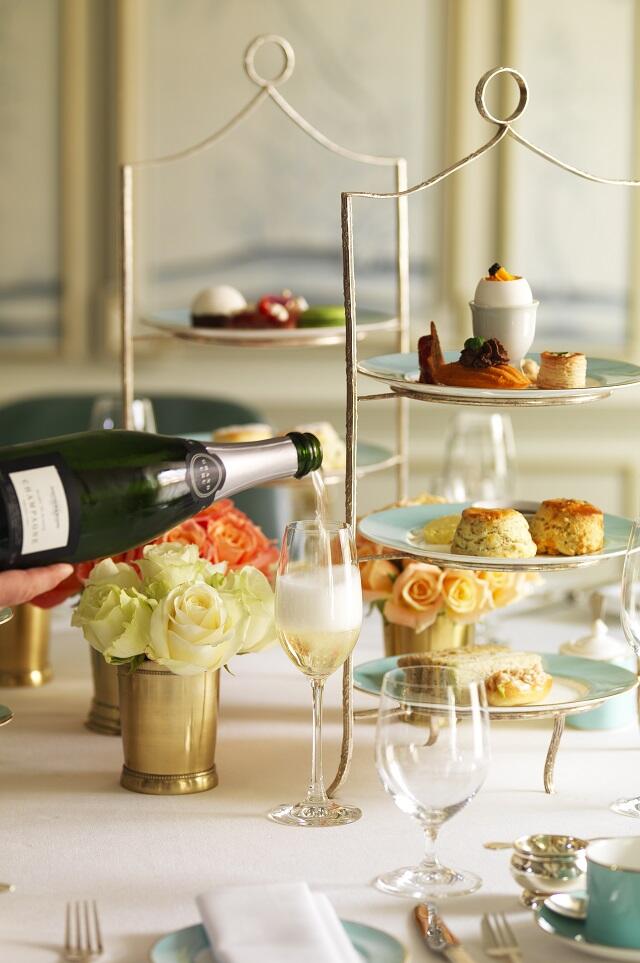 Diners can expect to enjoy Fortnum & Mason's impeccable tea served in the finest of china, alongside a first-class menu all laid out on white linen tablecloths with decorative roses on every table. Choose between their iconic selections, from a sweet option complete with scones and finger sponges to an exclusively savory platter of sandwiches and quiches – or opt for High Tea, a mix of all the goodness of both!
Note: Fortnum & Mason is currently closed due to Covid-19.
Fourth Floor, Fortnum & Mason, 181 Piccadilly, St. James's, W1A 1ER
+44 (0)20 7734 8040
fortnumandmason.com
Tea salon open: Mon – Sat 12 noon – 7 pm; Sun 12 noon – 6 pm
From £44 per person
Oblix West, the Shard
Enjoy one of the best spots for Afternoon Tea with an unbeatable view! From the 32nd floor of The Shard, the views are exceptional! The menu itself is traditional yet decadent. You'll find teas from all over the world – a white-peony blend from China, hibiscus from the Caribbean and also teas from New Zealand are on their menu.
Note: Oblix West, the Shard is currently available for takeaway only.
Oblix West, The Shard, 31 St Thomas St, London SE1 9RY
+44 (0)20 7268 6700
the-shard.com

I really hope that after this reading you will taste sip the best afternoon tea in London ever and, of course, enjoy the city as best as you can! When the city returns to normal, take a look at our pretty amazing London food tours!
Disclosure: We may earn a small commission if you book some of these experiences.