18499 Views
This post was originally published in 2016 and was updated in November, 2017.
What is round, hot, crunchy on the outside and gooey on the inside? Why, the bitterbal, of course!
Bitterballen are the Dutch equivalent of tapas; small, deep-fried meaty snacks that are usually eaten alongside a biertje (beer). The traditional filling is a beef or veal ragu, which is shaped into a ball and coated with coarse breadcrumbs. This tasty snack originated as a way of using up leftovers and derived its name from the bitter, herb flavored liquors that it used to be served alongside.
Bitterballen can be ordered in most brown cafes in Amsterdam and are often part of a bittergarnituur, a platter laden with huge chunks of Gouda cheese (blokjes kaas), deep-fried cheese sticks (kaasstengels), spring rolls (loempias), raw beef sausage (ossenworst) and the obligatory ramekin of spicy mustard. Try to resist the first bite of your bitterbal for as long as possible as the inside is always piping hot. You have been warned!
Here's our guide to Amsterdam's bitterballen scene. Of course, you could also just join our Amsterdam Tour where you will get to sample classic bitterballen the civilized way: while enjoying a leisurely cruise along the canals in an old-fashioned private boat.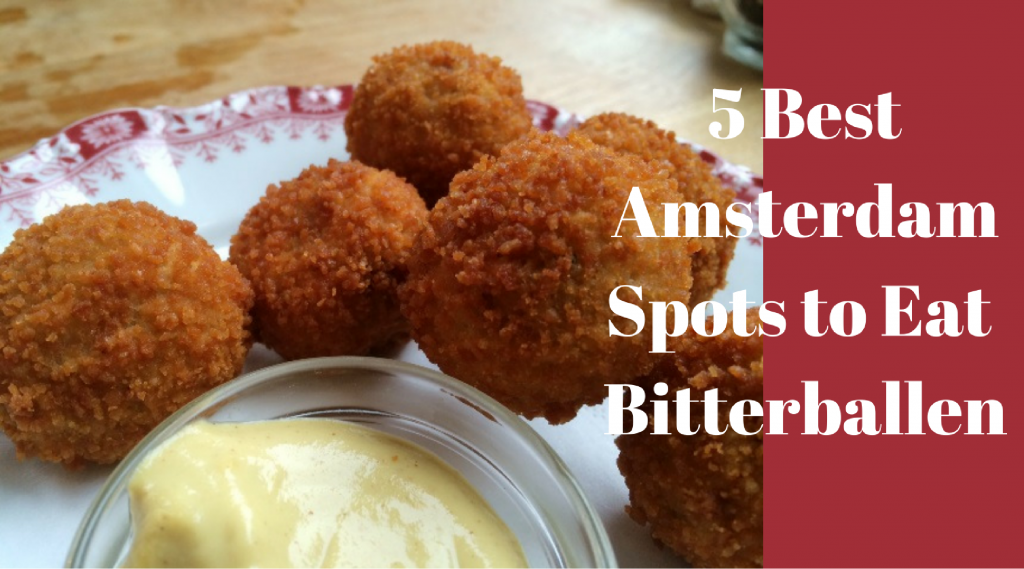 5 of the Best Places to Eat Bitterballen in Amsterdam
The classic bitterbal in the Jordaan: Café de Tuin
Before you move onto the more unconventional bitterballen we've got in store, you should try the traditional beef ragu version at Café de Tuin. Located in the Jordaan, this traditional café is the ideal place for a borrel, a drink and bitterballen combo, while you're exploring this famed neighborhood.
Tweede Tuindwarsstraat 13
cafedetuin.nl
Open: Mon – Thu 10 am – 1 am; Fri and Sat 10 am – 3 am; Sun 11 am – 1 am
Bitterballen by boat: Jordaan Food & Canals Tour
We're going to let you into a little secret… The bitterballen that are served during the canal cruise part of the Jordaan Food & Canals Tour are not only some of the best in the city; they're also delivered via boat hook to our gorgeous antique barge while we take in the city from the water. What could be more Dutch? However, if you don't have your sea legs on, don't despair! Bitterballen are also served (on dry land) during our walking-only Jordaan Food Tour.
Herengracht 124 – 126
+ 31 (0)20 808 3099
eatingamsterdamtours.com
Tours run: Tue – Sat; see website for schedule of the various tours
**********************
Like this? Check out Eating Europe on social media!
With Dutch foodie ideas, mouthwatering pics and much more, we're on…
Facebook | Twitter | Pinterest | Instagram
**********************
Bitterballen with a view: Pllek
Hop on the ferry to NDSM-wharf, which departs behind the Centraal Station, for a little trip over to "the secret side of Amsterdam." Once there, follow the signs to Pllek across the industrial terrain. Sounds like quite an undertaking for a plate of deep-fried balls but it's well worth the effort. Pllek is constructed of a jigsaw of disused shipping containers and boasts a little beach with a wonderful view across the IJ. In your awe, don't forget the reason why you undertook this trip in the first place: the wild boar bitterballen.
TT Neveritaweg 59
pllek.nl
Open: daily 9.30 am – 10 pm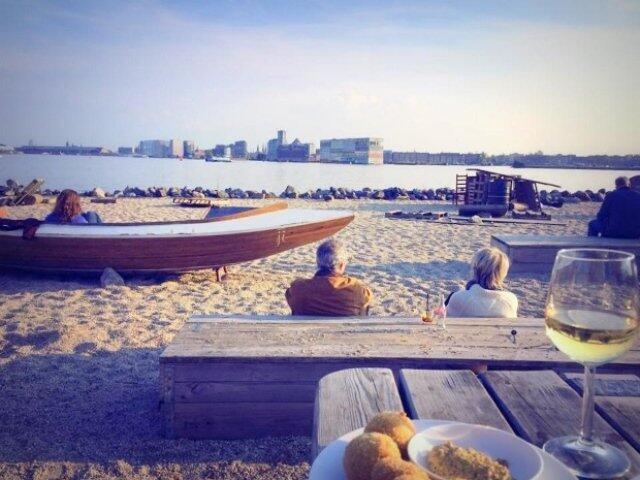 Bitterballen on the move: De Bitterballen Brigade
Bitterballen can get boring pretty quickly. Taste one and you've tasted them all. That is, until you come across the Bitterballen Brigade. A fledgling business by the creators of Fris Deli, the Bitterballen Brigade currently sets up shop every month at the Neighbourfood Market. Their bitterballen come in five delicious flavors:
Pumpkin with goat's cheese
Confit de canard with red onion compote
Salmon and fennel
Truffled mushrooms
Pork sausage and peas
Check out their Facebook page for news and appearances of De Bitterballen Brigade.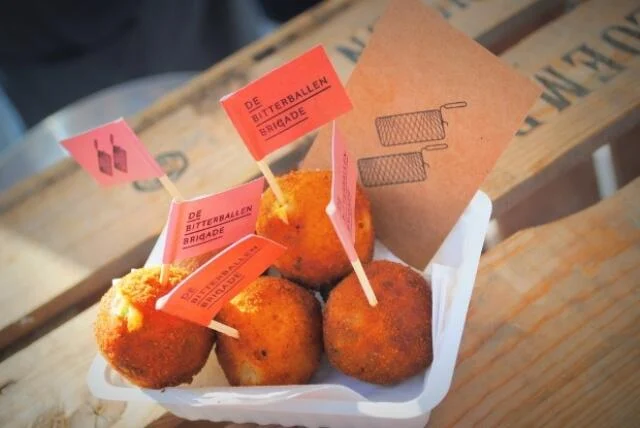 Bitterballen deluxe: Café Amsterdam
Café Amsterdam is housed in what used to be the engine room of one of Amsterdam's foremost pump stations. Built in 1897, it was converted into the current café-restaurant in 1996. Three pumps did have to make way for a kitchen but everything else was left intact. Café Amsterdam serves up the Full Monty of a bittergarnituur but if you are feeling a little more luxurious, go for the garnalenkroketten instead. Filled with a prawn ragu, the kroketten (essentially sausage-shaped bitterballen – otherwise known as croquettes) are served with deep-fried parsley and lemon. Bite the top off, squeeze with lemon juice and dip into the parsley. Delish!
Watertorenplein 6
cradam.nl
Open: Sun – Thu 10.30 am – 12 am; Fri and Sat 10.30 am – 1 am 
Planning your trip to Amsterdam? Explore the city's culture, history, and food by taking our food and canals tour or our walking-only food tour in the stunning Jordaan neighborhood!