4153 Views
If there's one dish us Brits love (apart from a good Sunday roast, obviously) it's fish and chips. Ask a Brit what they can remember of family holidays by the seaside and we'll bet that at least a few of them get all nostalgic about eating salt and vinegar covered fish and chips out of greaseproof with a wooden fork.
It's got to be right though: crispy batter, moist fish, thick cut chips, and the big helping of mushy peas on the side. Although, pop into some households on a Friday night for Fish Friday and you'll also find a slice of white bread on the side because there's nothing better than using some of your chips to make a classic chip butty!
Sound tempting? If you're wondering where to find the best fish and chips in London, don't worry, we've got you covered:
Toff's
With its dark wood panelling and furniture, Toff's isn't one of those London chippys that's trying to appeal to the younger generation with quirky decor. Nope, all this place is interested in is serving up some of London's best fish and chips in huge portions and at a good price. No frills, just good food, and they've got the awards in the window to prove it.
Fish is cooked fresh to order and in the unlikely event that you're still hungry afterwards you can always enjoy one of Toff's old school puddings. Treacle pudding, anyone?
Toff's of Muswell Hill, 38 Muswell Hill Broadway, London, N10 3RT

Poppies
Powder-blue Formica tables, a jukebox, and a mini red telephone box; if feeling like you've been transported back to the 1950s is your thing then you'll love Poppies, but it's not just the decor that sees this east London chippy full to the brim every weekend. Pop Newland who runs Poppies has been serving up fish and chips in the East End his entire life so he knows a thing or two about how to make the perfect batter and this is proven by how many awards both of his restaurants (one in the heart of Spitalfields, East London, one in Camden) have won, including The National Fish & Chip Awards 2014.
Poppies Spitalfields, 6-8 Hanbury Street, London, E1 6QR
Poppies Camden Town, 30 Hawley Crescent, London, NW1 8NP
Golden Union Fish Bar
Golden Union describe themselves as 'an authentic-feeling British chippy with a modern twist' and that's exactly what it feels like when you walk in: ketchup sits in plastic tomato bottles, the tables are topped with plastic, the lighting's modern, and if you had any doubt as to what this family run place is passionate about it's written in tiles along one wall!
If fat cut chips and chunky fish is what you're in the market for then look no further. Golden Union's prides itself on its traditional offerings, although you can still get a homemade milkshake if you think you can fit it in.
Golden Union Fish Bar, 38 Poland Street, Soho, London, W1F 7LY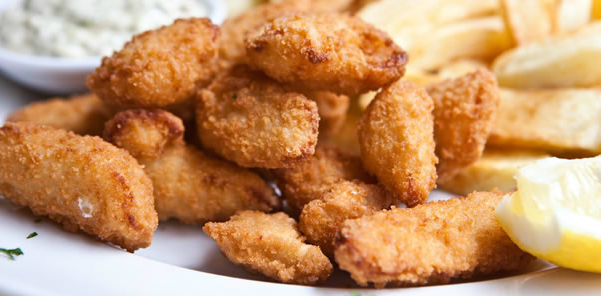 Kerbisher and Malt
Double-fried chips and contemporary decor is the name of the game at this award winning fish and chip shop, which boasts 4 locations across London. Kerbisher and Malt like to keep things simple, but it definitely feels a bit more 'upmarket' (we're not sure we've seen a fennel and dill salad available as a side dish in any other chippy).
As with many of the fish and chip shops across London, the fish comes from sustainable sources and there's a range of options to suit everyone. You can even get a fish finger butty, a favourite amongst many British households.
Kerbisher and Malt, various locations, London
North Sea Fish Restaurant
If you arrive at North Sea Fish Restaurant and see a line of black cabs parked outside it's likely because this restaurant is so popular that it's one of the landmarks on The Knowledge, the test that cab drivers have to pass before they can start driving people around London. In fact, this place so popular that's it's advisable to book a table for dinner in advance.
Food-wise the portions are huge but surely with apple crumble and bread and butter pudding on the menu you've got to leave room for dessert!