2176 Views
We know it's tough to choose a hotel to rest your head in Florence when there are so many options. Because of the vast number of hotels available, it might be easier than you think to find a good deal, especially if you're traveling in the off season, such as in the winter months. Besides price, another way to narrow down your search is by neighborhood, like the lively Santo Spirito area in the Oltrarno. No matter what area of Florence you pick to stay in, and because of Florence's size, the center is never that far away. Eating Italy is also here to help sort through all your options with this list of our top hotel picks in Florence.
Antica Dimora Firenze
If you like your bed and breakfasts to be cozy and charming then the Antica Dimora Firenze might be for you. Its colorful rooms with 4-poster beds and simple yet careful furnishings make it an excellent place to stay during your time in Florence. Some of the rooms also include a balcony. The hotel is about a 5-minute walk from the Galleria dell'Accademia and Michelangelo's David.
Via San Gallo, 72/N
+39 055 462 7296
antichedimorefiorentine.it
Double rooms range from €80 to €200 per night, depending on season
Borghese Palace Art Hotel
While in Florence, it's normal to overdose on beautiful Renaissance art. And the Borghese Palace Art Hotel promises to take art overload one step further by bringing it into your hotel room, which is furnished in a mix of the modern and antique. The rooms are spacious and comfortable, and make an excellent place to unwind after a day of sightseeing. This hotel can be found between Santa Croce and the Duomo.
Via Ghibellina, 174/r
+39 055 284363
borghesepalacehotel.com
Double rooms range from €60 to €170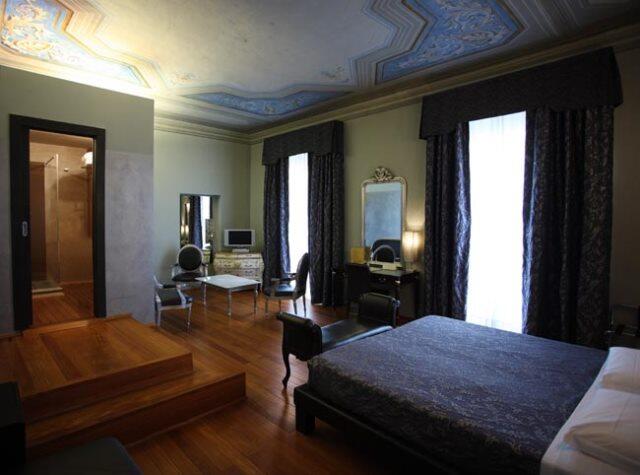 Hotel Lungarno
If you want luxury along the Arno River, look no further than Hotel Lungarno. Situated by the iconic Ponte Vecchio, across the river from the Uffizi and the Piazza Signoria, the Hotel Lungarno has plush and elegant rooms that are the signature of the Ferragamo Group. Services include an in-house spa, a terrace bar, a restaurant and a private art collection that includes a Picasso.
Borgo San Jacopo, 14
+39 055 27261
lungarnocollection.com
Rooms from €250 to €350 per night
N4U
This elegant guesthouse is located within walking distance of the Duomo, and offers a lot of refinement at a relatively low price. With a mix of modern and antique furnishing, N4U also has rooms complete with ceiling frescoes. Families of 4 can comfortably fit in one of the larger rooms.
Via del Proconsolo, 4
+39 055 094 8065
n4uguesthouse.com
Rooms range from €100 to 150 per night, depending on season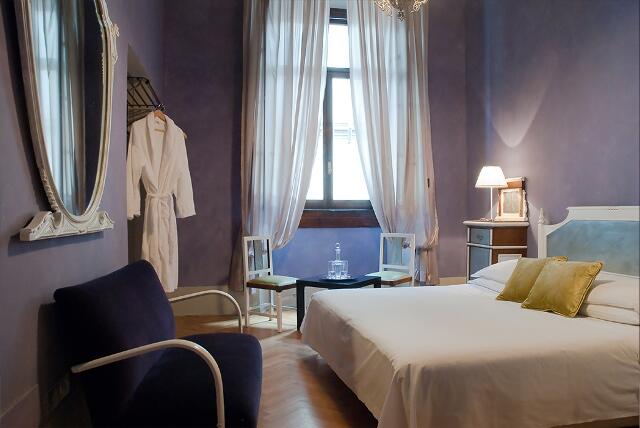 Palazzo Galletti
Another well located hotel, at about a 5-minute walk from the Duomo, the Palazzo Galletti has spacious and well-decorated rooms that vary in price from low to high season. The most luxurious room has floor-to-ceiling frescoes that might make you feel like you're sleeping in one of the museums you came all the way to Florence to see.
Via Sant'Egidio, 12
+39 055 390 5750
palazzogalletti.it
Double rooms can cost €100 per night in low season and €150 in high season
Palazzo Guadagni Hotel
This lovely hotel provides the best of Florence with a 3-star price tag. Located across the river in Santo Spirito, the hotel boasts a panoramic terrace where guests can have their breakfast or a drink before dinner while they look out over the Boboli Gardens of the Palazzo Pitti.
Piazza di Santo Spirito, 9
+39 055 265 8376
palazzoguadagni.com
Doubles can drop to €90 per night in low season and climb to €160 in high season
Sopr'arno Suites
Also situated on the Santo Spirito side of the Arno, the Sopr'arno Suites have rooms that combine the best of modern and vintage charms. There are 10 rooms in this bed and breakfast to choose from with a character that's all their own. A stay here will relax you enough to take on Florence and all it has to offer.
Via Maggio, 35
+39 055 046 8718
soprarnosuites.com
Doubles start at €120 per night