3049 Views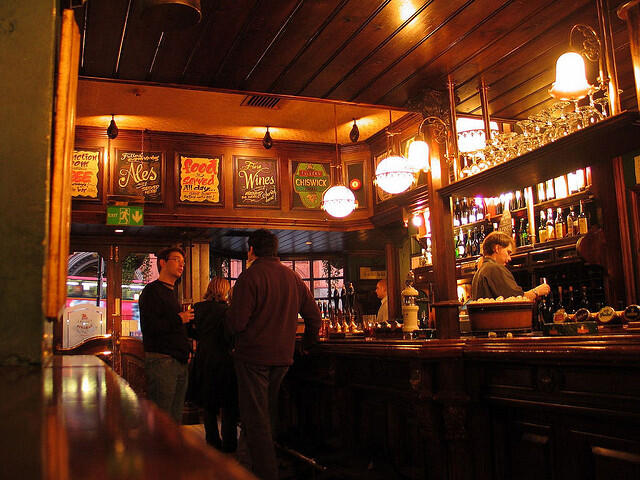 Welcome to the city that never sleeps – European style! If you've come to London to find a bit of pretty much everything, well, you're in the right place. This fabulous city literally offers you "a world of food". From spectacular Japanese sushi and curry-licious Indian food all the way to a more European brick cooked Italian pizza, Spanish tapas bars, French steak frites and so much more. But let's not forget why we really came to London.
Pubs in London are truly an institution. Commercial chains aside, I would say pubs are probably the English version of an American 'cafè', or an Italian 'bar'. A place to sit, relax, drink anything from a hot tea in the morning (or for 4 o'clock tea time), to a 'pint' after work with your mates. But best of all, pubs in England have what we like to call "pub food".
Throughout your visit to the UK, there will be one word that you will hear so often, it will forever be engrained in your brain. And there's a simple reason for that. If you ask anybody where to find great English food or drinks, the answer will always be: 'the pub'.
If there's one thing I can say about pub food, is that it works wonders in the crisp English weather. Some of the most common dishes are the hot or cold savory pies (chicken and mushroom is my favorite, but you also have steak and ale, lamb or even fish pies); there's the classic burger and chips (or American fries); and all sorts of panini and grilled sandwiches.
Typical to the English cuisine is the Sunday roast served with heaps of roasted veggies and gravy, sausage and mashed potatoes (commonly known as bangers and mash), the funny sounding toad in the hole (consisting of sausages and mashed potatoes in a Yorkshire pudding pastry basket), and of course we couldn't forget the famous fish'n'chips.
Whether you're staying in the northern Camden area, central Marylebone or in southern Clapham, you will have no problem finding a great pub to serve you great food. Here are some of my suggestions.
An old-fashioned Taylor Walker pub in the heart of London, a stone's throw away from Euston Station, and in the vicinity of UCL (one of London's oldest universities). The pub is Cask Marque accredited thanks to its fantastic cask ales. In addition to a long list of drinks, the pub offers freshly prepared pub dishes, including all the English classics. Try the hand battered cod with chips and mushy peas or the roast of the day, seven days a week.
36 Torrington Place, Bloomsbury, London, WC1E 7LY
Open Mon –Sat 11:00-23:00, Sun 11:00-22:00.
Phone +44 2076360120
Princess Louise
The Princess Louise is the quintessential English pub. It was restored to its original Victorian layout by Yorkshire brewer Samuel Smith. The pub leaves a lasting impression with its fine and gilt mirrors, beautifully decorated tiles, and its unique plasterwork. Exactly what you would imagine to read about in a Sherlock Holmes novel. Definitely try their Organic lager.
208 High Holborn, Holborn, London, WC1V 7BW
Open Mon-Fri 11:30-23:00 Mon-Fri; Sat 12:00-23:00; Sun 12:00-22:30
Phone +44 20 7405 8816
Making your way through the fashionable high-end Marylebone, pop round to the intimate Marylebone Lane. The oyster bar on the ground floor is easy going and a good place to take shelter from the busy Marylebone streets. On the first floor, the Gin Palace is beautifully decorated and equipped for a good night with friends. Hint: there's a secret basement bar too!
88 Marylebone Lane, London W1U 2PY
Open 12:00-23:00 daily
Phone +44 2072244022
Hidden in the midst of the famous Camden market and the gorgeous Regent's Park, The Edinboro Castle offers great food and drinks.  It has a broad range of specialty beers, lagers and ciders on tap. It serves seasonal and regional pub food and outdoor BBQ's and roasts during the summer. The pub garden accommodates up to 300 people.
57 Mornington Terrace Camden London NW1 7RU
Open Mon-Fri 12:00-23:00, Sat 11:00-23:00, Sun 12:00-22:30
Phone +442072559651
The Pembroke is a lovely pub and dining room not far from the Earl's Court Exhibition Center. The bar has a wide range of beers, ales and wines from all over the world, and their food is locally sourced and prepared on site with the freshest ingredients. There is a beautiful roof terrace available for private hire.
261 Old Brompton Road, London, SW5 9JA
Open Mon-Sun 12:00-00:00
Phone +44 2073738337