3779 Views
Spitalfields is famous for its trendy markets, electric atmosphere and vibrant street art. But you may not know that it's also home to a number of fantastic restaurants, cafés and eateries. Here at Eating London Tours, we've searched (and tasted) high and low across the East End to bring you the best restaurants in Spitalfields. From brilliant breakfasts to all things porky, Spitalfields has it all… So next time you're in the capital make sure that you stop by some of these delicious restaurants near Spitalfields Market and remember to let us know your favourites!
5 Best Restaurants in Spitalfields
The Breakfast Club
thebreakfastclubcafes.com
12-16 Artillery Lane, Spitalfields, London E1 7LS
+44 (0)20 7078 9633
Amazing food, quirky interiors and a funky 80's vibe is what makes The Breakfast Club one of the coolest restaurants in Spitalfields. Open since 2011, The Breakfast Club's mammoth menu certainly doesn't disappoint. Take your pick from an array of delicious dishes including the Ham So Eggsited, Huevos al Benny and Bacon and Banana French Toast – which I highly recommend! And with a menu like this, it's no surprise that Londoners can often be seen queuing to get inside. But if breakfast isn't your thing, don't worry! They also have a lunch and dinner menu on offer. Oh, a tip for first time visitors, make sure that let staff know that "you're here to see The Mayor" and they will direct you their underground cocktail bar…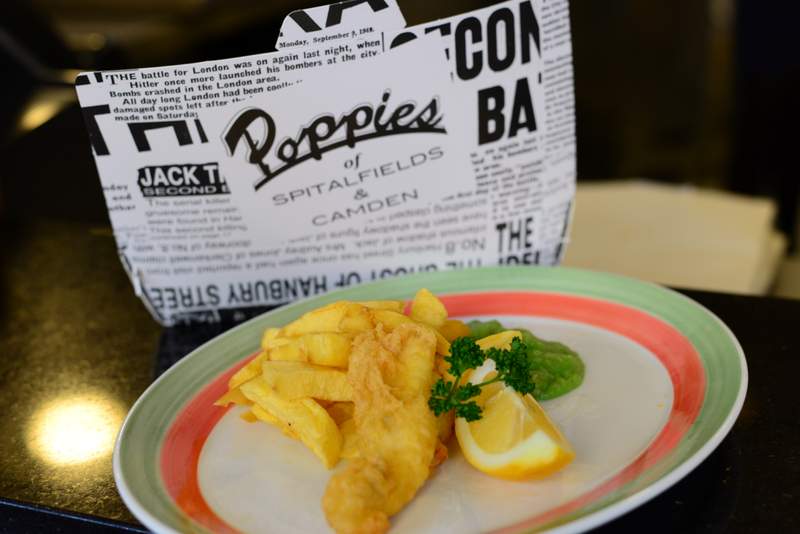 Poppies
poppiesfishandchips.co.uk
6-8 Hanbury Street, Spitalfields, London E1 6QR
+44 (0)20 7247 0892
Serving delicious food since 1945, Poppies is the only place to go in London for a portion of good ol' Fish and Chips. With a tasty menu, delightful staff and a nostalgic interior bursting with 40's and 50's memorabilia, there's no other chippy in London like it. Make sure that you visit Poppie's to indulge in mouth-watering fish, golden chips and scrumptious savouries. If you're rushed for time never fear, Poppie's also offers a takeaway service. What's better yet? You can say that you've tasted award winning fish 'n chips as Poppie's has been voted The Best Independent Fish and Chip Shop in the UK.
Upstairs at the Ten Bells
tenbells.com
84 Commercial St, Spitalfields, London E1 6QG
+44 (0)7530 492986
Full of charm, character and history, Upstairs at The Ten Bells is the trendiest eatery in East London. Child of the Young Turks and The Clove Club, unsurprisingly this restaurant focuses entirely on creating amazing dishes for its diners. It boasts an exquisite weekly menu bursting with the best of fresh produce and seasonal ingredients so delicious you'll want to return again and again!  After your meal, why not pop to the Ten Bells pub downstairs? Legend has it that it was the regular watering hole of Jack the Ripper – scary!
Canteen Spitalfields
canteen.co.uk
2 Crispin Place, Spitalfields, London E1 6DW
(+44) 0845 686 1122
Next time you're in the capital, get yourself down to Canteen and tuck into some good honest food. This London restaurant is dedicated to providing a nationally sourced, lovingly prepared and reasonably priced menu bursting with English Pride. Choose from a selection of heart-warming dishes including sausages of the month with mash and onion gravy, slow cooked shoulder of lamb, potato and pea stew and apple pie with custard. What's not to love? Book your table now!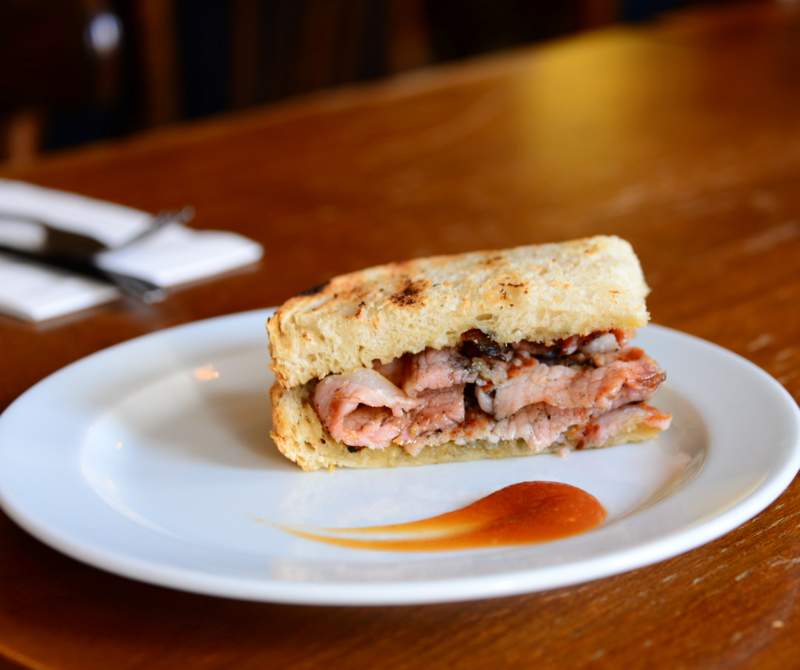 St. John Bread and Wine
stjohngroup.uk.com
94-96 Commercial Street, Spitalfields, London E1 6LZ
+44 (0)20 7251 0848
Just across the road from Spitalfields Market is St. John Bread and Wine – London's answer to alternative dining. St. John Bread and Wine offers all things porky and serves an array of dishes including Blood Cake, Smoked Backfat with Brown Sauce and Middlewhite Chop, Hispi and Trotter. If you fancy something a little tamer in the morning, you have taste their Old Spot Bacon Sandwich – it is nothing less than phenomenal!
* * *
So, get yourself down to Spitalfields and make sure that you grab yourself a table at one of these fantastic London restaurants. With plenty of delicious dishes on offer, you won't regret it!