12943 Views
We've teamed up with UK Illustrator Edward McGowan to put together a UK foodie map with the top British foods worth trying on your next UK holiday. For more foodie & travel tips, check out Eating London's Foodie Guide. Let us know what you think in the comments!
The 10 British Foods You Have To Try (and Why)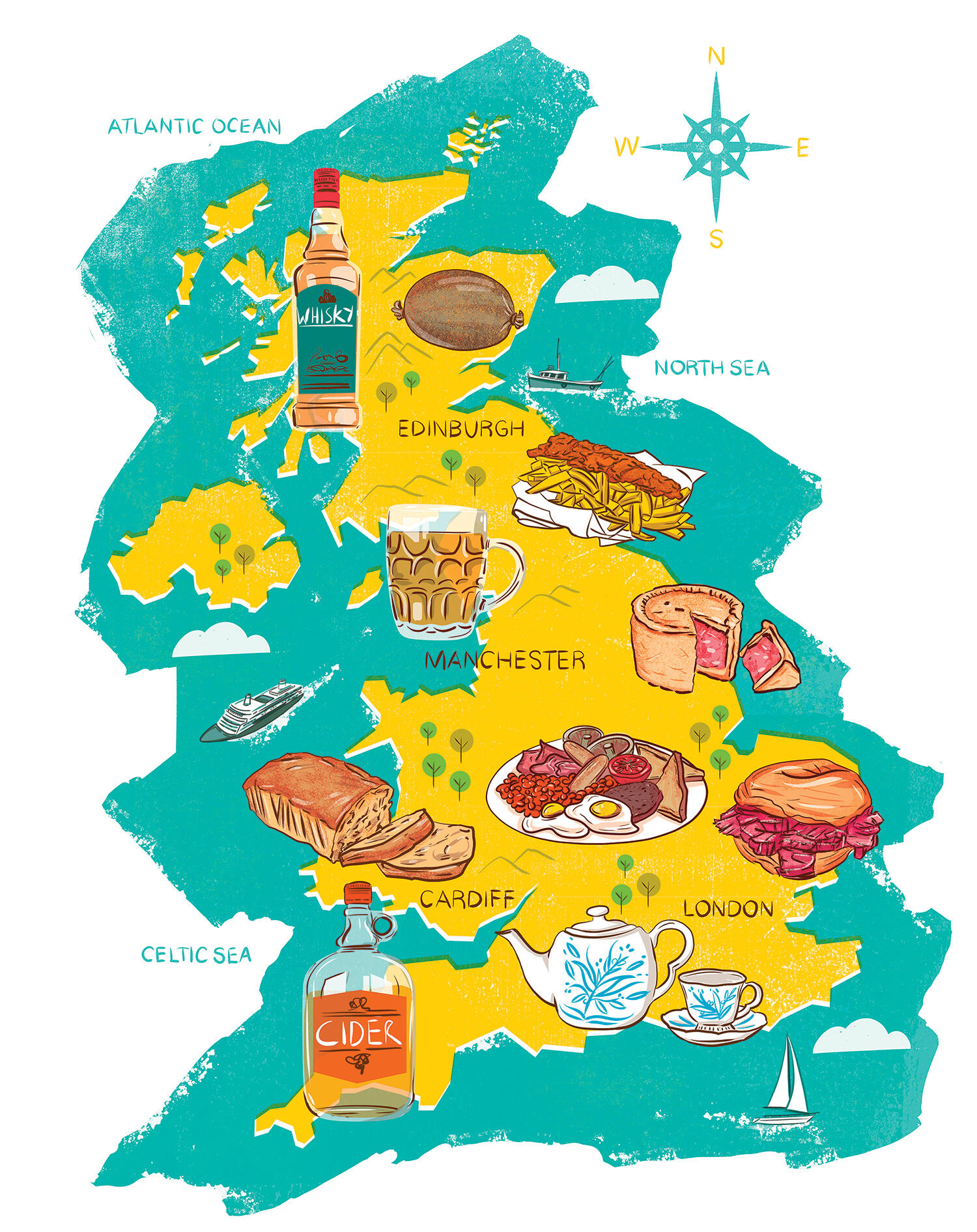 English Breakfast

One of the United Kingdom's most recognizable meals is the traditional English breakfast, also called a full English. This morning feast includes: eggs, bacon, sausages, grilled tomatoes, mushrooms, tea, and toast with marmalade. Originating in the mid-19th century, workers in rural England needed a big meal to fulfill them through long mornings and would eat this hearty meal at home. Now, it's one of those quintessential British foods, enjoyed across the world.
Cider

Sparkling in appearance and sweet in taste, cider is an alcoholic drink made from fermented apples. Different types of cider can be found in supermarkets from manufactured producers and in British bars by local brewers—ranging in flavor and alcoholic content. With 45% of all apples grown in the United Kingdom being used for cider production, it's safe to say that cider is one of the United Kingdom's favorite drinks.
Salt Beef Bagel

The salted beef bagel was invented by the Jewish community living in East London in the late 1800s. While salted beef had been a longtime staple in British cuisine, this Jewish community altered the beef recipe and served it on fresh bagels. Today you will find long lines of people waiting for the most famous salted beef bagel at London's Brick Lane Beigel Bake—open 24 hours day and serving the classic for less than £3.
Whisky

The United Kingdom is known internationally for producing Scottish whisky, which is legally required to have been aged for at least three years in casks within Scotland to earn its name. Scottish whisky is spelled without the "e" and is originally made from malted barley—setting it apart from whiskey made anywhere else in the world. With only 115 officially licensed distilleries that produce Scottish whisky, whenever you have a drink of whisky, you can rest assured it's authentic.
Bara Brith Bread

Translating to "speckled bread" in Welsh, bara brith bread is a classic British teabread made from spices and dried fruits such as raisins and currants. Brewed tea is a common ingredient in bara brith bread, making it moist and flavorful. It's usually served warm and in thick slices, with some Brits adding on a thick spread of butter or soft cheese.
Tea

You cannot talk about food in the United Kingdom without mentioning tea, as the average Brit drinks three cups of tea per day. The entire United Kingdom drinks nearly 165 million cups in a day, adding up to 62 billion cups a year. Originally a drink reserved for the upper class, tea evolved in the United Kingdom throughout the 18th century to a daily norm. Afternoon tea, however, is a an elegant serving of tea with light sandwiches and delicate pastries reserved for holidays and other special occasions.
Pork Pie

Known for its unique round shape, a pork pie is an example of a quintessential British meat pie. Pork pies earn their shape from being baked free-standing and are made of pork meat, pastry crust, and gelatin—used to help with preservation. This simple British meal is served cold, making it especially popular in the summer.
Beer

Beer is the most popular alcoholic drink in the United Kingdom, accounting for about 70% of all drinks ordered in pubs. In fact, beer has been brewed on British land even before the arrival of the ancient Romans, and breweries remain common throughout the country today. Porters and ales are the distinguishing kinds of British beer, including Newcastle Brown Ale and London's very own Fuller's brewery.
Haggis

Although it might sound strange at first, haggis is an old-time Scottish sausage made from different parts of sheep's organs, oatmeal, onion, suet and seasoning. Haggis is a dish the Scottish most pride themselves on, so much so that Robert Burns—the most famous Scottish poet—wrote a poem about the dish in 1787 titled Address to a Haggis. The Scottish obsession with haggis doesn't end there: the popular sport of "haggis hurling" involves eating the haggis after being thrown.
Fish and Chips

Fish and chips isn't chips at all; it's actually fried fish served with french fries. A traditional meal since 1865, there are now an estimated 10,500 independent fish and chip shops throughout the United Kingdom. Lightly battered and then fried until crispy, cod and haddock are the most common types of fish used. Since fish and chips is actually one of the healthiest takeaways, there's no reason to feel guilty when enjoying this British treat.
* * *
Looking for more information about these popular British foods? Check out Eating London's Foodie Guide:
Whether you're just in London for 24 hours, or are spending a couple of weeks traveling around the UK, you're sure to want to see, do and eat the best that the city has to offer. Our Foodie Guide to London offers you insider's tips on how to make the most of your visit. We've gathered together our favorite attractions, restaurants, bars and places to stay in London, as well as our very own shortlist of not-to-be-missed food and drinks in Britain! Only available at https://www.eatingeurope.com/travel-guide/