9583 Views
When searching for places to have a drink in Amsterdam, you will likely often come across the term "brown cafe" or "brown bar." But what is a brown café? Many of these establishments have been around for centuries, and earned their nickname because they feature wooden interiors surrounded by walls stained a yellowish-brown hue due to years of smoke.
To many Amsterdammers, the brown cafe is an extension of home; a laid back and cozy place where they can have a drink, chat with friends and just simply relax. While all brown cafes have their own character, they will typically have a few Dutch beers on tap, a decent liquor selection, and a no-frills kind of atmosphere. While some garner a trendy crowd, the overwhelming majority are come-as-you-are type of establishments, and popping into one while you are here will give you a real taste of local life. Here are our favorite brown cafes in Amsterdam.
Café In 't Aepjen
In 't Aepjen does a fantastic job of combining old and new in its location near Central Station. This particular bar hasn't been open for centuries, but the building that it's housed in dates from the 1500s and is one of only two remaining wooden buildings in the entire city. You will notice a monkey theme at this bar, and this is because back in the day, sailors were rumored to pay off their debt to the hotel located onsite by bringing back an ape (Aepjen is the Dutch word for ape) from their exotic travels.
Zeedijk 1
020 428 8291
Open: Sun – Thu 12 noon – 1 am; Fri and Sat 12 noon – 3 am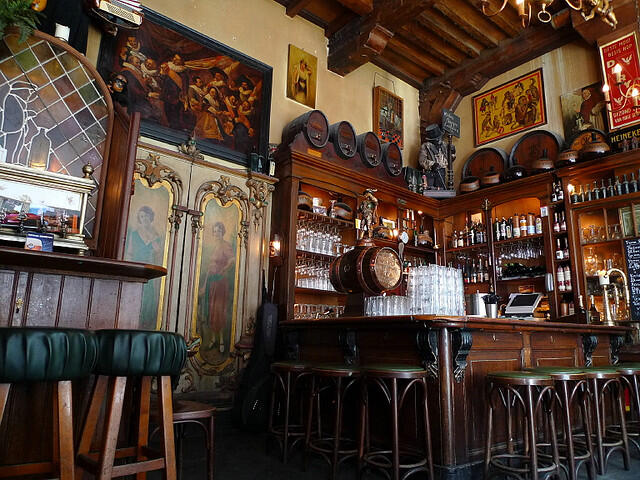 Cafe De Pieper
Location and ambiance come together beautifully at De Pieper; just be sure to watch your head upon entering. This tiny cafe dates from the mid-1600s, and you will see evidence of this in the faded stained glass windows, the slanted floor, and antique beer pump. This little cafe overlooking the Prinsengracht canal is great for all seasons, as the inside is ideal for the cold and grey months while the huge terrace outside by the canal is perfect for summer sun-soaking.
Prinsengracht 424
020 626 4775
facebook.com/CafePieper
Open: Mon – Thu 12 noon – 1 am; Fri and Sat 12 noon – 2 am; Sun 2 pm – 8 pm
Cafe De Wetering
Covered in inviting ivy on the outside and known for its warm and inviting fireplace on the inside, Cafe Wetering is a great spot to mix with a mostly local crowd after a visit to the tourist hotspots of the Heineken Experience or Rijsksmuseum. Many a cold winter night has been brightened at this cafe and you won't regret stopping by any time of year.
Weteringstraat 37
020 622 9676
facebook.com/CafedeWetering
Open: Mon – Thu 4 pm – 1 am; Fri 4 pm – 3 am; Sat 3 pm – 2 am; Sun 3 pm – 1 am
Cafe Hoppe
No list of brown cafes in Amsterdam would be complete without Cafe Hoppe, and if you could only toast at one of the venerable bars listed here, this may be the one to choose. Listed as a national historic venue in the Netherlands, Cafe Hoppe started as a distillery and its walls are adorned with many original wood panels that each compliment the cafe's flickering candles perfectly. This bar is home to a mixed yet trendy-leaning crowd, and it has become famous over the years for always having its clientele spilling out on to the street.
Spui 18-20
020 420 4420
cafehoppe.com
Open: Sun – Thu 8 am – 1 am; Fri and Sat 8 am – 2 am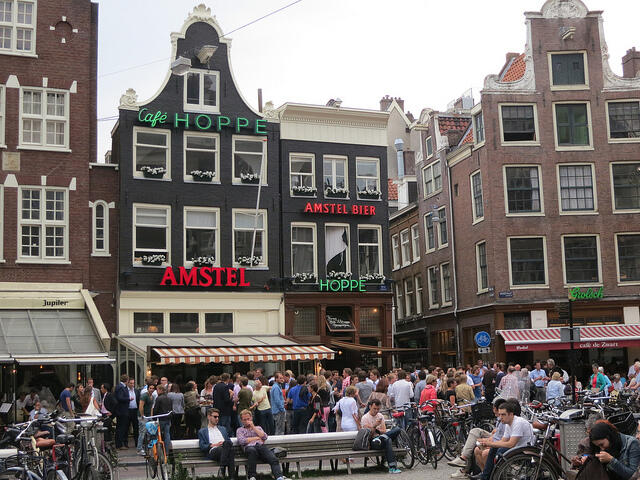 Cafe Papeneiland
Located on one of the most photographed corners in Amsterdam, Cafe Papeneiland has been family-owned for generations and truly feels like something out of one of the Dutch Master's paintings. In addition to the classic elements of brown cafes on display here, a black iron stove and blue Delft tiles up the atmosphere ante. In between serving great drinks, the family is known to also make a delicious appeltaart, which you can taste on both our Jordaan Food & Canals Tour and our Jordaan Food Tour!
Prinsengracht 2
020 624 1989
papeneiland.nl
Open: Sun – Thu 11 am – 1 am; Fri and Sat 11 am – 2 am
Photo credits:
In 't Aepjen: https://www.flickr.com/photos/pjotrp/3823126256
Cafe Hoppe: https://www.flickr.com/photos/18472724@N00/7533386632