4194 Views
It was once said that London is the city that never sleeps, so it's no surprise that you can to grab a bite to eat at almost any hour. Across all 4 corners of the capital there is an array of eateries serving hearty breakfasts, lunches and dinners to hungry Londoners. But if you're never in time for breakfast and always too early for lunch, there's no need to go without. Instead, combine both and follow our guide to the best places to eat brunch in East London…
Where to Eat Brunch in Shoreditch and Hackney
The Breakfast Club
Head to Spitalfields and indulge in a bit of 80s nostalgia at The Breakfast Club, one of London's trendiest cafés. Serving brunch from sunrise to sunset, The Breakfast Club offers an impressive menu packed full of traditional dishes mixed with a few quirkier options. Arrive early to grab a table and take your pick from Pancakes & Bacon, Eggs Benedict, the Full Monty Breakfast and many more delicious creations. If this sounds like your kinda place, we highly recommend ordering "Ham So Eggsited" – it's the best thing since sliced bread!
12-16 Artillery Lane, London E1 7LS
+44 (0)20 7078 9633
thebreakfastclubcafes.com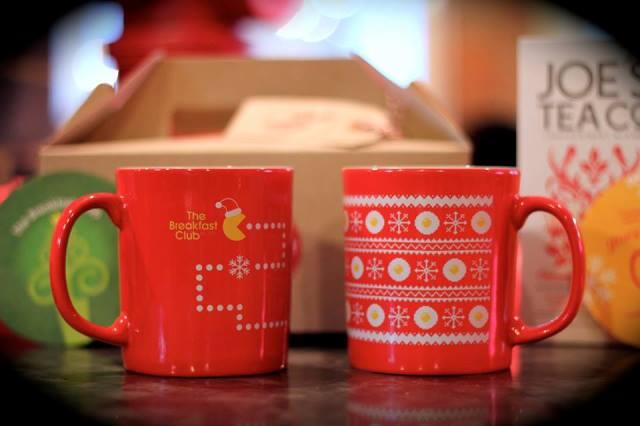 Duck and Waffle
If you're planning a visit to London this weekend, make sure you stop by Duck and Waffle for brunch. Inspired by European and British flavors, Duck and Waffle offers an excitingly playful menu created using only the freshest local, seasonal and sustainable ingredients. Diners can indulge in Belgian Waffles, choose a dish from the Seafood Bar or enjoy Ox Cheek Benedict washed down with a Marmite Black Velvet! What's better yet? Duck and Waffle is located on the 40th floor of 110 Bishops Gate, meaning you'll also be served a side dish of stunning views across the city.
110 Bishops Gate, London EC2N 4AY
+44 (0)20 3640 7310
duckandwaffle.com
Eastway's Weekend Brunch
Styled after a New York City Brasserie, Eastway at Andaz Liverpool Street Hotel is reminiscent of the Big Apple's East Village but also reflects the ever-changing face of quirky East London. Its Weekend Brunch serves up a combination of traditional brunch classics alongside some unexpected taste creations. Offering a variety of locally sourced and organic ingredients with most items available as gluten free, Eastway presents a blend of hearty offerings to tantalise the healthy, the hipster and the hungover.
40 Liverpool Street, EC2M 7QN
+44 (0)207 618 7400
andazdining.com/eastway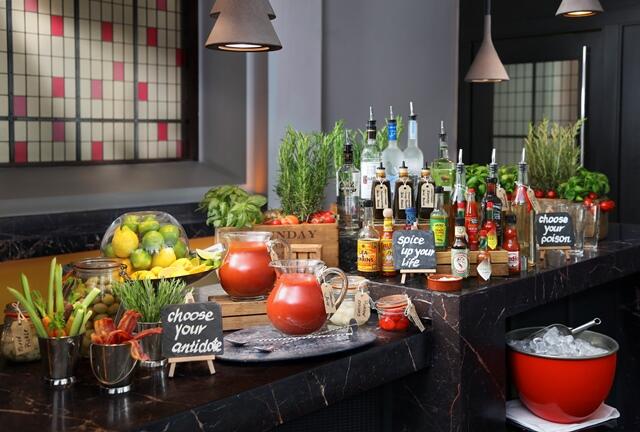 Dishoom
If you're looking for brunch with a twist, then head to Dishoom – one of London's most popular hangouts. Located in Shoreditch, this laidback eatery is bursting with character and heritage as the menu pays homage to the old "Irani Cafés" of Bombay. Choose to brunch at Dishoom and you'll find hearty Bombay classics including Bun Maska, Akuri and Kerjiwal, two fried eggs on chili cheese toast. Alongside this are Dishoom's signature breakfast Naan rolls and a selection of refreshing drinks, including our personal favorite Breakfast Lassi.
7 Boundary Street, London E2 7JE
+44 (0)20 7420 9324
dishoom.com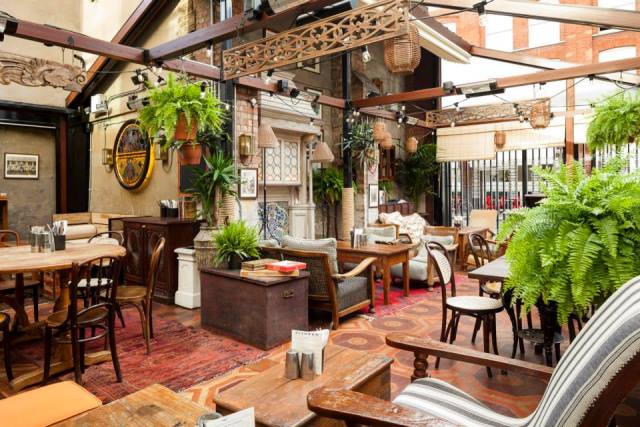 The Modern Pantry
Located in Clerkenwell, The Modern Pantry is home to the capital's most exciting brunch. With a chef dedicated to uniting modern ingredients and global inspiration in everyday cooking, The Modern Pantry boasts a tantalizing menu bursting with unusual flavor combinations. During brunch, you can order everything from Raspberry & Ricotta Pancakes and Bircher Muesli to Tea Smoked Salmon and Chorizo with Plantain Fritters. There's also an impressive selection of hot drinks, smoothies and cocktails to choose from. With all this on offer, you'll want to brunch at The Modern Pantry every day…
47-48 St John's Square, London EC1V 4JJ
+44 (0)20 7553 9210
themodernpantry.co.uk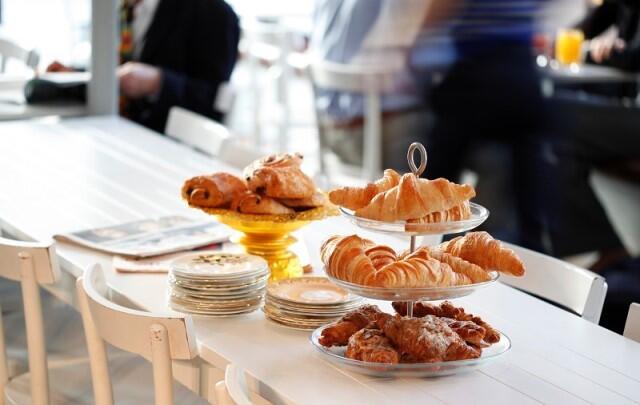 Albion
Are you after some tasty yet honest food? Then head to Albion in Shoreditch. Open since 2009, this contemporary café is known for serving up hearty portions of good ol' British favorites in welcoming surroundings. Take your seat and choose between the Albion Breakfast, Kidneys on Toast, Porridge with Prunes and many more yummy brunch dishes, including a special few created with the help of a nutritionist. But that's not all: you can also pick up some goodies for later at the Albion's in-house bakery and cake counter.
2-4 Boundary Street, London E2 7DD
+44 (0)20 7729 1051
albioncaff.co.uk
Next time you're in London and looking for somewhere to brunch, stop by one of these delicious eateries in East London. But if you're hungry for more, why not join us on one of our London tours? You won't be disappointed!