11040 Views
This post was originally published in 2015 and was updated in November, 2017.
So you want a holiday in London but you prefer to make it a culinary adventure?  Or maybe you are looking to kick-start a new career with a professional and specialized cooking course. There are so many cooking schools in London but you'll have to choose which school you want to attend based on what you actually wish to learn. Whether you are looking for a professional course to start a professional career, or you're just looking to learn some new techniques to impress family or friends or gain more confidence in the kitchen at home, there's a course for you!  Most importantly, your budget is also a deciding factor in which cooking school you will eventually choose to attend. Here's a range of cookery schools which cater to a variety of budgets, individual needs and wants.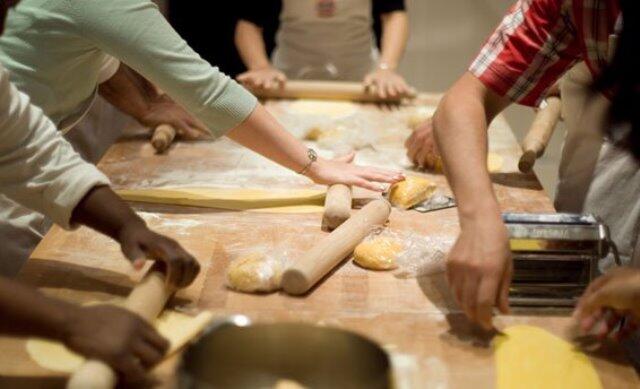 1. Leiths School of Food & Wine
Founded in 1975 by restaurateur and writer Prue Leith, this cooking school is a leading academy and probably one of the best to attend in London. It certainly comes up immediately in any Google search, and I think we'd all like to have attended the same cooking school as the Duchess of Cambridge, who recently took one of their 2-week Enthusiast courses. They offer professional courses ranging from 1 to 3 terms, or courses for enthusiastic home cooks or amateurs.
If you wish to pursue a career involving food, whether it be for the desire to become a Michelin-starred chef, to run a catering company, to become a private chef or work in food media, then you will find a Professional Course designed for you.  You can arrange to have a tour and preliminary, informal interview to help you choose the best course for your needs. Leiths also has good industry links, and many students go on to work in Michelin-starred restaurants.
Don't let that intimidate you though, because Leiths also offer Enthusiasts Courses that range from 1-day workshops to evening, weekend or 1 – 3 week courses. The Enthusiasts Courses are highly recommended if you wish to experience a cooking holiday in London. The 1 – 3 week courses are recommended and cater for all levels of experience.
There are many categories for the Enthusiasts Courses, ranging from gluten-free cakes to bread making, from cooking fish to learning  Italian, Spanish, Vietnamese or Indian cuisine.  There is also a cheese-making class or a 1-day class on Food Photography. Whatever your interests, Leiths will cater for you!
16-20 Wendell Road, London, W12 9RT
+44 (0)20 8749 6400
leiths.com
Cost: From £95 for a single workshop to £23,130 for a 3-term professional diploma.
• • • • •
Join a food tour through London's Brick Lane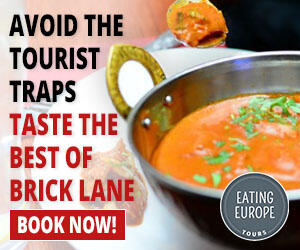 • • • • •
2. Le Cordon Bleu London
"Le Cordon Bleu is all about teaching the fundamental techniques in cuisine, pâtisserie, wine or management to make sure each of our students succeed in life."  Students not only learn cooking expertise, but also other aspects of hospitality, gastronomy and management.  Le Cordon Bleu is recognized internationally for its world-class tuition with over 100 years of excellence.  Many great internationally renowned chefs have graduated from Le Cordon Bleu!
Le Cordon Bleu offer some great courses to cater for a short trip to London:
Gourmet Courses from 1 – 5 days. There is a "difficulty level" applied for each class: easy, medium and hard.
A 10-day Bakery Course that introduces students to fundamental skills and methods in artisan bread making.
Cake Decoration Program, which introduces modern concepts of cake decorating, design, and preparation.
Wine Master Classes are a selection of 3 courses to improve your wine knowledge and develop your palate.
Summer Cooking Courses are available from classes of just a few hours to formally accredited 6-week courses.
Food Photography & Styling is a 3-day course giving an overview of the key principles of photography relevant to creating beautiful food pictures, how to style the food and effectively use props.
Le Petit Cordon Bleu allows you to enjoy a 2-hour cooking class with your child. Le Petit Cordon Bleu cookery classes are designed for children aged between 8 and 12.  Each child must be accompanied by an adult.
15 Bloomsbury Square, London, WC1A 2LS
+44 (0)20 7400 3900
lcblondon.com
Cost: From £125 for a workshop to£33,995 for the prestigious 9-month Grand Diplôme.
3. Cookery School at Little Portland Street
This cooking school is a school for everyone.  Students are taught simple, delicious, back-to-basics home cooking.  Students are not intimidated by fancy appliances as all lessons are taught using common utensils that are found in most home kitchens.  Looking at the calendar of classes on offer, it's hard to choose just one. It seems everything is covered from international cuisine, to baking, fish, meat, Jewish food, chocolate, gluten-free, comfort food and even a class for Christmas, just to name a few!
The Cookery School offers single session classes or a series of classes for a more complex course. They won the "Best City Cookery School 2013" and were runners-up for the "Most Sustainable Cookery School 2014".
15b Little Portland Street, London, W1W 8BW
+44 (0)20 7631 4590
cookeryschool.co.uk
Cost:  From £125 for a half-day class to £7,750 for a "Cook's Certificate in Food & Wine" course.
4. Le Manoir aux Quat' Saisons
I'll confess that I fell in love with this place as soon as I opened the website, tempted to pack my suitcase and plan some summer courses immediately. Surrounded by manicured lawns, flower beds and orchards, the luxury hotel and cooking school is set in a typical idyllic English countryside setting. There are herb and vegetable gardens that supply both the hotel and the cooking school.
Created by celebrated chef Raymond Blanc OBE, Le Manoir aux Quat' Saisons can be found in the Oxfordshire village of Great Milton (ok, this is not technically in London, but well worth the trip!) and is set in the spectacular grounds of his 13th century manor house hotel and restaurant. The school caters for beginners and also the more experienced cook who wants to create gourmet meals. It is the only cooking school in the world that offers the chance to learn in the kitchens of a restaurant with 2 Michelin stars.
The cooking school offers half-day (morning or afternoon) classes, evening classes, full-day or 5-day courses.  You can also arrange private classes.  Whether it be chocolate, baking, confectionary, fish, wine, meat, or classes on nutrition or creating a menu for seasonal dinner parties, there is seemingly never-ending choice for the class schedule.  The one thing that is guaranteed at Le Manoir aux Quat' Saisons cooking school is that you will have loads of fun during your course, walking away with the enthusiasm to replicate the dishes and impress your family and friends.
Church Road, Great Milton, Oxford, OX44 7PD
+44 (0)1844 278 881
belmond.com/le-manoir-aux-quat-saisons-oxfordshire/raymond-blanc-cookery-school
Cost:From £450 for 1-3 people, £75 per additional guest

5. Chef Academy of London
After experiencing huge success in Italy, the Chef Academy of London opened in 2007 with the aim to train students to become professional chefs. All courses are at professional level and all students train in a partner restaurant with a chef trainer.  Students experience everything about working in a live professional kitchen, from the choice of fresh produce to the balancing of food costs.  The Chef Academy claims to be the only school that offers this kind of training and guarantees a 100% employment rate upon completion of their professional courses.
The following courses are offered: Hospitality Management & Advanced Food Science Course, Professional Chef Course, Advanced Professional Chef Course, Michelin Star Chef Course, Professional Italian Cuisine Course, Professional Patisserie and Confectionery Course, Professional Basic Patisserie and Bakery Course, Professional Patisserie Intermediate Level and Advanced Level.
57-61 Mortimer Street, London, W1W 8HS
+44 (0)203 290 7201
chefacademyoflondon.com
Cost: From £5,100 for a 325-hour Intensive Professional Chef Course to £14,800 for the 6-month Professional Patisserie & Confection Course.
• • • • •
Embark on a voyage of discovery through London's fascinating past and classic pub fare!
Learn more about the London Old Docks – Historic Pubs, Food & Beer Tour and book here!
• • • • •
6. Waitrose Cookery School
Informal, informative and lots of fun is how Waitrose describes their cooking courses. Ideal for anyone from first-time cooks to more experienced cooks who know their way around a kitchen.
Waitrose Cookery School offers a selection of half-day, full-day and evening courses. During the all-day courses, students spend the morning preparing the recipes and then eat for lunch what they made during the morning. The afternoon is spent with demos allowing students to get involved hands-on.  Gift certificates are available to give to friends and family, and the school has also recently opened their Salisbury school in Wiltshire.
Reading through their website, this quote is what would make me want to try a course at the Waitrose Cookery School: "From the humble loaf to fine dining, we think cooking should be a joy. It's about rolling up your sleeves, getting stuck in, then enjoying the fruits (meats and vegetables) of your labours."
199 Finchley Road, Goldhurst Terrace, London, NW3 6NN
+44 (0)207 372 6108
waitrose.com/home/inspiration/waitrose_cookeryschool
Cost: From £50 for a 2-hour evening class to £180 for a full-day course.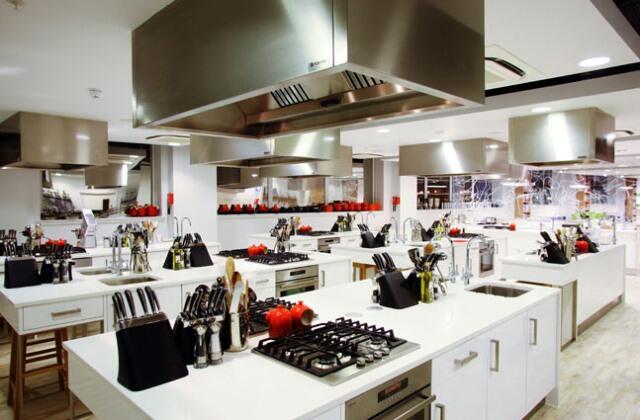 7. La Cucina Caldesi
La Cucina Caldesi is the only Italian cookery school in central London. Founded by husband and wife team Giancarlo and Katie Caldesi in 2005, the cookery school offers lessons in Italian cuisine from all regions in Italy. Giancarlo was already a restaurateur when he met Katie, having opened Caffe Caldesi in 2002. The couple has since appeared in several cooking shows on TV, and Katie published the Italian Cookery Course in 2009 which has since been shortlisted for the Andre Simon Awards and the Guild of Food Writers Cookery Book of the Year award.
Cooking classes and wine tasting is taught by visiting celebrity chefs, food writers and wine experts, as well as by experienced staff employed by La Cucina Caldesi.  The classes cater to children and adults at all skill levels.  You can choose an evening, full-day or weekend class, and you can also buy vouchers, which are valid for 1 year from the date of purchase.
4 Cross Keys Close, London, W1U 2DG
+44 (0)207 487 0750/6/8
caldesi.com
Cost: From £40 for an evening class to £160 for a day class.
8. Cactus Kitchens
Cactus Kitchens is the home of Michel Roux Jr's cooking school.  The school offers a luxurious place in which to spend quality time learning and cooking with Michel Roux Jr, Monica Galetti (senior Sous Chef at Le Gavroche, and Michel Roux Jr's right-hand woman), Roux's protégés, and some of the nation's top chefs.  Class sizes are kept small with only 12 cooking stations.
Cactus Kitchens is located on the site of Cactus TV's media complex in central London. A group of old buildings, including a chapel and vicarage dating back to 1834, have been renovated and adapted to house the Cactus Kitchen's cooking school, which sits in the eaves of the chapel.
Each course is demonstrated before you move to your individual station to recreate the dish, with practical tips and techniques. I suggest booking way ahead as the top (and most expensive) courses are already all fully booked for 2015. I think that speaks for itself on what a wonderful experience it is to attend one of the Cactus Kitchen's cooking courses.
1 St Luke's Avenue, London, SW4 7LG
+44 (0)20 7091 4800
cactuskitchens.co.uk
Cost: From £149 for the "knife skills" class, £225 for a "stocks & sauces" course, to £99f for the Michel Roux Jr Premier Experience.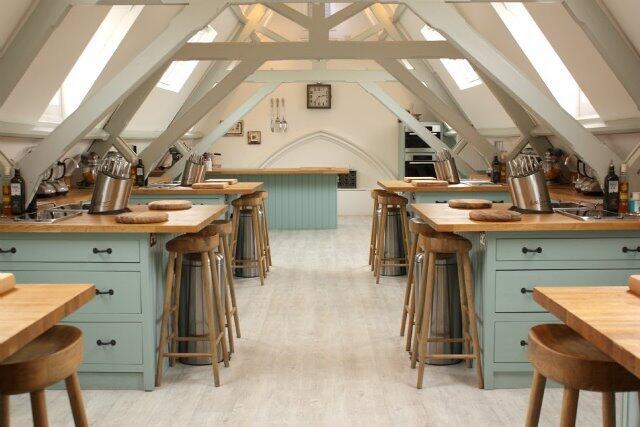 9. Divertimenti Cookery School
The Divertimenti Cookery School caters to all levels of expertise, and prides itself on the diversity of its programs and the expertise of its chefs. Looking at the class calendar, it is obvious that the classes offer a range of international cuisine options, from learning how to make a Middle Eastern feast, mastering tapas, or learning the basics for making bread. The school also specializes in knife skills classes and a "strictly skills" class.
227-229 Brompton Road, London, SW3 2EP
+44 (0)207 581 2764
divertimenti.co.uk
Cost: From £65 to £120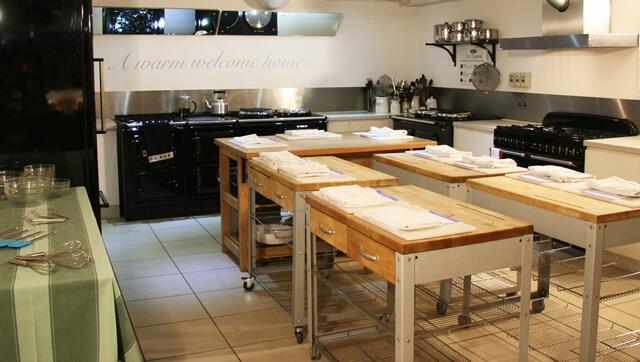 **********************
**********************