8800 Views
Most people know that using a  bike in Amsterdam is a must: the city of tulips is the most bicycle-friendly capital in the world. Bicycles are used for over 60% of trips made in the inner city and 38% of trips made in the outer city. Thanks to its traffic-calmed streets and excellent facilities for cyclists, the city caters perfectly to the ultimate "green" mode of transport.
However, it is important to be aware of the dos and the don'ts.  Don't just throw yourself into the maze of paths possible for a bike in Amsterdam! Here are our top tips for safe cycling.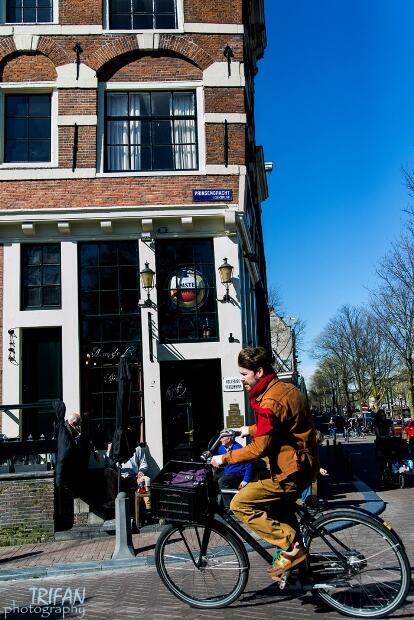 Safe Cycling Tips for Amsterdam
1. Rent a bike in Amsterdam
Depending on your specific needs, your best bet may be to rent a bike instead of buying one. There are bike rental shops almost everywhere in the city. Short-term bike rentals range from 3 hours to a full day for as little as €8. You can even branch out and rent tandems or children's bikes.
2. Know where and how to ride your bike in Amsterdam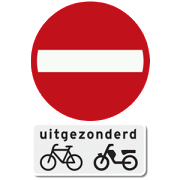 Amsterdam city has over 400km of bike paths – make sure you stick to them! If there is no bike path, stay on the far right. You'll allow cars, motorbikes, buses, trams, and the myriad other vehicles to pass. Get familiar with, and follow, the signs: bike traffic lights, designated bike path signs (a blue circle with a white bicycle in the center), and exception signs. Some streets are restricted to traffic, in which case you will see a round red sign with a white dash in the middle which signifies no entry. In other cases, you will see a white rectangular uitgezonderd ("except") sign meaning that bikes and scooters are allowed passage.
3. Keep your bike on a tight leash
When it comes to your beloved bike, either keep it with you at all times or make sure you lock it safely before you leave it in any of the designated parking spots or street areas. Bike theft is a known problem. In 2005, 54,000 bikes were stolen; and every year, between 12,000 and 15,000 bikes are pulled out of the canals around the city. Make sure your bike doesn't suffer the same fate and keep it locked!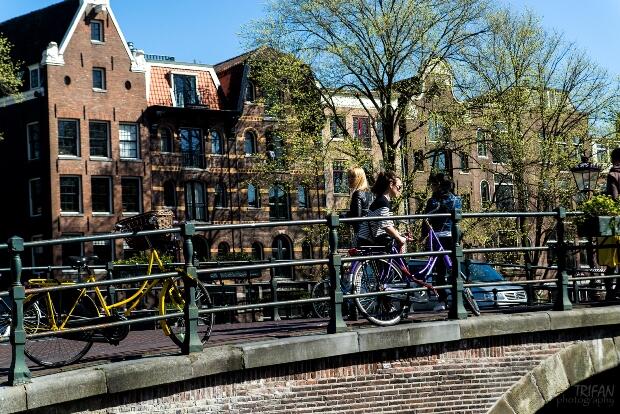 4. Opt for a guided bike tour
If you don't trust yourself getting around, then your best choice is to book a guided tour. With expert guides cycling with you (and often a group of visitors) around the city, they will show you all you need to know in just a few hours. By choosing to take a guided tour, you have the option to visit not only the city center but also the surrounding countryside: cheese farms, clog factories, and much more! Check out some of the following and choose the one that best fits your needs:
Or search Viator for the best reviewed bike tours.
Renting a bike in Amsterdam, or taking a bike tour is something you must do. It's fun, safe, and will make you experience the city like a local. Have fun! And if you get hungry after all that cycling, remember to get the best Amsterdam Food Tours in town!
Disclosure: we may receive a small commission should you book an experience with any of the links in this article.