3700 Views
In Amsterdam there are some surprisingly good restaurants serving food to suit a wide range of tastes and budgets. From tasty Dutch foods, such as pannenkoeken (pancakes) and raw herring, to spicy Indonesian cuisine, Amsterdam's restaurants pride themselves on innovative takes on classic recipes. We've scoured the city and compiled a "must eat" list of six of the best Dutch eateries to try when in Amsterdam.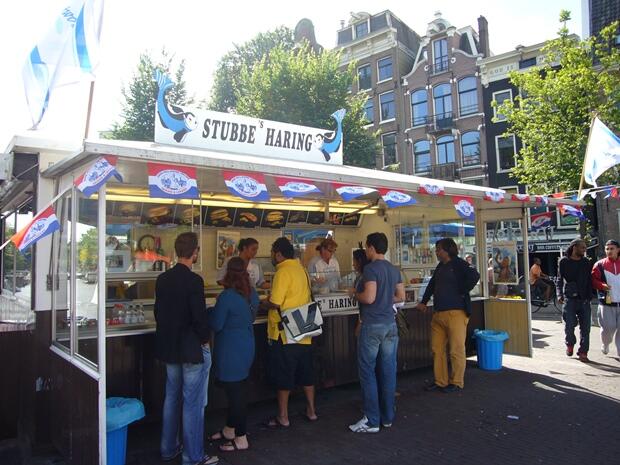 De Zeevang
An absolute must while in Amsterdam is raw herring. The classic Dutch haring comes from the North Sea and is caught between the end of May and the beginning of July. In Holland, these small fish are then gutted, deboned, and brined. If you've never tried raw herring, or if you have and are looking for the best in the city, then we suggest heading to De Zeevang stand. Get a herring sandwich or do as the Dutch and eat your fish garnished with raw onion using a toothpick topped with the Dutch flag. If you're lucky and are visiting Amsterdam in early June, then you might get to try Hollandse Nieuwe, or the first of the year's North Sea herring catch ready to be consumed. Read more about herring and how to eat it here! Alternatively, come and try it for yourself on our Jordaan Food Tour, open for bookings…
De Zeevang
At the corner of Haarlemmermeerstraat and Theophile de Bockstraat
dezeevang.nl
Pancakes! Amsterdam
Another traditional dish that you must try when in Amsterdam is pannenkoeken, and the best place to sample Holland's thin, large pancakes is at the aptly named Pancakes! located in the area known as the Negen Straatjes (Nine Little Streets). Pannenkoeken can be eaten sweet with fruit or powdered sugar, or savory with cheese, vegetables, or ham. This restaurant is small, gets busy and doesn't take reservations, so come slightly before or after lunch if you don't want to wait.
Pancakes! Amsterdam
Berenstraat 38
pancakesamsterdam.nl
Van Kerkwijk
If you're in the center of Amsterdam and are looking for a favorite spot with locals, look no further than Van Kerkwijk, a cozy Dutch eetcafe. Housed on a small street near Dam Square, Van Kerkwijk serves some classic Dutch dishes (recited to you by the waiter — there's no menu!) in its smallish dining room. If you show up at lunch or dinner time, you might have to wait for a table. But Van Kerkwijk is open from morning to night, so you can stop in anytime for a morning coffee or an afternoon snack.
Van Kerkwijk
Nes 41
caferestaurantvankerkwijk.nl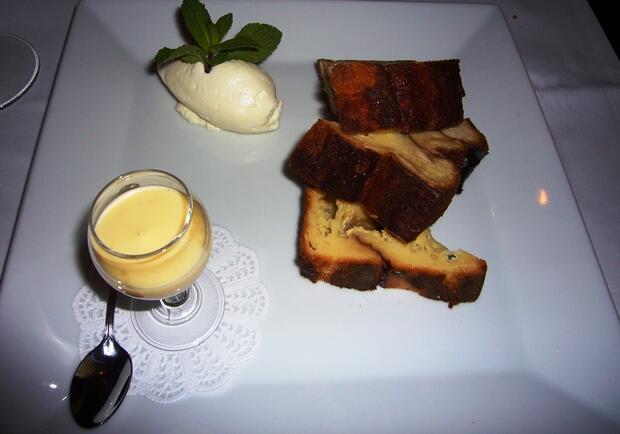 Restaurant Greetje
This restaurant celebrates the tradition of Dutch food in a homely atmosphere that was conceived by its founder Greetje Loven in 1927. Here, you can taste Dutch specialties such as wild duck with mushrooms and potatoes, while enjoying the traditional Dutch decor and ambience. Restaurant Greetje is the all-around quintessential Dutch experience!
Restaurant Greetje
Peperstraat 23
restaurantgreetje.nl
Sampurna
One of Amsterdam's best Indonesian restaurants, Sampurna is right next to the flower market. Amsterdam is the place in Europe to try Indonesian cuisine, as the Dutch colonized the islands during the 1800s and early 1900s. The classic way to eat Indonesian food in Amsterdam is to order a rijsttafel, or rice table, which comes with several different dishes and rice to be shared among the group. Sampurna is a good place to come for lunch and dinner, and is a great option for vegetarians. Alternatively, check out the rest of our top 5 Indonesian restaurants here…
Sampurna
Singel 498
sampurna.com
Vlaams Fritehuis Vleminckx
Though fries are served by many restaurants and stands around Amsterdam, only Vleminckx claims to cook Flemish ones — and the best! Perhaps that's why fries are all this small stand serves. Join the others waiting in line to order a cone (in three sizes) with your favorite sauce on top. The classic topping is mayonnaise (sweeter and creamier than the mayo in most countries) though there are lots of other choices too. Try patat oorlog (a combination of mayo, satay sauce and fried onions), if you're feeling adventurous!
Vlaams Fritehuis Vleminckx
Voetboogstraat 33
vleminckxdesausmeester.nl
* * *
Looking for more things to do in Amsterdam? We love this mini travel guide on GoEuro.co.uk! And if you're interested in Dutch food, learn more about our culinary tours in Amsterdam: the Jordaan Food Tour.