38800 Views
Though they may not be known worldwide, Dutch sweets and candies are made to satisfy a country with a very sweet tooth. All sorts of baked goodies line the shelves of every neighborhood bakery, from delicious cakes to traditional cookies. The word cookie actually came from the Dutch koekje, a diminutive of koek. At Christmastime especially, you can count on an abundance of sweets, like the fried balls of sweet dough called oliebollen. Then there are the candies: a huge range from the super-sweet to the super-strong in the case of some Dutch liquorice.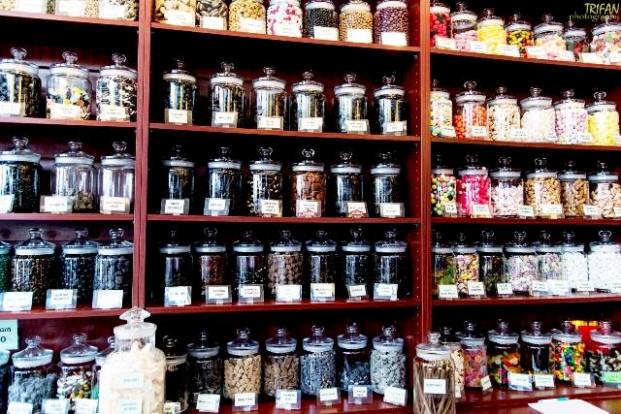 Dutch Sweets: Baked or Fried?
Cookies: gevulde koek and speculaas
Many Dutch cookies feature almond paste and the gevulde koek is the best example of how good it can taste. A gevulde koek is a large butter cookie with a good amount of almond paste hidden in its center. A gevulde koek makes a perfect treat alongside a bitter cup of afternoon coffee. Another cookie served with coffee is speculaas (also known as windmill cookies), which have a spiced flavor that is often associated with the Netherlands.
Oliebollen
Literally meaning "oil balls," oliebollen are fried balls of dough traditionally served around Christmas and New Year. Sometimes their doughiness is enhanced with apple pieces or raisins, but usually an oliebol is simply a large ball of sweet, fried doughy deliciousness. During the holidays you can find oliebollen stands set up around town frying up these sweet treats for anyone craving a winter warmer during the cold nights.
Pannekoeken and poffertjes
Normally eaten in the morning and considered more main event than dessert, pannekoeken (pancakes) are often on the sugary side (another sweet breakfast staple in Dutch houses is hagelslag, chocolate or candy sprinkles on top of bread and butter). Try a pannekoek the Dutch way topped with fresh strawberries, cream and powdered sugar! Poffertjes are like mini-pannekoeken, though their consistency is more airy. You can often find them being freshly made at market stalls in large, hot cast-iron moulds. If you're in Amsterdam, try the Albert Cuypmarkt to hunt down a fresh batch of piping hot poffertjes.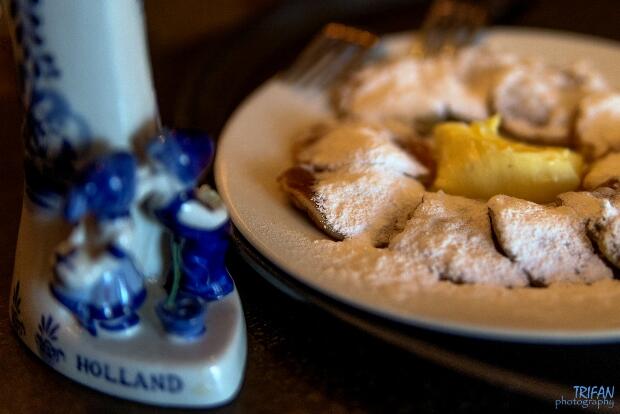 Stroopwafels
A stroopwafel is like a syrup sandwich squeezed between two thin waffles. The syrup (or stroop in Dutch) is thick and caramel-like and balances perfectly with the crisp, spiced waffles. You can find packets of stroopwafels in almost every grocery store, but if you're lucky you'll spot a stand that's making these tasty treats on the street (in Amsterdam, again, try the Albert Cuypmarkt).
What are popular Dutch candies?
Chocolate letters
Another holiday treat, chocolate letters hit the shelves a few weeks before the Sinterklaas festival on December 5. Tradition dictates that the letters are given to family and friends (especially children) according to the first letter of the recipient's name. The letters are made of big, thick pieces of milk, white or dark chocolate that are notoriously difficult to bite. Luckily, everyone gets their own and no one has to share!
Hopje
This hard, coffee-flavored candy was invented in Holland in the 18th century and has stuck ever since. Like most stories, how the hopje came about has many versions: most start with a man named Hendrik Hop being told he couldn't drink coffee, and end with a baker creating the answer to his cravings, the hopje. The candy is made from caramel, cream, butter and coffee and can be found in supermarkets.
Liquorice
Liquorice, or drop in Dutch, is worlds away from what you may think of as liquorice. The Dutch consume the most liquorice in the world, which amounts to four pounds per person per year. There are four Dutch varieties based on texture (soft or hard) and taste (salty or sweet). But beware: there are some kinds of Dutch black liquorice — I'm thinking of dubbel zout, which means "double salt" — that might have you spitting it back out if you're not prepared!