4361 Views
Amsterdam is a book-loving city and the Spui forms the heart of it. A square in the center of town, wedged between several of Amsterdam's most popular shopping streets, the Spui (Amsterdam's book district) beckons readers with its extensive literary offering. Rummage through antique books at the Friday book market, print your own book at the ABC book machine, or take the kids to the reading corner at Waterstones. Here is our guide to all things English literature in Amsterdam…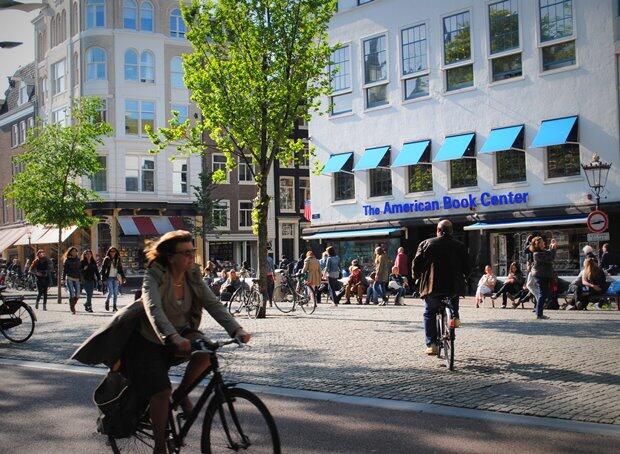 Best English Bookstores in Amsterdam
American Book Center (ABC)
Walk into the American Book Center and what will strike you first is the unusual interior. Floor-to-ceiling bookshelves spiral three floors upwards around a giant tree trunk. This makes for a labyrinth of books in which you can easily get lost in for several hours.
The ABC has been at the forefront of providing Amsterdam with English books for decades, opening its doors in 1972. During the 40 odd years since, it has seen various incarnations, changes of location and ownership, but to this day it remains an independently run family business that prides itself on its eclectic selection of books. It is the place for Mangas, Sci-Fi literature, New Age books and Gay literature in Amsterdam; and if you can't find what you're looking for, you can have it printed on the Espresso Book Machine. The ABC also hosts a variety of literary talks and events at their aptly named Treehouse which is just across on the opposite side of the Spui.
Spui 12
www.abc.nl
Open: Mon 12 pm–8 pm; Tue, Wed, Fri and Sat 10 am–8 pm; Thu 10 am–9 pm; Sun 11 am–6.30 pm
Waterstones
English book chain Waterstones took up residence in the Berlage-designed building on the corner of Kalverstraat and Spui in 1998. The book-loving employees are given free rein, which makes this chain feel like an independent bookstore. Displays such as "Read your way around the world" with literary picks from countries such as Finland, Turkey and Pakistan, lead to interesting discoveries, as does the display that features the team's favorite reads.
Waterstones also has a good selection of books about Amsterdam and the Netherlands, be it for a short visit or long-term stay. And for those who simply can't live without their marmalade and shortbread, there is a small section with U.K. food imports on the first floor.
Kalverstraat 152
www.waterstones.com
Open: Mon 10 am–6 pm; Tue, Wed and Fri 9.30 am–6.30 pm; Thu 9.30 am–9 pm; Sat 10 am–6.30 pm; Sun 11 am–6 pm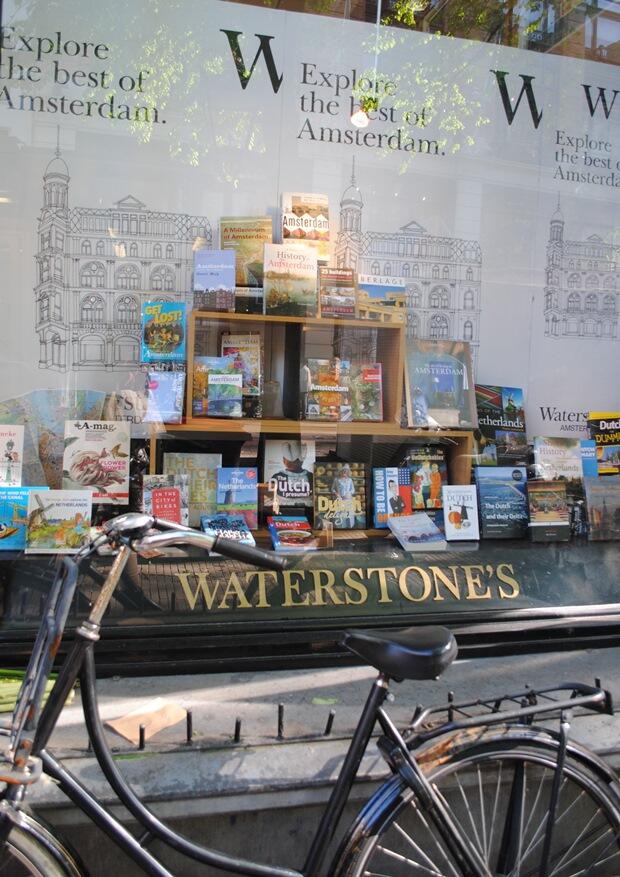 The English Bookshop
Away from the city center, along a canal in the Jordaan, lies The English Bookshop: a small, independent store with a strong community focus. The English Bookshop hosts a monthly book club, a weekly playgroup, occasional Scrabble afternoons and literary quizzes.
It is also a great place for a little break from your exploration of the Jordaan, offering lunch, coffee and cakes. Grab a book and while away your day with scones and tea.
Lauriergracht 71
shop.englishbookshop.nl
Open: Tue – Sat, 11 am–6 pm
The Book Exchange
If you prefer to give an old book a new lease of life, head to The Book Exchange: Amsterdam's number-one address for second-hand English books. On the way there you might like to stop at the Oudemanhuispoort book market, located in a covered passageway just off the Kloveniersburgwal. Open every day from 9 am – 5 pm (except Sundays), this market is worth visiting for its selection of (second-hand Dutch) books, prints and sheet music.
Kloveniersburgwal 58
www.bookexchange.nl
Open: Mon – Sat 10 am–6 pm; Sun 11.30 am–4 pm
The John Adams Institute
Now that you've got your books, how about a literary event? The John Adams Institute regularly organizes literary talks with renowned speakers such as Margaret Atwood, Michael Cunningham  and Chimamanda Ngozi Adichie. They also run literature courses. Check the website for events and locations.
Athenaeum Nieuwscentrum
Back on the Spui, you'll find the Athenaeum Nieuwscentrum which offers the best selection of international press and magazines in Amsterdam. It also has an English-language section for literature and academic books in its regular bookstore.
Spui 14 – 16
www.athenaeum.nl
Open: Mon, Tue, Wed, Fri, Sat 8 am–8 pm; Thu 8 am–9 pm; Sun 10 am–6 pm