3589 Views
Avoiding fast food in London is as hard as in any big city. People have a higher pace, less time and want to be served as quickly as possible (especially for lunch). But being a food lover and finding quality cheap eats isn't always easy.
That's why today, I'll serve you up with a guide to the best places for quality fast food in London whether for lunch or dinner. So when you come here to visit with not much time on your hands, you still get to experience the tasty treats that London has to offer.

Fast Food in London Restaurants
Byron – Tube Stop: All around the city
Join the Byron Burger Club to support the cause of proper hamburgers. Altough they sound Australian, this British chain serves Scottish beef with an American touch in their sides and desserts.
Greedy Cow – Tube Stop: Mile End
Not quite central, but not quite your average burger either. Try their Japanese Wagyu beef or Jamaican burger with homemade jerk sauce, for example. Or if you're adventurous enough, why not put your teeth in a camel, kangaroo or wild boar burger?
Honest Burgers – Tube Stop: most central is Leicester Square (7 total locations)
A simple burger menu inspired by British produce. Don't skip the homemade rosemary chips. Expect to queue here, but you can leave your number and they'll give you a ring when they've got a spot.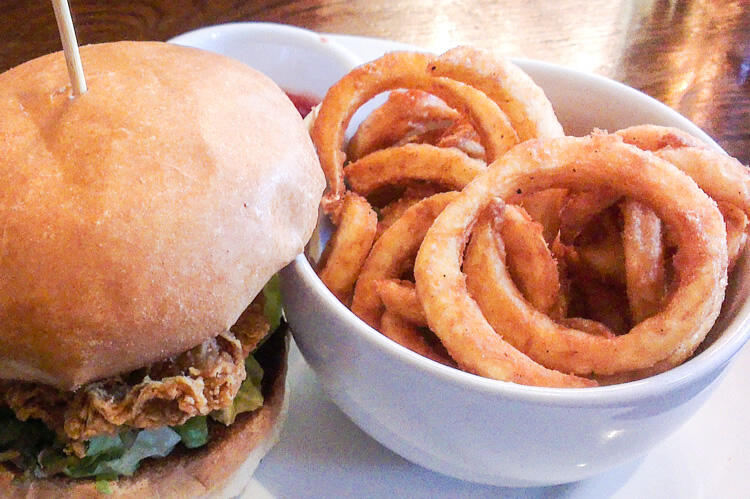 Lucky Chip – Tube Stop: Bethnal Green
Lucky Chip is located in the Sebright Arms pub, but you can also find them with a food truck at Netil Market. They offer burgers, hot dogs and a weekly special themed burger. Sometimes they change their entire menu into a pop culture theme like Chuck Norris or Breaking Bad.
Meat Burgers – Tube Stop: Covent Garden (Meat Market), Old Street (Meat Mission) and Bond Street (Meat Liquor)
Every location of Meat Liquor has its own themed menu. There are no reservations, so you just need to turn up. Get the fries as a side to spice up your classic burger patty.
Patty & Bun – Tube Stop: Bond Street & Liverpool Street
Don't let the queue scare you off, the burgers are totally worth it. They also serve chicken wings, coleslaw and rosemary salt chips on the side. If not for dinner, pick up one of their breakfast options.
Shake Shack – Tube Stop: Covent Garden
This fast food chain from New York is a bit over-hyped, but definitely worth a try. You order, get a beeper and pick up your order in no-time. Do you dare taste the Peanut Butter flavoured shake?
The Diner – Tube Stop: All around the city
Fine burgers and also good for those who are looking for a bit more of an extended menu. They also serve an all-day breakfast, hot dogs and loads of sides.
There is Always More Fast Food to Explore
As you can see, there no reason for you to take refuge in McDonald's or Burger King any longer. There are some great options for fast food in London.
And these are just a handful of burger restaurants. We haven't even begin to list our insider tips for the best pizza, kebab and curry in town. So make sure you return soon, because our love for food will never end.