5738 Views
It can get pretty hot in Prague in summer, but is there a better summer refreshment than a scoop of ice cream? There is: a scoop of REALLY good ice cream! Where do you get one in Prague? Thanks to all these great ice cream shops, you will always find a way to cool down while adding a sweet treat to your visit…
Best Places for Ice Cream in Prague
Angelato
Angelato is a small and always crowded ice cream shop right off of Wenceslas Square. It's jam-packed for one reason only – their ice cream is to die for. Luckily for you – and us – they just opened their second location on Újezd! Once you step inside, it's as if you've left Prague and have been transported to Italy. You find yourself pondering all sorts of delicious-sounding flavors (jasmine rice, yogurt, raspberry, dark chocolate, tiramisu, you name it). Plus, they even sell vegan ice cream in dark chocolate flavor, as well as sorbets. The staff behind the counter are working busily away; so you smile and order two scoops instead of one, because why not? We recommend you take at least one scoop of their seasonal ice cream (right now its blueberry cheesecake) or a fruit flavor (like mango). Oh and they don't charge extra for a cup.
Two locations: Rytířská27 and Újezd 24, Prague 1
224 235 123
777 787 344
angelato.cz
Open: Mon – Sun 11 am –10 pm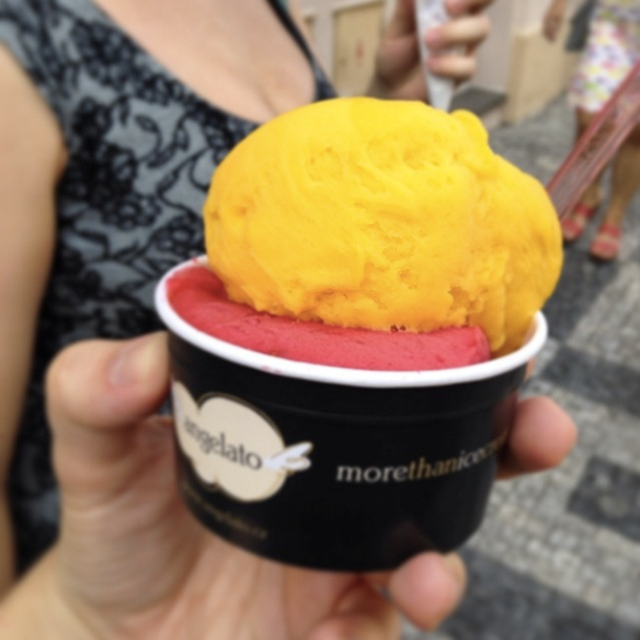 Cream & Dream
This place is hidden down the cobbled streets of the Old Town, just off Old Town Square and conveniently on the way to the Charles Bridge. You may have to look for it but as the crowd takes you from the Clock to the Bridge, just remember to make a left when everybody else makes a right. They have all your favorite flavors and, for a downtown location, the prices are surprisingly affordable. Just imagine…it's a warm summer evening and you want to take your loved one on a romantic walk… Is there anything more romantic than strolling over the bridge with a cone of delicious ice cream? We didn't think so.
Husova 231/12, Prague 1
224 211 035
Open: Mon – Sun 10 am – 10 pm
Ovocný Světozor
Světozor screams LOCAL! They not only have delicious traditional ice creams, but also a local specialty, točenázmrzlina (soft-serve ice cream). And that is what you're here for! Don't worry about the line; it moves fast and the ice cream is worth it. The flavor is usually a banana-strawberry combo, but you can choose to have just strawberry or just banana (although we recommend both!). If you don't want to try a local specialty (shame on you!), you can't go wrong with one of the regular scoops (or one of the desserts from the cafe). While you're there, make sure you take in the hidden gem that is the little rose garden right next to Světozor. Located in the very center of Prague, this place is quiet and peaceful even though it's full of people (eating ice cream). You must visit.
Vodičkova 39, Prague 1
774 444 874
ovocnysvetozor.cz
Open: Mon – Fri 8 am – 9 pm, Sat – Sun 9 am – 9 pm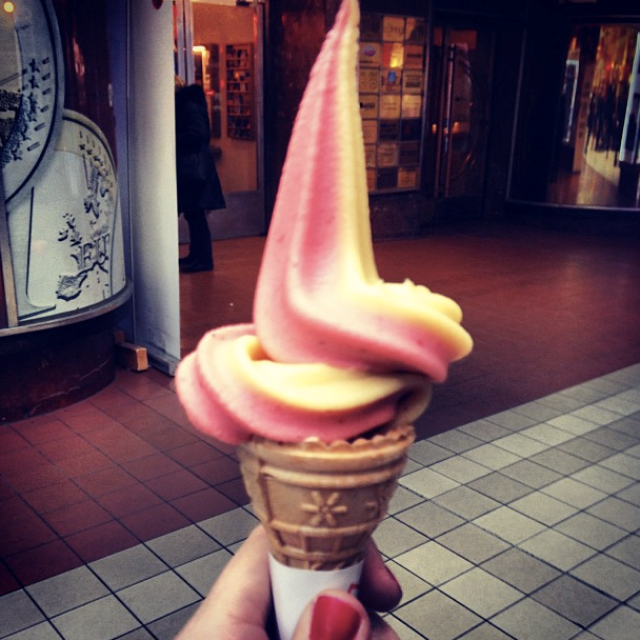 Cacao Prague
Now, if you are vegan, you will love this place (and us for pointing it out to you), which is right next to the Municipal House. Cacao Prague is a vegan coffee shop with very very good homemade ice cream. They opened recently and, as well as the delicious ice cream, they serve equally delicious (raw) cakes and (fitness) cocktails. If you don't want to spend time devouring the ice cream but would rather keep exploring the city, they have an ice cream window for takeaways. As for ice cream flavors, we recommend strawberry and chocolate. They are delicious!
V Celnici 4, Prague 1
224 281 137
cacaoprague.cz
Open: Mon – Fri 8.30 am – 10.30 pm, Sat – Sun 9.30 am – 10.30 pm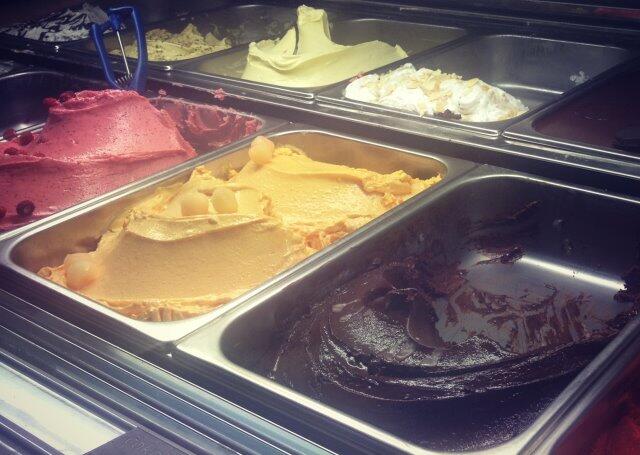 For those looking for something a little more substantial than ice cream, join one of our Prague Tours to eat your fill of 7 delicious Czech tastings from locally loved shops, cafes and restaurants… Those will a sweet tooth will find a delicious surprise at Gallery Le Court and Choco café U červené židle!